Setting the right goals for your company's SEO efforts is essential to achieve digital marketing success.
However, with endless possibilities for tracking the metrics of your SEO campaigns, it can be hard to figure out what you should (and shouldn't) be closely measuring.
SEO goal setting is supposed to help marketers hone in on the most important aspects of their digital marketing endeavor.
Setting SEO goals only works when it's done in a focused, purposeful way. Whether you're a small business, agency, or big company, you'll be able to learn from the challenges we discuss in this post.
1) Not Knowing How to Organize All of Your Data
We know how overwhelming it can be to navigate the sea of data you have about customers' and prospects' buying behaviors and online activity. The more familiar you are with GA's opportunities to discover insights and set goals, the more you'll be setting up your team for success.
With Google Analytics (GA) and other analytics services offering comprehensive reporting and dashboards, it can be hard to know where to focus your efforts first. Even after completing the free GA courses that Google provides, there's a pretty steep learning curve for mastering the interface.
It can be difficult for marketing professionals to decide whether or not they should set destination goals, visit duration goals, event goals, or goals related to how many different web pages users visit. It all depends on your company's unique situation (and its overall business objectives).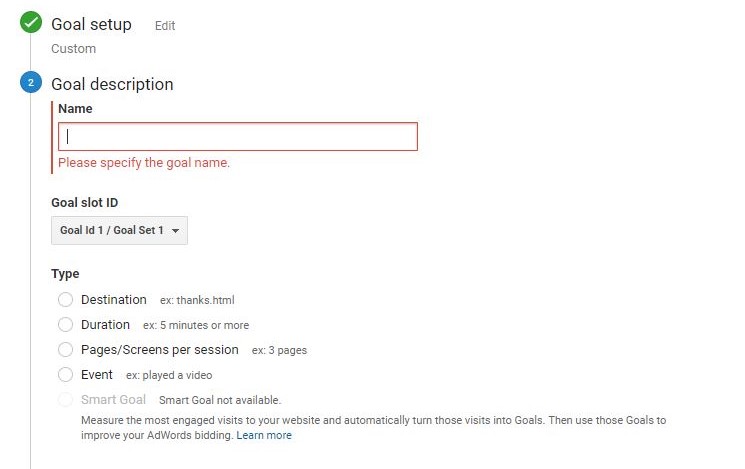 2) Not Choosing a "North Star" Metric
We're well aware of the challenge to read and properly interpret an overabundance of data. One way to regain your sanity is to revolve your efforts around one specific metric. Singling out one primary guiding metric, or "north star" metric, has become an increasingly more common practice.
Particularly in larger companies, the more you have your whole marketing team, and even members from different departments, aligned behind one major core metric, the moe you adds a sense of purpose and direction that is extremely valuable.
For example, if you're a digital media publication, perhaps your guiding metric is user engagement (because the more engaged your readers are with your content, the more successful your publication is overall).
In the words of Forbes contributor Andrew Miller, the metric should hold inherent value and be able to tell you how to optimize your product and create more value for your users. It's in your best interest to source information from all your teams and conduct in-depth analyses to define your key metric.
It should clearly point your company in the right direction for long-term healthy growth, be able to bring the entire company to focus on this direction, and make sense for all teams.
3) Overestimating Vanity Metrics
There is tremendous pressure on in-house marketers (mostly from the C-suite and other departments) to prove the immediate success and value of their efforts.
Marketers who are pressed for time and don't know how to fully take advantage of Google Analytics will lean on vanity metrics and skew the accuracy of what's actually going on.
Vanity metrics aren't inherently bad, it's just that the same vanity metrics (likes, comments, shares, page visits) will have different meanings depending on the channel.
We don't believe that you're stuck only looking at certain measurements when they're not be telling you the fully story.
4) Tracking Too Many Metrics at Once
You don't need to (and shouldn't) track every single metric available to you at the same time. Not only will it become confusing and counterproductive for you and your team, but you'll also waste time and valuable resources.
Another downside is that you'll start to feel more knowledgeable than you really are. In most cases, too many metrics is actually worse than no metrics at all.
Instead, start each new content marketing project or campaign by choosing a few (2-5) realistic metrics and set concrete goals based on what's most relevant for your company at that time.
For example, focus on 3 or 4 social media metrics that connect to your company's goals. Monitor if social media activities produce sales leads (if so, how many) or maybe improve overall brand reputation.
See if it makes sense to measure certain qualitative metrics like sentiment. No matter what, make sure you set targets for each of the metrics for appropriate time frames. Also leave room for adjustments and flexibility throughout your planning process.
5) Being Indecisive While Using Google Analytics
If you're in the early phase of a new campaign or on the brink of starting one, you might be unsure of which goals or conversion funnels will actually provide you the valuable information you need.
As we started to explain in the first part of this post, Google Analytics won't track the critical metrics for your business automatically. You're responsible for manually setting the goals.
For example, you could set up goals with dollar values per conversion can help determine where to focus your time and money beyond followers and likes — connecting social media to the bottom line.
Remember you can always adjust your goals after a period of time. However, you can't view goal completion retroactively. Therefore, it's best to invest time considering the goals that are most important to you ahead of time so you aren't feeling regretful about the goals you didn't track.
You don't want to be frustrated you didn't take the time to do your due diligence. No one wants to wonder at the end of the campaign what it would have looked like if you had been tracking the success of certain lead generation form and how that could have helped you inform future decisions.
There is rarely a linear path to achieving any SEO-related marketing goal. Setting the right goals for your business, following through with your efforts, and using the right metrics to measure the outcome takes diligence and perseverance.
The more you practice goal setting and articulating which metrics you'll track to measure SEO success, the more it will become second nature for you.
For specifics about how to set goals in Google Analytics, be sure to complete the courses in Google Analytics Academy, which have a wealth of valuable resources.
It's important to set SEO-related goals that are achievable and cohesive with your overall business goals.
As SEO experts, our team here at 
Chainlink
can help your business become an industry leader by setting goals that increase your organic traffic and online credibility.
We provide valuable insights into your customer histories, interactions, preferences and purchases using our proprietary platform, the Chainlink Marketing Platform.
Also, if you don't have a centralized, organized data warehouse, it's extremely easy to feel like you're in over your head. Our Chainlink Data Warehouse stores every single customer's online interactions, so you can monitor visitors at each touch point across channels.
This data can empower you to make informed decisions about your overall SEO strategy and goal-setting. Better yet, we can guide you through the murky waters of SEO gal setting while empowering you to learn the skills for yourself along the way.
Want to learn more about Chainlink's uniquely effective digital marketing services?
Reach out to us below to learn more about how we can help your business grow online. We'd love to give you a free consultation.
Also, don't forget to sign up for our newsletter for more exclusive tips and strategies that are both effective and easy to follow.
Sign Up for the Chainlink Weekly Newsletter
More SEO Insights from Chainlink Marketing
Want to create an SEO strategy that
drives conversions for your company?
Chainlink is here to help.