Social media and email marketing are systematically different channels, each with their strengths and weaknesses.
Whereas social media is usually best at providing instantaneous communication and fostering engagement, email campaigns are more effective at driving transactions and encouraging customer retention.
The two main ways to combine email and social media to work together effectively are:
1) Using email to promote sharing on social media to grow your audience
2) Using social media to grow your subscriber list
Read on to learn how seamlessly combining the strengths of both channels is the best approach to take for digital marketing success.
Chances are, you likely already have people who are following and sharing your content on your social media page.
If your customers are already engaged on your social media pages, it should be relatively easy to convert your social media followers to subscribe to your emails.
The easier it is for your followers to sign up for your emails, the more likely they are to do so. It's important to inform your follower base about your emails and engage them to sign up.
Send Reminders to Your Followers About Your Newsletter
Your audience might not be aware that your company sends out a newsletter or they could be unsure of how to subscribe to your newsletter.
Provide your followers with reminders every so often to sign up and subscribe to your newsletter is an easy, quick way to turn fans on social media into email subscribers.
Using a Tweet or an Instagram post with a link or picture as a reminder is a great way to remind your customers that you have a newsletter: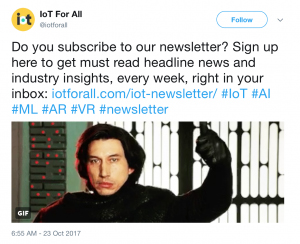 When reminding followers and fans about joining your mailing list, you should include a benefit as to why they should sign up to capture their attention.
Giving previews of newsletter content, email-only discounts, and offering incentives when people sign up (like access to exclusive discount offers) are simple, yet effective ways to capture follower's attention and convert social media users to email subscribers.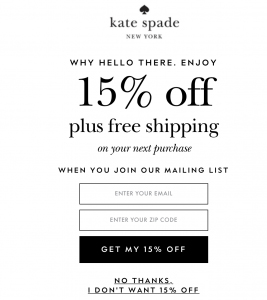 Also, to ensure that marketers are not negatively impacting users' social media experience to convert them into newsletter subscribers, Facebook and Twitter have customizable tabs that allow followers to subscribe without leaving the platform.
The easiest way to inform your email subscribers about other channels is by incorporating icons and links to your social media profiles. In fact, 76% of email marketers are implementing social media icons in their email campaigns.
When including social media icons, make it enticing for your subscribers to engage on social media.
Either give them an incentive to follow your social media accounts, or prompt them with a participatory question.
For example, Express invites their email subscribers to voice their opinions or tag themselves in a photo with the hashtag #ExpressLife: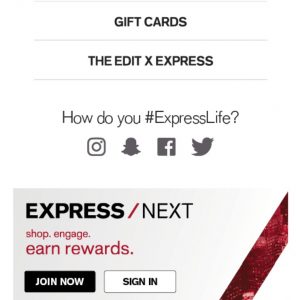 It's important to keep the goal of your campaign in mind when deciding whether or not to include social media icons. You don't want the icons to take away from the main CTA of the campaign you're running.
Therefore, when including icons, give a good reason why people should participate in your social media campaign, follow your account, like your page, or share your newsletter on social media.
Building relationships with customers across a multitude of channels fosters loyalty and recognition for your company, which has the potential to increase profits.
Once you have established a following on social media, create a schedule for updates and posts.
Posting sporadically or inconsistently can come across as being spammy, which will reflect poorly on your business and might result in losing followers.
Keep tabs on your channels by monitoring and measuring the growth of your fan base to see what works and what doesn't.
Reach out to us below to learn more about how we can help your business grow online. We'd love to give you a free consultation.
Also, don't forget to sign up for our newsletter for more exclusive tips and strategies that are both effective and easy to follow.
Sign Up for the Chainlink Weekly Newsletter
More Social Media Insights from Chainlink Marketing
Need a hand with your social media marketing strategy?
Chainlink is here to help.