Search Engine Optimization (SEO) techniques are always changing and evolving.
Whether you are brand new to the SEO game or you have been doing it for a while, we are confident that this article will provide you with some fundamental steps to excel at both your content marketing and link building efforts. One of the most exciting parts of digital marketing is being able to see measurable results that help you increase sales and grow your business.
SEO efforts that produce compelling results are rewarding, but some tasks on the technical side of things can be more difficult and frustrating. Certain fundamentals of SEO such as link building can seem repetitive and tedious. However, gaining legitimate backlinks to your website is a substantial part of building a solid foundation for expanding your online presence.
We want this article to remind you of the simple, yet critical steps of content marketing and link building to make a successful campaign that will allow you to compete and thrive online.
Review Your Internal Links
Internal links allow web users to navigate a website and determine an information hierarchy for the specified site. Websites often make the mistake of burying their main link navigation in such a way that it makes it difficult for search engines to access it to add to their page listings.
Additionally, content is often modified or removed from websites which may direct your visitors to irrelevant or missing pages.
The links you use should be related to the primary or secondary keywords that you apply. If you sort your internal links and keywords correctly, the related links will add value to your viewers resulting in an increase to your page KPIs.
It is essential to scan your website's internal links frequently to ensure that they all direct your visitor to the planned destination.
Evaluate Your Content Organization
It is imperative to understand and identify the primary and secondary topics of your content. You should take time to plan the content you would like to use and what format would be most appealing to viewers. Planning ahead also prevents further revisions that may occur once your article is already published.
Take advantage of the time to make your content consistent to follow a particular pattern. If someone views your site with duplicate or similar material, your visitors will be confused on which content should they follow.
The content should be organized into topical categories, sub-categories, and tertiary categories. Each level should be related to one another but include a different aspect of the topic.
The topical category should cover the topics tied to the top keyword targets for that level of classification. The further down you go in your content, the relevancy should increase and become more specific.
Check Your Meta Descriptions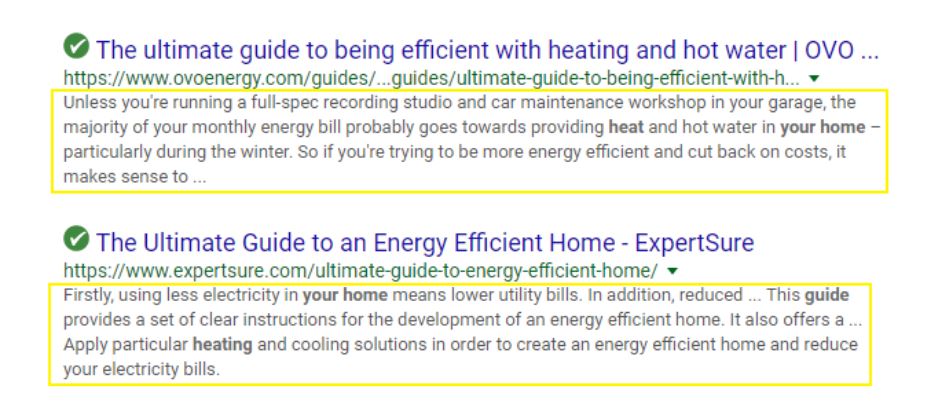 Optimized meta descriptions (snippets) are important because they serve as brief summaries of web pages in search results. They can deliver a positive effect on click-through rates when you conduct an organic search.
When trying to maximize your click-through rate on search engine result pages consider how Google and other various search engines make the keywords that coordinate with search queries in the description bold. The bold text is used to draw the eyes of searchers to focus their attention on their search.
Many companies have the problem that once a meta description is written (or generated by Google), they stop paying attention to it. However, the websites that are actively moving up the ranks of search results pages are the ones uploading new content (and altering existing content) on a regular basis.
This means that an optimized meta description today might not be optimized tomorrow, a couple of months from now, or especially in a year. Even in the cases where the content hasn't changed and will never change, search engines need updates to rank your site higher.
Search engines and search engine users are seeking meta descriptions that hold descriptive information. You should strive to write an engaging meta description that is about 320 characters and contains keywords that relate to the article that you posted.
Update Your Press Release Section
Your website's press section should be the first place where you publish press releases related to your company.
Most websites' press sections involve a media pack with contact details and information about the company's plans. Ideally, you should set up this part of your website to allow users to make comments or ask questions.
Consider the amount of traffic that is being driven to your site's press release page. This means that you should think about what links, products, service, local news, business profile or call to actions are also available to visitors. Publishing these efforts will further your chances for the press to write or distribute something to their network.
You should value your press releases like you value your content. If it adds value or can answer a question, then it can be useful to place on your website with the hopes of other relevant sites coming across your information.
When creating your press release section, ensure that all headlines, language, and multimedia are optimized for the relevant keywords.
It is important to monitor who is already linking to your page and the effects of these links to your ratings. This idea is similar to receiving feedback on a project, but instead, you follow inbound links and analyze whether they have helped your performance.
A website audit tool can help track inbound links and will tell you whether any of the links are potentially harming your site.
In the case of an unhelpful linked site, you can write a polite email to the site owners asking if they can remove your link from their website.
Google's Disavow Links tool is also useful to achieve the same result. However, Google advises to use it with caution, as it is preferable to use it when there are a lot of links related to spam.
Links are the backbone of the web that provides your visitors with accurate and engaging information that builds on your content. While link building can enhance your online reputation, inaccurate and irrelevant links can also drive it downhill.
The simple steps of content link building are critical for your company's website to gain a greater audience. It is essential to revisit your sites to check for any updates and changes that may be necessary.
Additionally, you should frequently review the links you use to see if they still lead your visitors to relevant information.
These steps may seem straightforward, but they are often forgotten. These tips will allow your company to excel when attempting to boost your content and link-building efforts.
As SEO and link building experts, Chainlink Relationship Marketing can help you make sure you're implementing strategies that produce measurable results and the highest marketing ROI possible.
Reach out to us below to learn more about how we can help your business grow online. We'd love to give you a free consultation.
Also, don't forget to sign up for our newsletter for more exclusive tips and strategies that are both effective and easy to follow.
Sign Up for the Chainlink Weekly Newsletter
More Content Marketing Insights from Chainlink Marketing
Need a hand with your website's content strategy?
Chainlink is here to help.