How are you supposed to grow your business if you don't engage with your current and potential customers? Engagement is more complex and nuanced than you might think.
It helps to break down your marketing efforts into actionable steps to guarantee you're maximizing customer engagement.
Here are 5 main steps in the marketing cycle that allow you to foster long-term consumer engagement: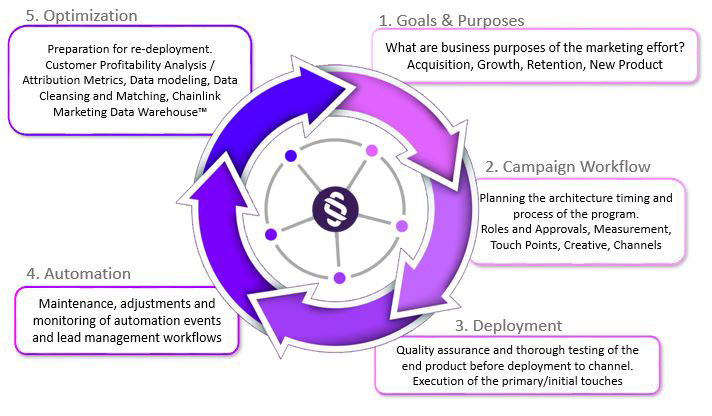 1) Have a marketing goal and stick to it
It might seem obvious, but articulating your key performance metrics (KPIs) before every marketing campaign is a critical part of setting the stage for engagement.
If your end-goal is vague, it will dilute your message for your target audience. The more watered down your message is, the less your audience will find it engaging and relevant.
So, take the time to hash out what the business purpose of every marketing effort is, and create messaging that reflects that. For example, is your primary objective acquisition, growth, retention, or perhaps a strategic blend of all three?
2) Plan out your campaign workflow
Figuring out the architecture, timing, and process of any giving marketing effort will provide a clear roadmap to guarantee engagement.
Consumers agree that they expect brands and vendors to provide a uniform experience across communication channels.
The only way to provide customers with consistently high quality and helpful interactions is by identifying your measurement, marketing touchpoints, and channels in advance.
How do different parts of your campaign complement or build upon one another? Does your messaging have an overarching theme?
3) Focus on the deployment of your campaign
Deploying your campaign in a way that revolves around maximizing customer engagement is imperative.
Be sure to power personalized customer engagement on personalized landing pages, transactional emails, promotional emails, e-commerce sites, support forums, mobile messages, social media platforms and more.
Integrate the scheduling and deployment of email with direct mail so that delivery events trigger drops in any channel.
Also, don't neglect your Quality Assurance (QA) responsibilities. QA and thorough testing to ensure that you have worked out the kinks in your marketing strategy marks the difference between an okay campaign and an outstanding one.
Automation empowers you to set up the right messages to be triggered on the right channel, at the right time, to drive consumer behaviors and purchases.
Chainlink Marketing Platform's Customer Engagement automation tools ensure that you're consistently building company awareness with your customer base. By helping your customers throughout their process, they'll come to you when they're ready to buy.
By leveraging your customer data at scale, you can provide 1:1 messaging, always at the right time. By using the right digital tools, you can stay on top of maintenance, adjustments and campaign monitoring, making it simple to keep track of lead management workflows.
Chainlink Marketing Platform allows consumer-focused users to create and implement personalized and dynamic cross-channel messaging and marketing programs.
5) Optimize your campaign
Optimization is all about maximizing your campaign to encourage engagement by using analysis/attribution metrics, data modeling, and data cleansing.
Every single customer interaction is captured in the Chainlink Data Warehouse, so you can make sure the right messages are triggered on the right channel, at the right moment. This is crucial when you are trying to optimize the effectiveness of your campaign and boost customer engagement.
At the end of the day, your goal is more conversions and customer retention. Our team here at Chainlink Relationship Marketing can get you there.
Want to learn more?
Reach out to us below to discover how we can help your business grow online. We'd love to give you a free consultation.
Also, don't forget to sign up for our newsletter for more exclusive tips and strategies that are both effective and easy to follow.
Sign Up for the Chainlink Weekly Newsletter
Not sure how to take your ecommerce brand's marketing efforts to the next level?
Chainlink is here to help.