Ads that target consumers using their smartphones and tablets need to be tailored to the experience of the mobile user. In our fast-paced, mobile-dominated digital era, people have very little patience for a poor user experience. Google highlights just how impatient users are by pointing out that 53% of mobile site visitors leave a page that takes longer than three seconds to load.
Thankfully, all of Google's advertising products are designed to have mobile friendly formats that can be optimized for peak performance. Whether you choose to focus on mobile Search Ads, Display Ads, Google Shopping Ads or video ads depends on the context and goals of your business.
In this blog post, we want to give you an overview of how you can use the Google Ads suite of products for mobile advertising. We hope you'll get some valuable takeaways and be inspired to take Google's free Mobile Advertising Course. You'll see that mobile advertising gives you the chance to reach customers and drive results extremely effectively when executed the right way.
What To Do Before Investing in Mobile Ad Campaigns
Before you start spending money on paid media campaigns, be sure to do everything in your power to optimize your site for organic mobile search. It's important to make sure your website is responsive and achieves "mobile parity."
If you need another reason to prioritize mobile SEO efforts, keep in mind that Google's mobile-first index is currently rolling out. Google said on their blog that starting July 2018, content that takes a long time to load on mobile devices could perform less well for both desktop and mobile searches.
Here are 2 of the biggest requirements:
Mobile Site Load Speed
You should definitely test and correct the page load speed of your site. Google rewards fast load speeds and even says that speed equals revenue. There are specific guidelines that Google would prefer every mobile marketer/advertiser follow. These guidelines outline things such as speed, webpage size and the number of content pieces per page.
Regardless of the layout of your mobile site (you might not be able to afford a web designer to redo your mobile site re-design), compressing images and text is a great place to start. Image-heavy websites are the biggest culprits for slow loading.
Mobile Site User Experience
If you want your current and potential customers to engage with the your company on mobile and have a positive mobile-first experience, you need to do a mobile site audit. The simplest way to start testing out your mobile site is to run the free Google mobile-friendly test. For a more in-depth look at issues with your mobile site's usability, check out the mobile usability report (free from Google). It will show you a graph of any errors you've had on the mobile version of your website.
For example, one factor that would have a negative impact on mobile experience would be having buttons incorrectly sized or too small of a font size. Remember that mobile users have a tendency to have an even shorter attention span than most desktop users. It makes sense, because mobile users are probably out and about or quickly trying to find an answer to something while on the move. When you view your mobile website from the perspective of, "Is this site easy enough to use if I were frantically multitasking under time pressure?"
Google Ads Optimization for Mobile Devices
We want to provide you with a comprehensive introduction to the most commonly used ad formats that you can leverage for mobile. To view all possible formats, the Google Ad Format Gallery.
The features that Google makes available for mobile advertisers are designed to help ads stand out at the perfect moment. You want your ads to appear at the ideal moment that will help a mobile device user fulfill his or her need in the most convenient way possible. All the relevant information needs to be there, but also the ad itself needs to resonate with the viewer.
Here are some examples of types of mobile ads:
1) Remarketing Lists for Search Ads (RLSAs)
RLSAs make the most of your website data that shows the people who have visited your website in the past. RLSAs allow customization of an entire Search Ads campaign for individuals visiting your site for a second time. When you can tailor your ads (and bids) to returning visitors specifically, it could give you an advantage.
2) Google Shopping Ads
Google Shopping Ads display the image of a product with its title, price, and the store name. We've written about these product listing ads and their benefits. On mobile devices, these product listing ads stand out even more because of the way they fill up a mobile screen. The best part about Google Shopping ads for mobile is that disclosing all the main product details and price means that searchers who click them are usually highly qualified leads. To read more about Google Shopping Ads, you'll definitely want to check out our blog about it.
3) Extensions
An ad extension is basically an additional piece of information to include in your ad, such as a phone number to call or a button linking directly to a sales-specific landing page. Extensions are not exclusively for mobile (check out this blog post for a more comprehensive look at extensions). Here we're pointing out promotion extensions and message extensions because they are the ones that Google highlights as the most conducive to mobile advertising.
Here a couple prime examples of mobile extensions:
Promotion extensions are often used because it's natural for people to want to click on a discount offer. When users are brought to an engaging mobile landing page on your website to access the discount/promotion, there's a chance that they act on it and follow through with the sale.
Even if someone doesn't complete the purchase and ends up abandoning his or her cart, at least you know you boosted awareness about not only the sale, but also your overall brand visibility. Strategic mobile ad extensions can make a huge difference in driving traffic to your website (or physical store).
Message or call extensions give users the opportunity to send a text message to a business or call them directly from a mobile ad. This kind of extension is definitely not the right fit for every business. However, if you are a business that is service-oriented, it might be a great idea to encourage appointment making, quote requests, or booking other services via call or text message.
If you're a business like a salon, once you know a client's number, you can use this information to your advantage. For example, you could set up a reminder text to be sent to them the day of his or her next appointment. Or if you have a business that serves clients when they're in an immediate moment of need (like a repair service), a call extension is a great idea. For example, a phone screen repair service would likely benefit from a call extension (see below).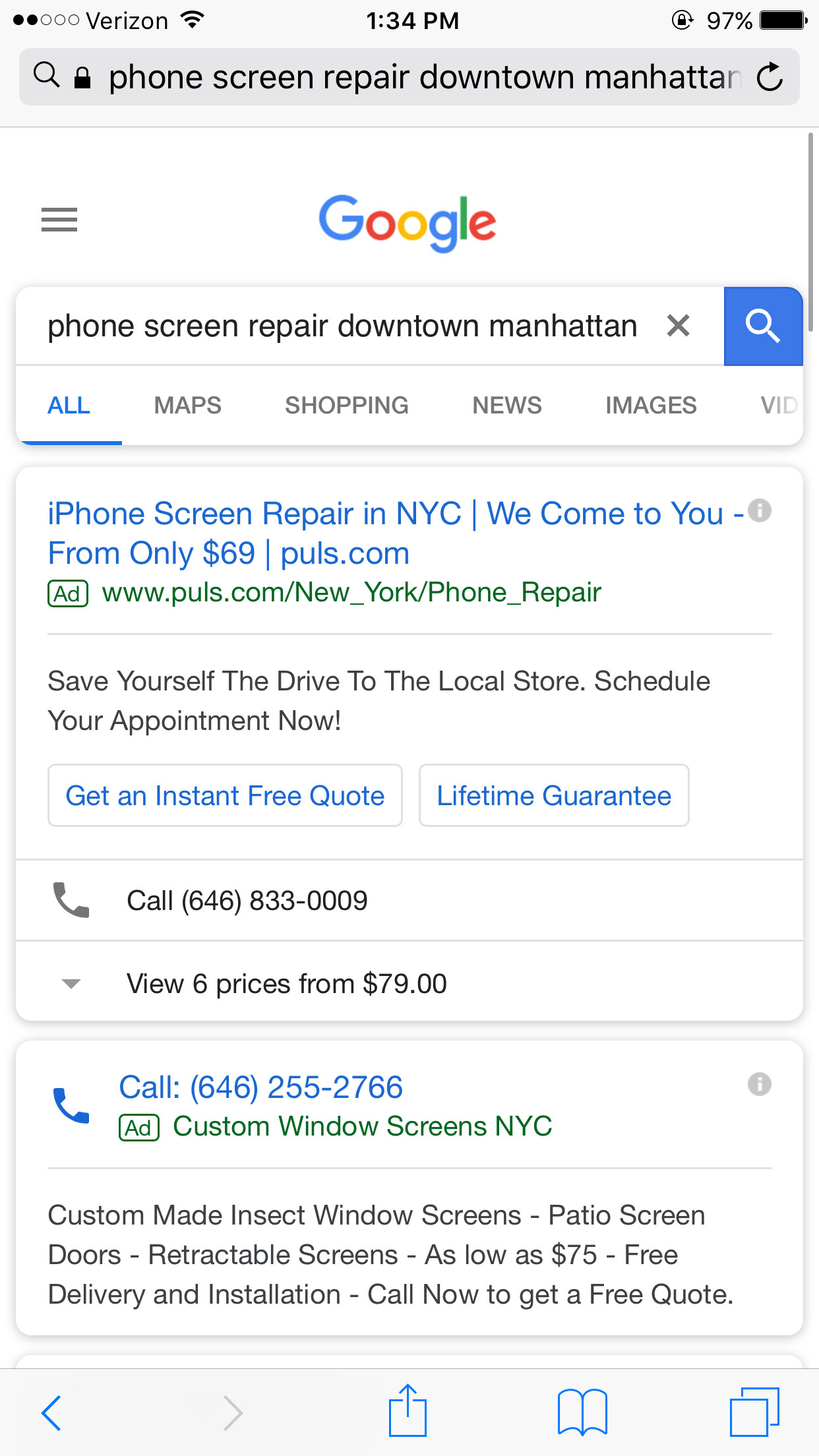 Tips for Mobile Ads Across the Display Network
1) Make every ad format responsive. Responsive ads are almost non-negotiable. Mobile ads should be set up to be able to dynamically adjust in size, appearance and format to properly fit any mobile screen.
In the long run, these ads save you time and help your ads have a bigger impact. After all, if your ad can't adjust to the correct format it causes people to ignore your ads or not take your business seriously. It's important to do everything in your power to prevent that from happening.
2) Be mindful of your call to action. Although the main focus of a display ad should be visual, the clarity of your call to action (CTA) is also super important. If your goal is for people to buy sale items, you need to make that call to action clear.
The size of your mobile banner, the text it contains, and the overall visual aesthetic contribute to the overall strength of your CTA .You also might want to consider expandable or interactive mobile banner ads. The simplicity and effectiveness of one of Ann Taylor's mobile banner ads is a great example of this (see below).
3) Lightbox ads for mobile. If you thought you couldn't do lightbox ads on mobile devices, think again. Using lightbox ads to captivate mobile viewers is valuable because the interactive element engages viewers more than the average ad. This type of mobile ad is especially fitting if you are an ecommerce brand that is focused on the visuals of your product.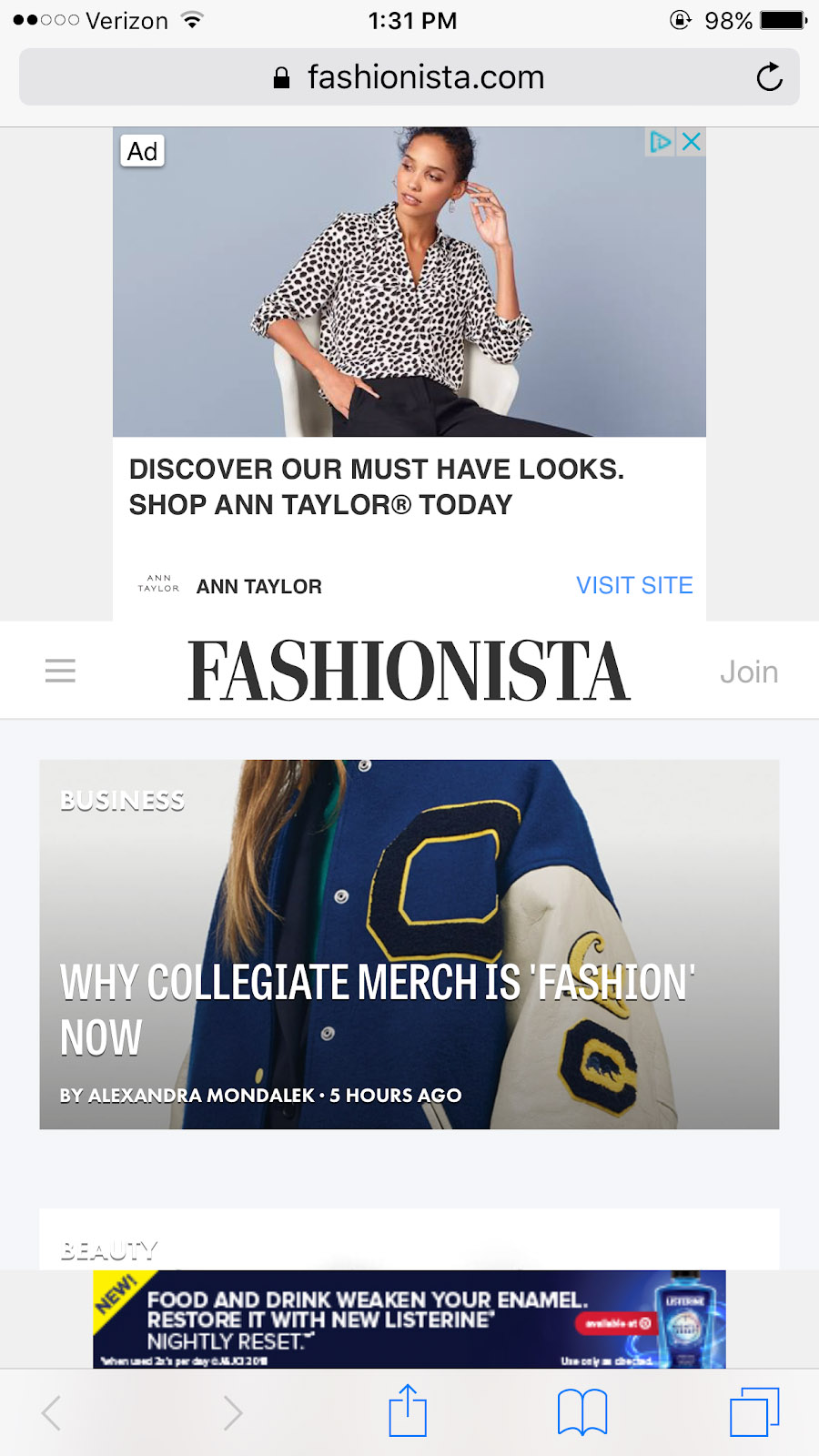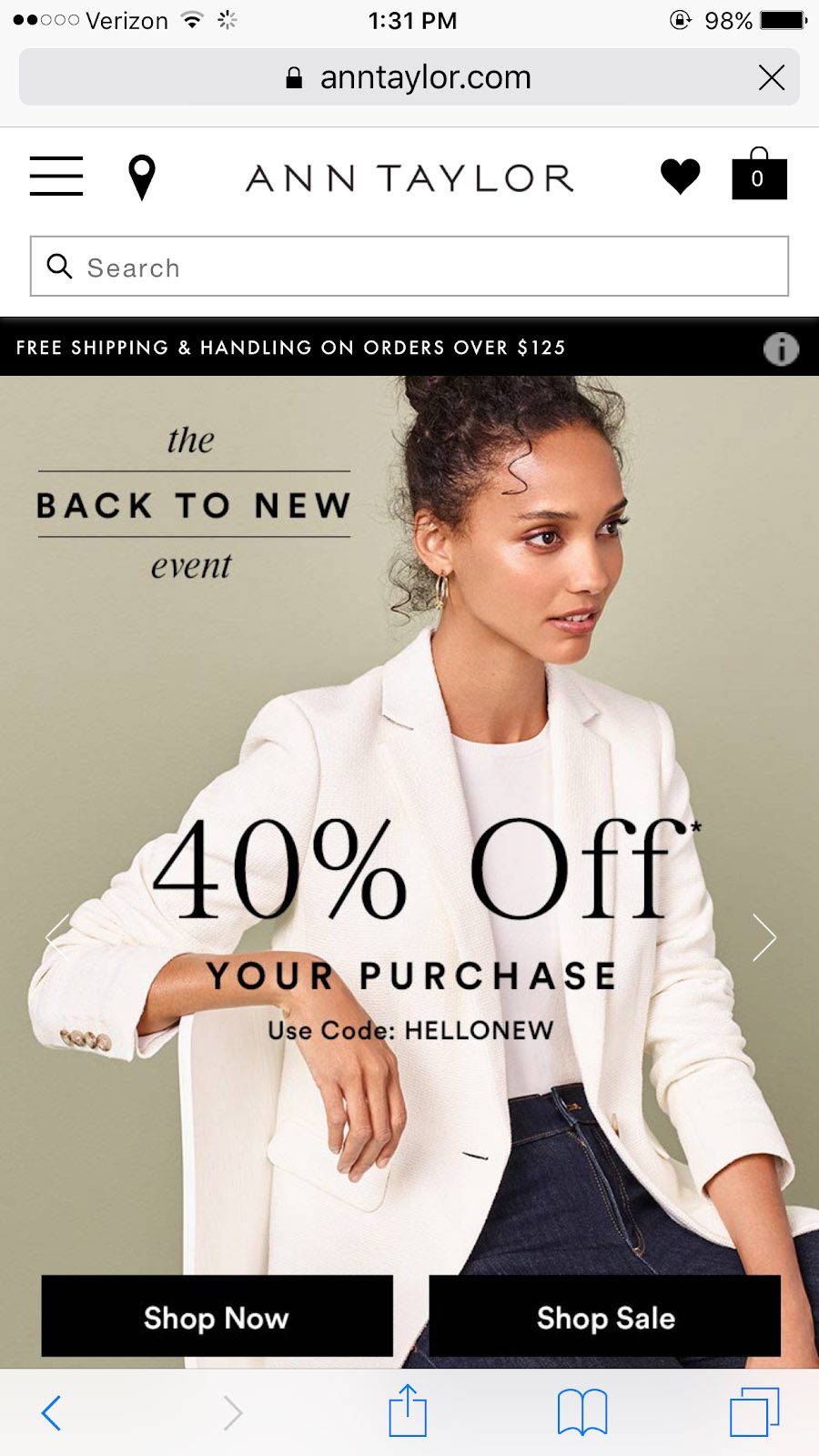 Wrapping It Up…
We hope you found this post informative as an introduction to maximizing your paid media efforts for mobile users. In other posts, we'll delve into ad scheduling and budgeting strategy, and even mobile app advertising strategy.
At Chainlink, our team of experts can help you get the most out of every dollar you spend on mobile advertising. We have experience running Google Ads campaigns for a diverse range of clients.
We understand that every organization's needs and budget are different and we find creative ways to drive optimal results no matter what. Want to learn more? Reach out to us and we would love to chat about your PPC and mobile strategies. Also, don't forget to sign up for our newsletter for more exclusive tips and strategies, too.
Sign Up for the Chainlink Weekly Newsletter
More PPC Ad Insights from Chainlink Marketing
Need some guidance to make your PPC campaign as successful and cost-effective as possible?
Chainlink is here to help.