Data analytics are essential to any marketing initiative in 2018. Even for the most tech savvy and skilled among us, Google Analytics can be challenging. If you aren't familiar with some of the more sophisticated uses of Google Analytics (GA), this post for you, too.
The most important thing to remember is that the more time you dedicate to getting the most out of GA, the deeper you can dig into your customer data. At Chainlink, we like to make the intricacies of digital marketing tools (like advanced GA features) easily digestible for anyone in the industry. In this post, you'll find useful tips about how to make the most of Google Analytics today.
Understanding the Evolution of Google Analytics
Google's suite of products (both free and paid) are constantly evolving to better serve users. Google Analytics (which as of July 2018 is now part of the Google Marketing Platform) updates and adds to its array of features relatively frequently. In short, the Google Platform makes it easy to get a comprehensive overview of your digital marketing efforts.
Being able to tell which segments of your target audience are converting (and which segments are not) is key. When you can attribute which parts of your marketing and advertising strategies result in conversions, then you know what you need to focus on to achieve better results.
For example, segmenting your audience and getting granular into your data can help you discover patterns of and pinpoint personas of your valuable customers. You can improve user experience by ensuring that your current and potential customers see ads and navigate your website in a way that is customized to each individual user.
The Google Analytics for Power Course
Last month (August 2018), Google announced a new course on its Analytics Academy. Designed to build on an advanced understanding of Google Analytics, the Google Analytics for Power Users course goes over features you should be taking advantage of as an experienced digital marketer who is trying to bring a business to the next level of excellence.
The strategies that Google Analytics for Power covers are supposed to help users figure out how to drive more product purchases, pinpoint the web pages that are helping conversions, and customize sales channels for "increased actionability".
Interpreting Your Data
Google Analytics offers you a wealth of data, but it's only useful if you know how to make sense of it. Once you understand how to break down insights from GA, then you can implement changes to improve your search engine visibility. Below we wanted to highlight a few things that are important to keep track of using GA.
Pay Attention to Bounce Rates
When you accurately gauge user engagement, you can make better decisions to improve your user experience. Decreasing bounce rate (the percentage of visitors who landed on a certain page and then clicked away after viewing one page) is not necessarily an advanced tactic. However, seasoned users of Google Analytics know that there should be a renewed emphasis on this metrics because of the valuable insights it can provide. Take a look at our top 6 landing pages' bounce rates: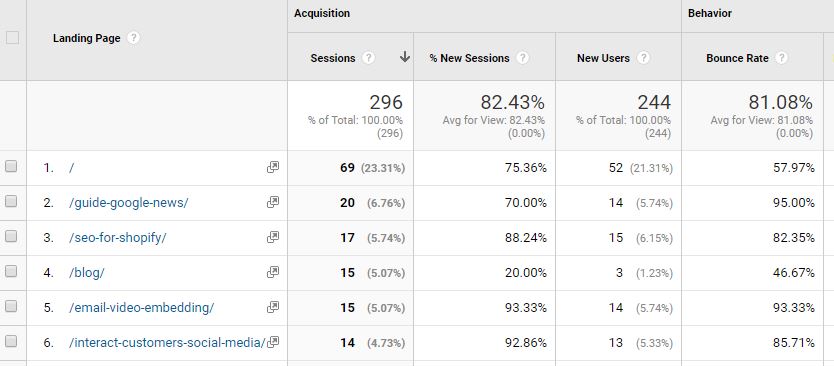 Even a slightly lower bounce rate can lead to a higher conversion rate. If you want your website visitors to complete an action on a particular page, then they need to stay on that page for a long enough time. For example, if you make your form less daunting (maybe change it to two required fields) you encourage visitors to consider filling it out.
Think about it from your perspective as a user. Your form submissions have the chance to increase when the forms take less time to fill out. Using GA to monitor bounce rate and ensure that your top performing pages don't have a high rate can help you close the gap to achieve as many conversions as possible.
Consider Your Traffic Channel Groupings
Google Analytics allows you to see a quick overview of the performance of each of your traffic channels through default or custom channel groupings. Google defines channel groupings as rule-based groupings of your traffic sources. You can get pretty advanced with customizing channel groupings and channel definitions. In fact, in the Google Analytics for Power course, Unit 2: Lesson 2 is dedicated to this topic.
As we mentioned, now Google Analytics is a part of the Google Marketing Platform, which is designed to integrate marketing and advertising data. Understanding and applying your data in a smart, strategic way helps you increase conversions. One way to increase conversions would be to use the demographic insights you glean from GA to design more effective ads to target specific audience segments in your Google Ads campaigns.
For example, the "All Traffic" report in GA shows you which channel(s) your most lucrative customers are from. When you know what channels are producing the most marketing dollars for your business, you can invest more money into those channels.
Try Attribution Modeling
Google Analytics now offers multiple options for creating attribution models. One of the most common attribution models is "last interaction" attribution modeling, which accounts for the last action taken by a customer before following through with a purchase. There is also "linear" attribution modeling, which accounts for actions a customer took before the final interaction that prompted him/her to follow through with the sale.
These GA attribution modeling capabilities can be particularly useful if you're running an ecommerce business, so that you know where to focus your efforts. However, Google Analytics requires that you set up goals or ecommerce tracking, so don't forget to do this first. Once you are set up, you can also view sales and conversion funnels. GA conveniently makes these models accessible under Conversions, under Attribution.
For example, GA gives you the ability to tell if your customer clicked on an search advertisement from your Google Ads campaign without buying any items, but then clicked a link at the bottom of your new blog post the next day and made a purchase.
A last click attribution model would only credit the blog post, whereas the linear model would also credit the ad from your campaign for also influencing that purchase. You can also compare two different attribution models and identify the touchpoints your customer to see where your conversions originated from.
To Wrap It Up…
When you know the right data to extract from Google Analytics (and the metrics to track) you can give yourself a valuable edge against your competitors. Auditing your website and using Google Analytics to make key decisions can help you optimize the top performing pages to increase traffic and boost conversions.
Reach out to us to learn more about how we can help your business grow online using cutting edge digital marketing tactics.
Don't forget to sign up for our newsletter for more exclusive tips and strategies, too.
Sign Up for the Chainlink Weekly Newsletter
More SEO Insights from Chainlink Marketing
Want to create an SEO strategy that
drives conversions for your company?
Chainlink is here to help.