A Google Display Ads campaign is one of the most effective PPC advertising options available in 2019. The Google Display Network (GDN) encompasses YouTube, Gmail, and millions of websites that are Google partners. This network offers an incredible amount of visibility for online ads. Advertisers use the GDN to reach potential customers during the awareness phase of the buying cycle and also to drive conversions and repeat purchases later on.
Summer 2018 marked the beginning of a new era for Google advertising. When Google rebranded its advertising suite last summer, they also improved the features and targeting capabilities of ads displayed on the GDN. We wrote this blog to give online advertisers the confidence that they're doing everything in their power to create an effective campaign.
Why Advertisers Choose Display Ads
If you have run PPC campaigns in the past, you are familiar with the fact that these type of advertising campaigns can deplete your budget fast. The click-through rate (CTR) on display ads is considerably lower than the CTR on search ads.
This is because a user's likelihood to click on an ad is much higher when they're already searching for something using a search engine than when they're passively browsing a website of their choice and see a display ad (like a banner ad or a right column ad).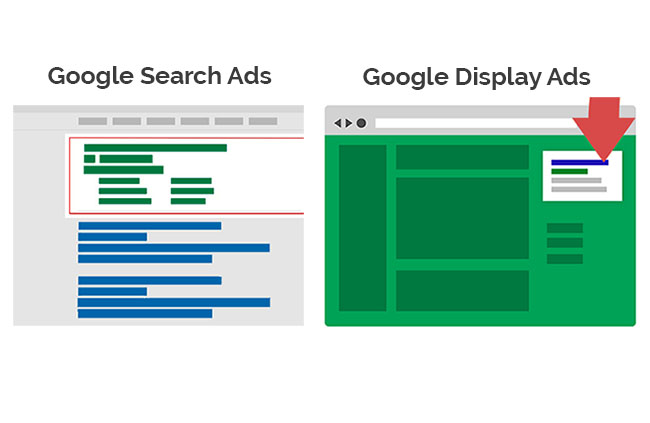 PPC search ads are typically more expensive when you consider prospecting, brand awareness, and remarketing. Meanwhile, Google Display ads are more affordable and allow for more reach, despite advertisers' inability to prove their value using CTR as the metric.
Unlike paid search ads that focus on keywords, display ads have nearly endless audience targeting options. The GDN is the largest ad network in the world, with ad display options that extend far beyond Google search results pages (SERPs).
It's important to choose the types of audiences you want to target based on your business objectives. For example, if you need to have more controlled targeting to achieve your goals, creating Custom Affinity Audiences might be a smart move.
Targeting Options on the Google Display Network
The GDN is a powerful network if it's used the right way, but your approach can't be the same as it would be for your PPC search strategy. In a recent webinar organized by SEMrush, guest speakers from Tinuiti emphasized the strategic and creative approach necessary to use the right audience targeting formats at the right time.
Check out the infographic below made by Tinuiti, which shows examples of audience-based targeting, divided by interests, attributes, and actions.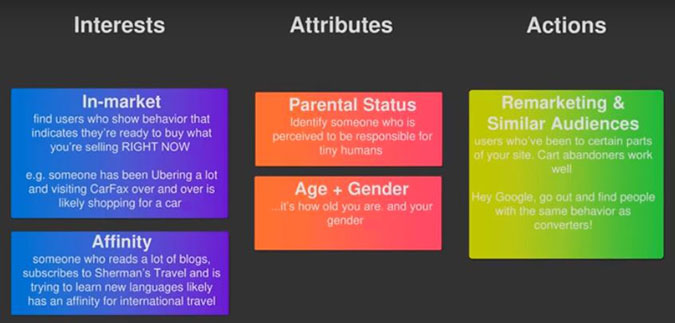 Let's go over the strategic thought process involved in choosing an audience type. Not only do you need to consider your business objective, but you need to think about what stage of the sales funnel your target audience is in when they see the ad.
For example, if you only want to target audiences that are further along in the funnel and have indicated an intent to purchase, select "in-market audiences" for your targeting option. Google uses algorithms to distinguish customer interest from strong customer purchase intent. Here's an overview from Google of which targeting options make sense for which objectives: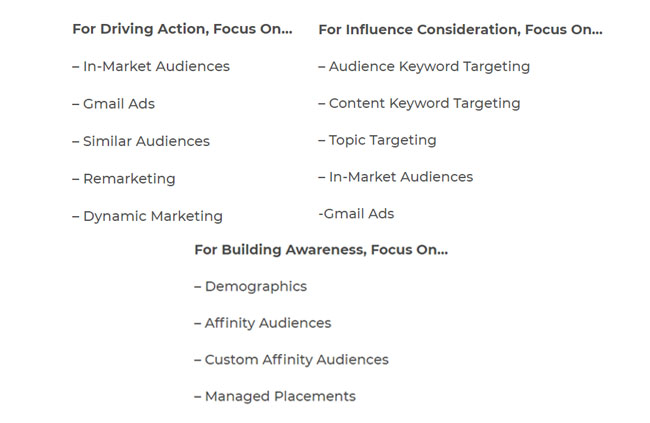 Last year, Google extended its in-market audience targeting capabilities by offering the targeting tool called custom intent audiences. With custom intent audiences, you can segment ad groups according to a specific set of keywords and landing pages you want to target.
To create those segments, you can define the keywords, URLs, and apps related to your product/service that your audience will be searching for and spending time on. Then, your ads are shown to people interested in those listed keywords, web pages, apps, etc.
Furthermore, you can specify your audience targeting to reach only audiences who have similar buyer personas to current customers on your website through "similar audiences" targeting.
If you want to revisit how to choose the right google display ads strategy and how to win a bid on the GDN, definitely check out our Google Display Ads primer.
Smart Campaigns on Google Display Network
Experts caution against relying too much on Smart Campaigns on the Google Display Network because the algorithms used for Smart Campaigns are not fully automatic and take time to "learn" how to serve ads in your favor. These kinds of campaigns still require manual adjustments.
Smart campaigns also require a pretty high budget in order to be effective. This is because automated bidding strategies require you to set a generous target cost-per-acquisition (CPA). In fact, the Tinuiti team suggested only doing Smart Campaigns when you have 10x you target CPA goal available per day to spend on Smart Campaigns for one to three months at a time (at least).
Take a look at another helpful infographic from Tinuiti showing the different types of Google Display Ads bidding options. When you want to drive website visits, it's wise to focus on clicks. In this case, manual or automatic cost-per-click (CPC) bidding is a viable option. When you're trying to spread the word about your brand, it makes sense to focus on increasing impressions. Cost per thousand impressions (CPM) bidding or cost per acquisition (CPA) bidding are great options.
When you manually maintain your Google Display Ad campaigns, you have more control over where your ads will appear. You can opt out of serving your ads on sites within the GDN that aren't favorable for your company's brand image (i.e. controversial political websites, spammy sites, etc.) In short, smart campaigns can be a great part of your strategy, but it shouldn't be the entirety of it.
Check out some of the key features of Google Smart Campaigns in this chart below: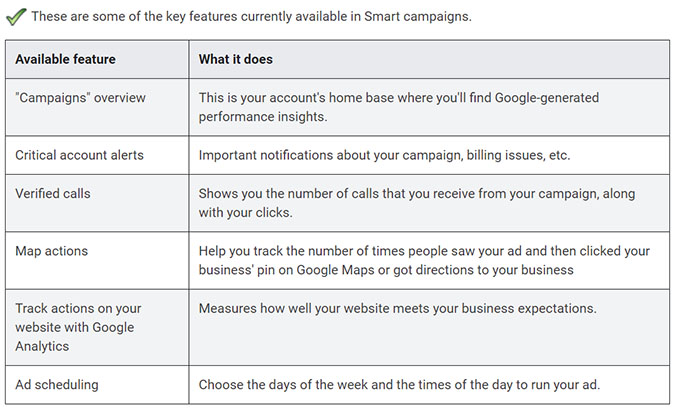 To Wrap It Up…
Online advertising using Google Display Ads is a process that requires strategic planning due to the numerous factors that contribute to the success of every campaign. In case you missed it, we wrote a great blog with 40 Google Display Ads examples that is definitely worth checking out for some ad inspiration.
Our team of experts can help you get the most out of every dollar of your display advertising budget. We have experience running Google Ads campaigns for a wide range of clients with different budgets and needs, and we prioritize ROI and efficiency.
Want to know more about how we can take your digital advertising efforts to the next level? Reach out to us today and we'll be more than happy to give you a free consultation. Don't forget to sign up for our newsletter for more exclusive tips and strategies, too!
Sign Up for the Chainlink Weekly Newsletter
More PPC Ad Insights from Chainlink Marketing
Need some guidance to make your PPC campaign as successful and cost-effective as possible?
Chainlink is here to help.