Google wants to increase your brand's visibility online and provide users with relevant information about your business. That's why Google results pages have evolved to include what is called the Google Knowledge Panel.
By "Knowledge Panel", all we mean is the "panel" of information that appears to the right of the regular Google search results. Here are a couple of examples: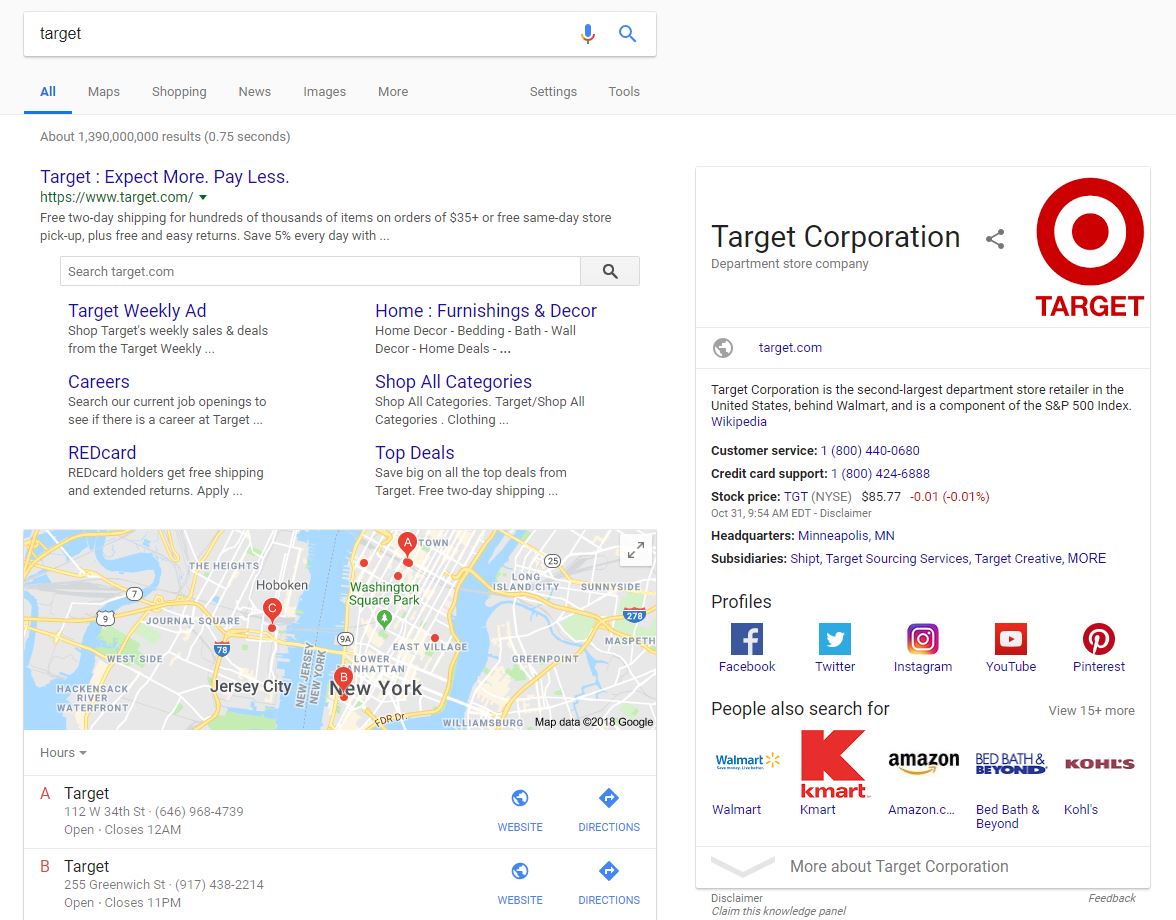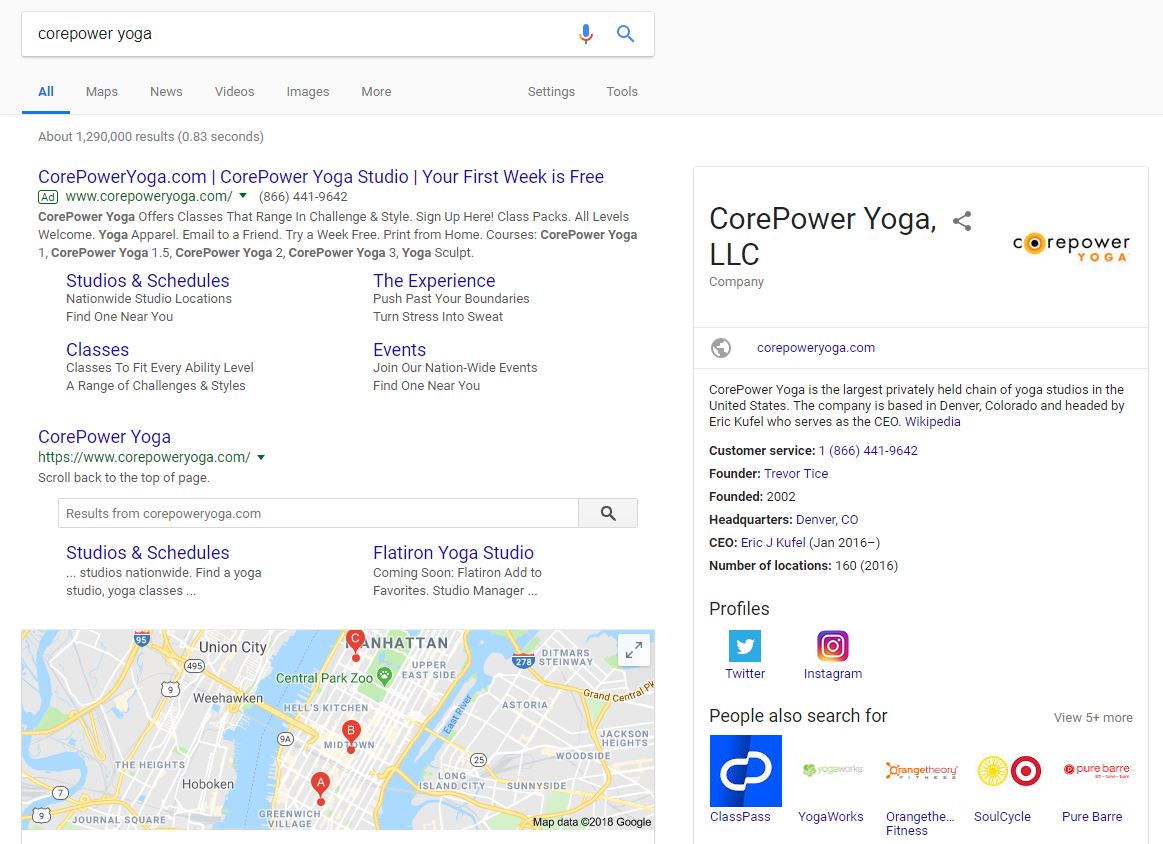 However, the visibility and easy user experience that these panels bring could come at a cost: website traffic. Ideally, you want people's interest to be piqued by the Panel, causing them to navigate to your site for more information. The reality is that a lot of people will just take note of the relevant information they need (maybe your phone number, address, or a key fact) without ever clicking to go to your site. This could lead to a decline in website visits.
Google Knowledge Panels are nothing new, but they are not usually given much thought by website owners and marketers. In this post, we want to remind you of their importance. Awareness of how different elements of search results could be changing who does and doesn't browse your site is key to having a competitive advantage.
A Knowledge Panel Overview
Google is your ally in most cases, but there are certain aspects of search results pages that you need to be aware of to make sure they don't negatively impact you.
The Knowledge Panel is a blessing and a curse for many websites. If you're a lead generation website, maybe the Panel isn't ideal for you. If you're a big company that relies more on in-store interactions for revenue, it's probably great. Take a look at Starbucks' Knowledge Panel on the right: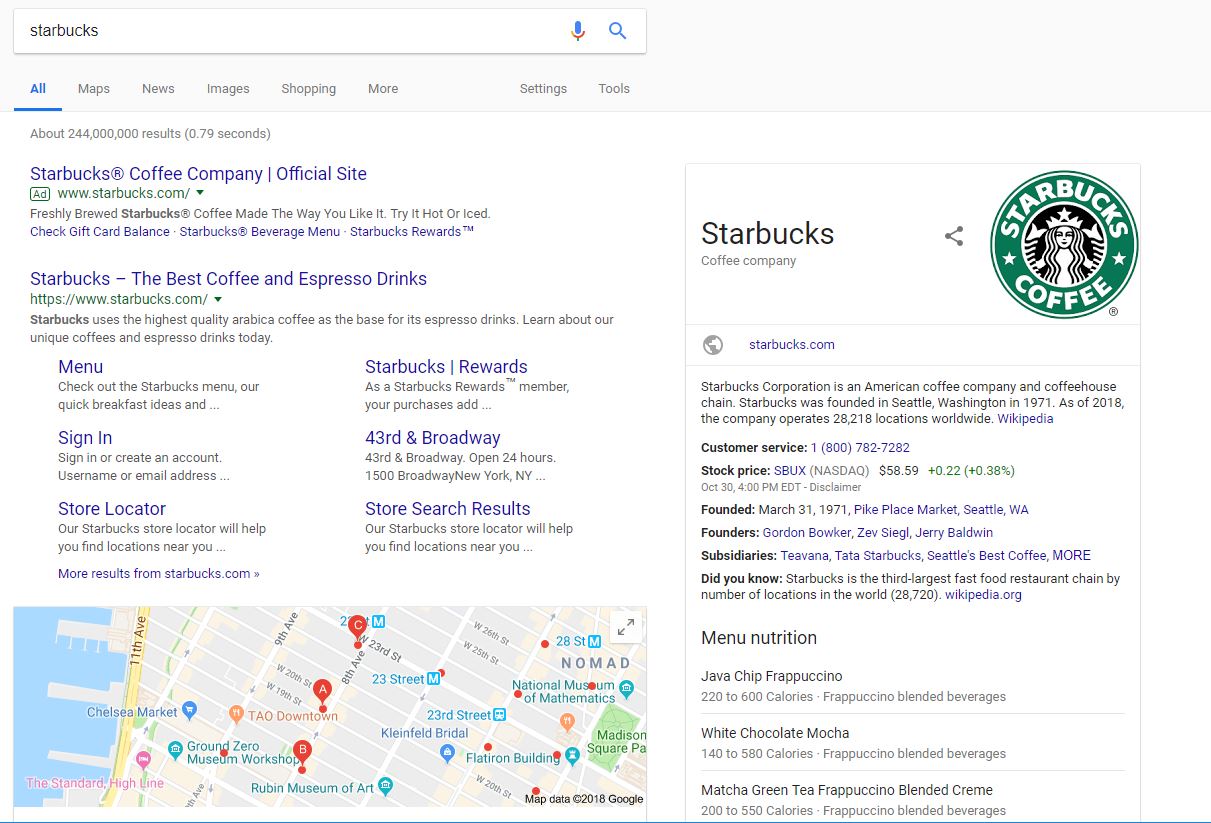 The benefit of the Graph is that it improves user experience in many cases, but the detrimental aspect is that it deters users from spending time on your website. If all of your best calls-to-action are found on your website, then it's probably not ideal to have them bypassing your site for the quick answer they can get straight from Google.
Google is Partially Your Competition
Whether you realize it or not, you're competing with Google to get users to click to your website. You can think of the Knowledge Graph Panel as having a similar effect as featured snippets. As we pointed out, searchers (especially those that are in a rush, looking for an answer) are not likely to click to go to your site if Google provides what they need directly on the search results page.
In the case of featured snippets, at least they usually help a site's authority. For example, I've never heard of the Philippines-based digital marketing company, Optixor, but I'm more inclined to trust its expertise since the business claims the featured snippet for the query: "what is the best way to increase search engine visibility."
Basically, featured snippets help your brand/business seem like an authoritative source of information.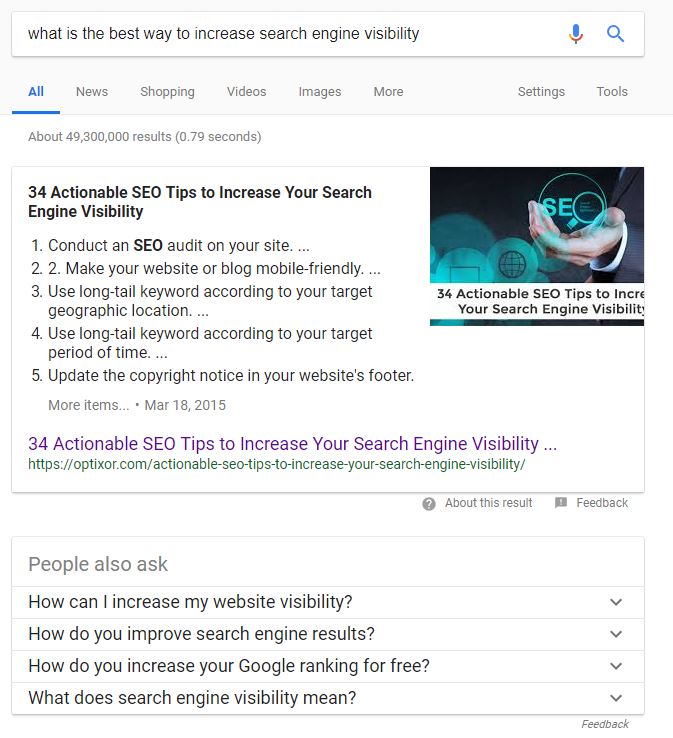 What You Do (And Don't) Have the Power to Change
We've had clients ask us in the past, "Is a Knowledge Panel controllable, and if so, how can my team customize it to our liking and have it appear for the most ideal keywords?" We could break down the different parts of the typical Panel to explore what is and isn't in our power to change. Moz recently did an exploration into
understanding whether or not we have any influence
over how it displays.
It's safe to say that your Google Knowledge Panel will look perfectly fine as long as you took the time to properly set up your site, your Google My Business account, and follow SEO guidelines. There are a few unique features that come up for particular businesses, especially those in the food and entertainment industries.
The formatting of these Knowledge Panels will often include menu links, critics' reviews, estimates of the most popular or crowded times of day, and more. In the Starbucks example we mentioned earlier, you probably noticed the "Menu nutrition" section, which lists popular drinks and the number of calories in them.
The Panel is a useful addition to Google SERPs, giving users the chance to discover your business and contact you without even clicking on your webpage. At Chainlink, we help you make the most of your search engine visibility.
We focus on creating a solid foundation for success in the SERPs that's based on legitimate, tried-and-true tactics. Although we are a full service agency, we take the time to educate our clients who want to be knowledgeable for themselves, too. We'll help you make sure you have a strategy that produces tangible results and the highest ROI possible.
Reach out to us below to learn more about how we can help your business. We'd love to give you a free consultation. Also, don't forget to sign up for our newsletter for more exclusive tips and strategies that are both effective and easy to follow.
Sign Up for the Chainlink Weekly Newsletter
More SEO Insights from Chainlink Marketing
Want to create an SEO strategy that
drives conversions for your company?
Chainlink is here to help.