Google is all about innovation, and the Google Marketing Platform is designed to be a unified solution for combining data and improving marketing across channels and devices. The platform integrates Google's DoubleClick and Analytics 360 products, empowering businesses to manage their customers' journeys from start to finish.
We want to point out some of the benefits of the Google Marketing Platform that you can take advantage of now that advertising and marketing analytics are unified.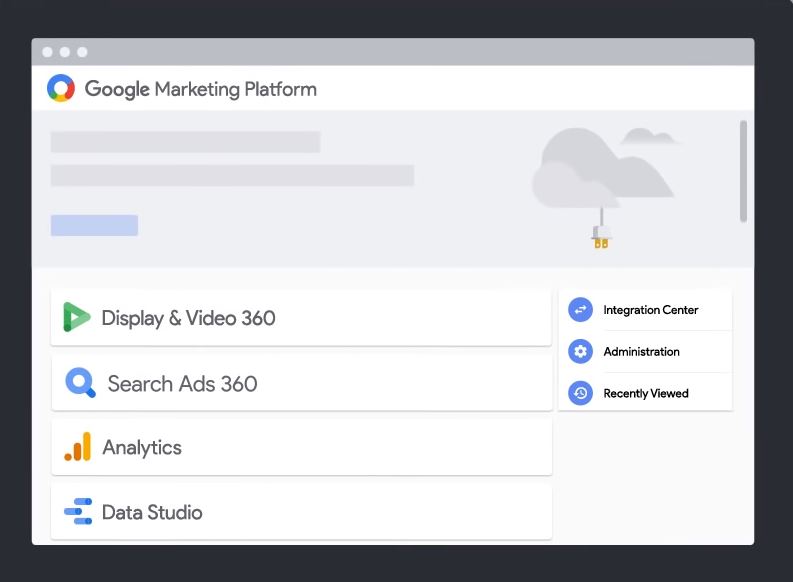 1) Improved Cross Device Capabilities
One advantage of the Google Marketing Platform is its cross device capabilities. Basically, these features are a part of the platform that allow marketers to get a better picture of the customers' journeys across devices, from their smartphones and tablets to their laptops and desktop computers. This information empowers digital marketers to run smarter campaigns that produce more customized experiences for users.
Although being able to track and measure the number of users who visit any given website from their mobile devices is not a new capability for Google Analytics, what has changed is the ability to put together a complete picture of Cross Device reporting. Google explains that in order to access these new features, you have to start by visiting the Admin section of your Analytics account. Then, you choose the setting to activate Google Signals.
Previously, Analytics would let you see two separate sessions (one on desktop and one on mobile). Now, you can take the specificity up a notch and see when users visited your website from two different devices.
 Google made this improvement at a optimal time, considering the steadily increasing importance of mobile device usage. It seems that the digital world is at the pinnacle of mobile marketing/advertising. The key is to be able to make more informed business decisions with the information you gather about the holistic customer experience by interpreting mobile device usage data.
2) Smart Campaigns Powered By Machine Learning
The point of smart campaigns is to help small businesses get the best results from their online advertising efforts while spending the least amount of time possible.
Google's machine learning technology streamlines the process of PPC advertising for businesses and algorithmically refines ads to be the most effective that they can be. These campaigns are meant to open the doors of Google Ads to anyone, because they require such a small amount of fundamental knowledge to set up, and then Google's AI handles the upkeep.
However, advertisers should still be aware of the fact that whenever an algorithm controls an aspect of your marketing or advertising efforts, having a human check in on the campaign periodically to ensure its success si necessary (regardless of how advanced the technology is).
It's great that Smart Campaigns make it a no brainer to start and maintain ad campaigns. However, if you're leaning on the artificial intelligence to help you figure out the basics of online advertising, it could be more harmful than helpful.
It's important to learn how Smart Campaigns can help you save time and optimize your campaigns for the metrics you need to track. Nevertheless, you should still manually manage your Google Ads account (and set up conversion tracking yourself) so that you're certain that you're focusing on the right KPIs (Key Performance Indicators). Like any automated process, you have to learn the strategies behind it in order to really optimize its capabilities.
3) Better Ability to Reach the Right Customers
Any business, whether it's B2B or B2C, needs to know its ideal customer or client type/persona. Part of what can help refine which persona(s) is/are the most idea is by analyzing the different behavior of people on different devices. The more information you have, the more specific and relevant you can make your offers to your prospective or current customers based on behavior.
Google Analytics has been helping online store owners keep track of their customers' buying behavior for years, but now the Google Marketing Platform is taking it to the next level.  As you can see in the image below, the Integration Center lets you clearly see and organize links between products and opportunities for new integrations. This allows you to holistically integrate and leverage Google's marketing products across platforms.
There are so many ways to segment your overall audience into smaller, more specific audiences, and the Google Marketing Platform makes it easier than ever. It's important to note: the features we're talking about are beta features, so their introduction and integration into the overall Marketing Platform might take some time.
Wrapping It Up…
The new combination of what was formerly DoubleClick with the Google Analytics 360 products has already sparked new improvements. By integrating data between multiple Google products in one centralized platform, it's never been easier to get a comprehensive overview of your digital marketing efforts.
Our Chainlink team can take care of all your marketing tasks associated with the Google Marketing Platform. To ensure your understanding of the new features and the basics of the rebranding of Google Ads, we wrote this blog post, too.
If you want to ensure that your technical SEO is where it needs to be, Chainlink Relationship Marketing can help you. Reach out to us to learn more about how we can help your business grow online using cutting edge digital marketing tactics.
Don't forget to sign up for our newsletter for more exclusive tips and strategies, too.
Sign Up for the Chainlink Weekly Newsletter
More PPC Ad Insights from Chainlink Marketing
Need some guidance to make your PPC campaign as successful and cost-effective as possible?
Chainlink is here to help.