Today, more companies than ever before are paying social media influencers to promote their brands and products, knowing that one post could generate hundreds or thousands of likes and comments.
Users are just as likely to see an influencer make an advertising post for a brand as they are to see an ad interrupt the flow of their feeds.
By looking at how influencer marketing has evolved and continues to grow, we can figure out the best way to take advantage of this thriving digital marketing tactic.
Social Media Influencers: A Brief History
Today, influencer marketing is dominated by beauty bloggers, vacation vloggers, comedians, and a wide variety of social media personalities. Most social media influencers started off by gaining a following based on free, interesting content.
Whether someone has an instagram account with breathtaking nature photography, or a facebook page with free workout videos or recipes, people engage because they're genuinely interested in whatever the account has to offer.
Before long, non-celebrity influencers started leveraging and monetizing their growing influence to partner with brands.
The great content, accessibility, and relatable nature of hundreds of average people's accounts turned them into profitable mini megaphones for countless brands.
For example, foodies partner with cafes and food brands, and beauty gurus partner with salons and makeup companies. Once they reach a certain status on social media (and maybe even claim the coveted "verified" blue check mark), their opportunities for partnerships multiply.
Overtime, the earned media value of influencers started to become increasingly apparent to brands and marketers.
Influencer marketing started becoming more widespread and quantifiable by the early 2010's and hasn't slowed down since. According to SEMrush, the earned media value for influencer marketing programs is steadily increasing.
Influencer Marketing's Steady Growth
The
Google Trends graph
below provides a brief snapshot of the rise in popularity of the term "influencer marketing" from 2014-2017.
This chart shows how influencer marketing has become significantly more popular from 2016 to 2017 specifically, although there is a continuous upward growth in influencer marketing during the 3 years.

Authenticity Across Multiple Platforms
Today, the most prevalent social media influencers with the largest following usually acquire such a significant fan base through creating profiles on multiple platforms of social media, like Snapchat, Instagram, Twitter, and sometimes a Facebook page.
With so many different platforms available for influencers to connect with their followers, it makes for a more authentic, personal experience for the user.
Followers get to feel as though they know a public figure by liking and commenting on their pictures, tagging their friends in posts, or keeping up with their Snapchat and Instagram stories.
One of the key advantages of working with influencers is their ability to create authentic content.
For example, the cosmetics/skincare brand Clinique uses influencer marketing for their men's line of products, Clinique For Men. Since Clinique is mostly known as a women's cosmetics brand, their male consumer base started off pretty small.
To authentically gain a following, Clinique began working with various male influencers in different professions, such as lifestyle bloggers, filmmakers, stylists, and outdoorsmen.
Clinique wanted a variety of male influencers to represent and reach different aspects of their new brand for men.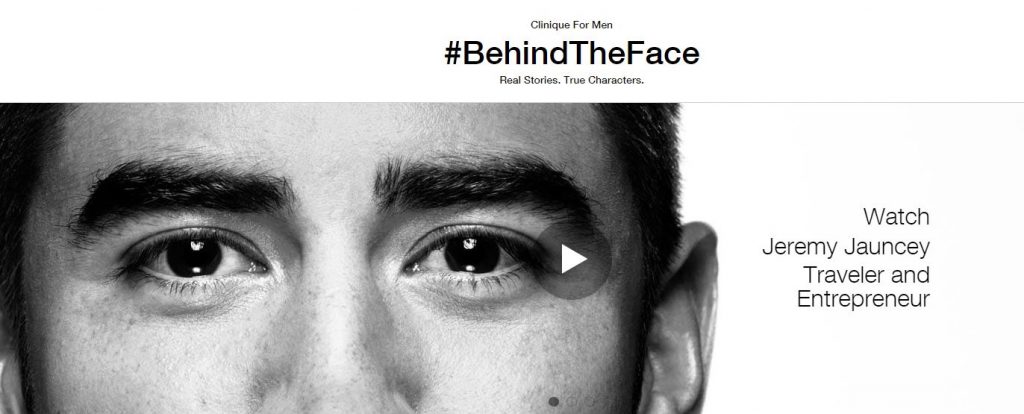 In a study done by the influencer platform Linqia,
89% of businesses feel influencers' biggest attraction is helping to create authentic content for their brand
. When trying to build a brand on a foundation of equity and loyalty, partnering with influencers with an audience that trusts them can go a long way.
Influencers tend to have more trust from their followers compared to celebrities. It's highly doubtful that Matthew McConaughey drives a Lincoln, and Millennials and Generation Z can identify phony ads when they see them.
Influencers are effective because they were able to build a platform by endorsing products that they like and trust, not just because they're a well-known celebrity and their publicist thinks they should take a certain endorsement deal.
Today's Growing Trends in Influencer Marketing
Over the past decade, there has been a trending increase in businesses that have started using influencers, and studies have shown that these numbers will continue to rise in the future.
Read on for five influencer marketing trends that are currently becoming more widespread.
1) DRIVING LEAD GENERATION THROUGH INFLUENCER MARKETING
Marketers have been able to improve brand awareness and reach new audiences through influencer marketing, and now marketers are trying to focus on improving leads and sales conversion by working with influencers.
67% of marketers want to drive lead generation through the use of influencer marketing. Businesses are becoming more familiar with working with influencers and learning how to generate positive results, there is a movement towards incorporating influencers in content beyond just marketing.
Influencers are now teaming up with brands to drive sales, customer service, recruiting, and PR.
2) INTEGRATION WITH MARKETING ACTIVITIES
Influencers having a role in each step along the customer's journey through content, engagement, and community. Creating a seamless experience for users should be at the center of a business strategy.
Therefore, by incorporating influencers across all integrated channels can help provide an easy, seamless experience for customers.
Creating long-term relationships and adding value to these relationships with influencers and their followers is how marketers can really see an impact in sales, retention, satisfaction, and overall customer experience.
3) TECHNOLOGICAL ADVANCES IN MEASUREMENT TOOLS
Although most marketers are satisfied with the positive results that are generated from working with social media influencers, it is still a challenge to measure exact metrics for influencer marketing campaigns.
Marketers currently working to design better models with reliable ROI figures should have a clear understanding of what their business objectives and metrics are for the influencer, such as influencer reach, engagement, traffic, or conversion.
However, over the next few years, the continuous growth trend in influencer marketing should spark the creation of more accurate marketing tools to measure and track performance of campaigns and individual influencers.
4) INCREASE IN MEASUREMENT ACROSS MULTIPLE CHANNELS
Now that there are more digital tools available to track the resulting metrics of influencers, it's much easier for marketers to make cross-channel measurements. It is important to be tracking and calculating key performance metrics (KPMs) on all platforms because it allows you to determine the effectiveness of each channel.
During a marketing campaign, not all platforms will have equal engagement. It's natural for some platforms to perform better than others, depending on the user and the campaign. To measure an individual influencer score on each platform, a weighting system should be implemented, like this one: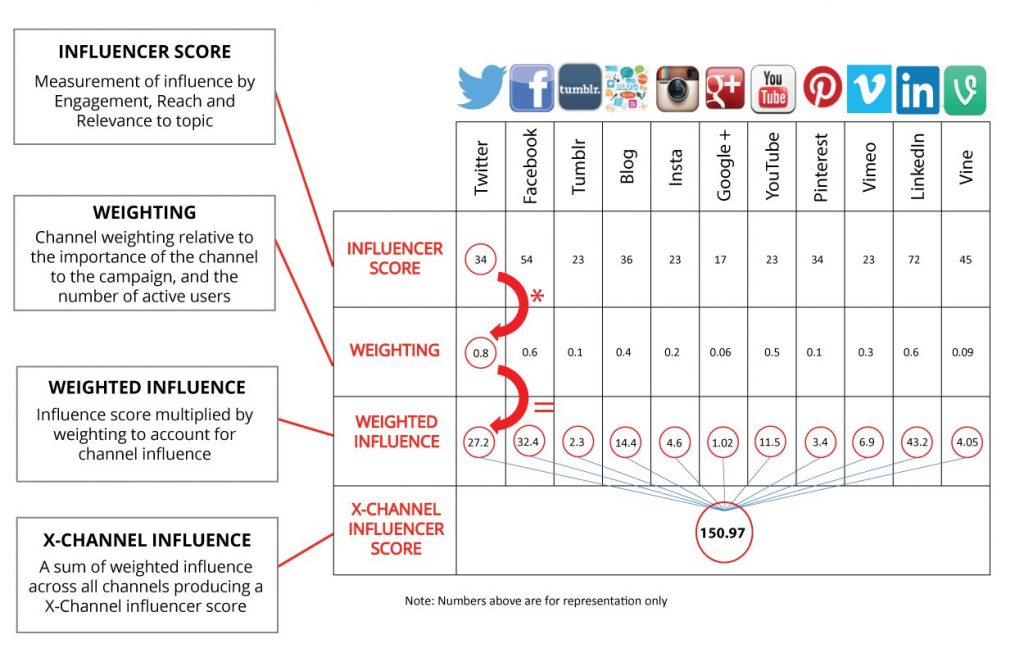 5) INVESTING MORE IN INFLUENCER MARKETING
Because influencer marketing has been proven to be effective and is growing fast, businesses will invest more of their resources and focus on influencer marketing in the coming years.
With more brands realizing the effectiveness of influencer marketing, it only makes sense to dedicate more time and money to it. Influencer marketing is expected to make up to $5-$10 billion dollars of the digital marketing spending by 2020.
Hopefully reading this article gave you a better understanding of the changing trends in influencer marketing, and gave you some insight into what to expect in the future.
At Chainlink, we believe everyone can the ability to win at influencer marketing.
Our proprietary Chainlink Marketing Platform provides the tools to properly attribute and quantify the value of every single interaction across your influencer marketing campaigns.
If you're using a variety of influencers, you can track each one's impact to see where you should increase or decrease your spend to optimize your overall returns.
Reach out to us to learn more about how we can help your business grow online. We'd love to give you a free consultation.
Also, don't forget to sign up for our newsletter for more exclusive tips and strategies that are both effective and easy to follow.
Sign Up for the Chainlink Weekly Newsletter
More Social Media Insights from Chainlink Marketing
Need a hand with your social media marketing strategy?
Chainlink is here to help.