Krewe Marketing & Products
Mardi Gras Krewe Full Service Solutions
We help Mardi Gras Krewe's with member growth & retention using modern digital marketing techniques, providing membership management, custom throw production, ordering & inventory support, payment management, rider support, event management, and more.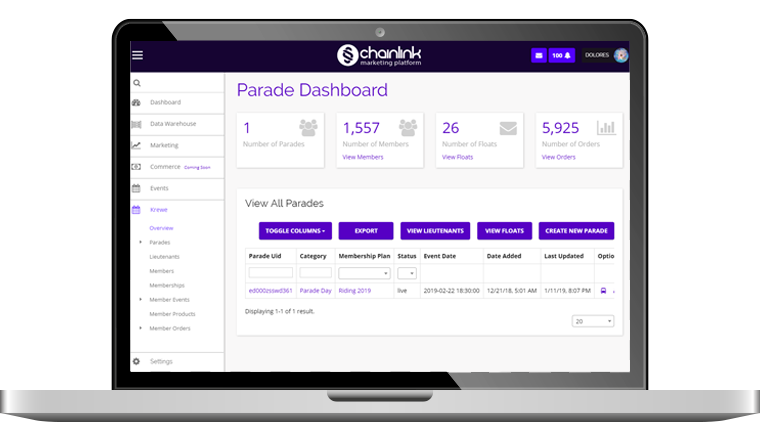 Get Started For Free!
Sign up today to start a free account to start growing you membership. Accounts are free for up to 500 riders.
Krewe Connect Benefits
Member Growth
Grow your membership every year with email automations and impressive Krewe management
Continue to grow your Krewe year over year and become one of the top Mardi Gras Krewes! Chainlink's email automation will allow you to easily send out Krewe information and updates to a list of members and potential future riders.
We've consistently helped Krewes exceed their annual growth targets for the past 7 years.
Member Retention
Ensure every one of your Lieutenants and riders comes back to ride with your Krewe again next year
Keep your current Krewe members coming back for more every year by giving them an extraordinary experience and making the entire process as seamless as possible.
Chainlink is always focused on member growth, but more importantly, we want to make sure your current riders are happy and want to come back next year.
Lieutenant Management
Empower your Lieutenants to manage their members, floats, orders, and more through our custom Krewe Platform
Every Lieutenant will have their own Krewe Platform login that allows them to access all of their important member information.
As a Lieutenant, you will be able to manage your members' costume size, float positions, events seating assignments, and view all of the throws and event tickets any of your members have purchased.
Empowering Lieutenants is an important part of this Krewe management system, ensuring that all of the responsibility is not falling on just one or two people.
Float Assignments
Allow Lieutenants to easily assign all of their members to specific float positions through our interactive float tool
Every Krewe Lieutenant will have the ability to individually assign all of their riders to a specific float positions using a simple drag & drop tool in the platform.
Giving Lieutenants the freedom to assign riders and easily change float positions at any time has streamlined the float organization process.
Parade Management
Easily manage the lineup of your parade floats, bands, and more
Chainlink's Krewe Platform makes it easy to manage not only individual float assignments, but also any bands and miscellaneous groups that are going to be part of your parade.
Using a simple drag & drop tool, you can organize your entire float lineup all within the Krewe Platform.
Event Management
Sell and distribute tickets, assign seats, and manage check ins
Every Krewe has a variety of events throughout the year, and managing every event can become overwhelming. Chainlink's event management solution allows for full customization of events all within the Krewe Platform.
Whether you're organizing Galas, Rendezvous Balls, Float Viewings, Loads Ups, After Parties, or just a Member Meeting, Chainlink's Krewe Platform can handle it all.
Krewe Websites
Custom built Krewe websites to manage your entire parade and membership process
Chainlink can create custom Krewe websites to help a Krewe manage a number of their everyday tasks.
We can create custom e-commerce solutions, including member-only access for purchasing throws, apparel and tickets. This allows members to pay dues directly through the site and purchase exclusive bead packages and special Krewe tickets for various events throughout the year.
Chainlink will match your custom website to your Krewe's theme every year, with ongoing support and updates throughout the year as needed.
Custom Throws
Custom throws delivered directly to rider positions without any hassle
Chainlink will create custom, theme specific, throws for your Krewe that can be sold directly through your new Krewe website.
We provide high quality, unique throws at a competitive price with frequent special sales for Krewe members. All throws purchased through your Krewe's site will be delivered directly to every riders' position before the parade rolls.
Our custom throws solution is a hassle free way to offer unique throws to your members and ensure that every throw is delivered to the correct rider position on time.
Krewe Support Staff
Full-time support staff to answer the questions of your Officers & Members
Chainlink works with your Krewe's officers to learn all of the established rules and policies of your Krewe management, and then provides a full-time staff person to answer questions from your Members.
We provide regular business hours online chat support with an actual dedicated staff member via a widget placed on your website, and can respond to general support questions that your members may submit.
Krewe Experience To Drive Growth
Chainlink has been helping Mardi Gras parades grow for the past 5 years. Let's make your next year's ride the best yet, with more members, higher product sales, and an overall better Krewe membership experience, with less hassles.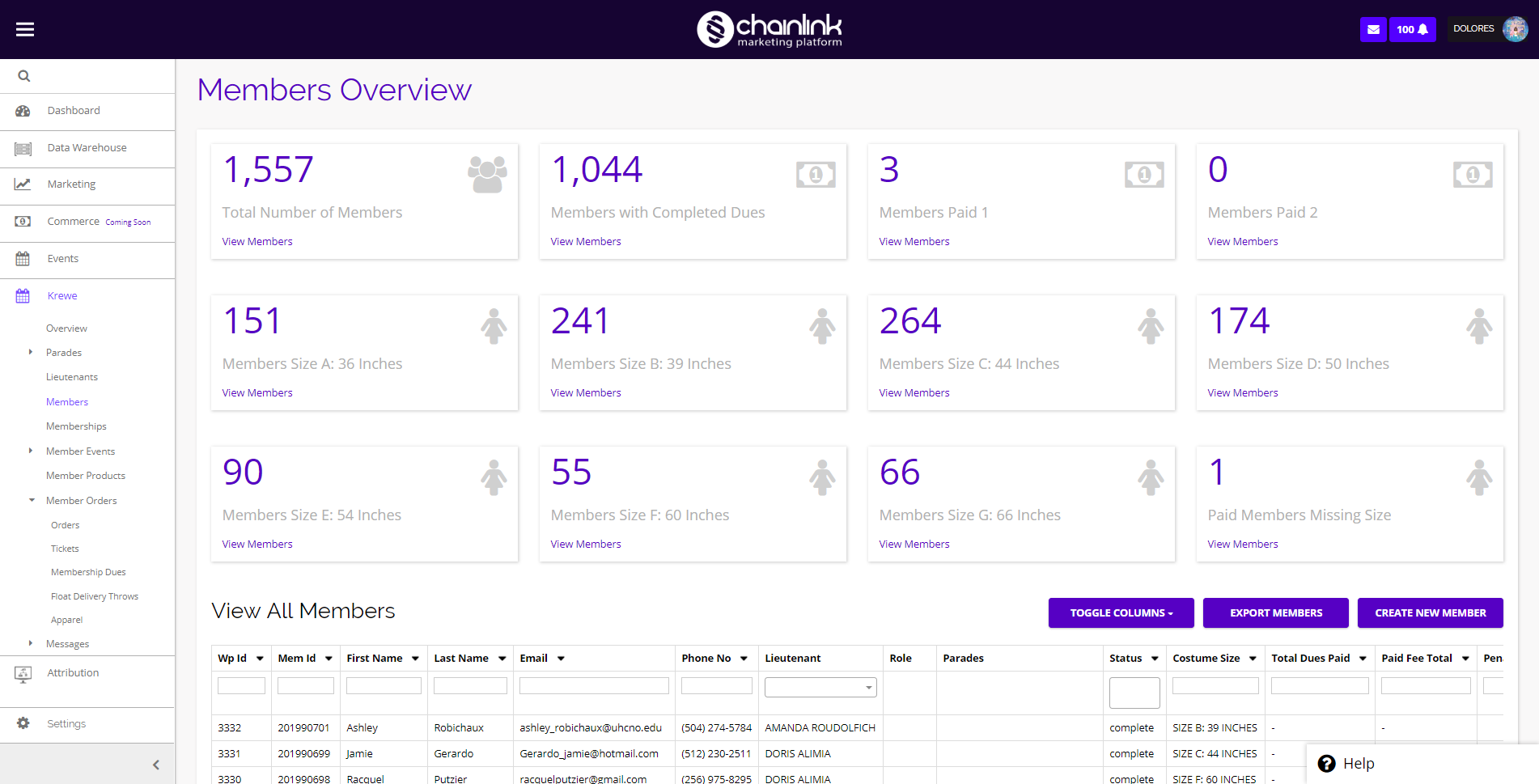 We Make it Easy to Manage Your Mardi Gras Krewe Using One Platform
Chainlink makes it easy to manage all aspects of your Mardi Gras Krewe in one place. The Krewe Platform allows you to digitally organize and manage your members, Lieutenants, floats, bands, events, throws, and more.
Ready to take your krewe to the next level? Please get in touch.