Google has officially changed the length of its meta descriptions, and this could have a profound effect on SEO results. This is a new development (as of December 2017) and research is in progress about the extent of these changes. In this blog post, we outline what the digital marketing community knows so far about the change in meta description optimization and how you can stay on top of this update.
How Search Results Appear Differently Now
In case you're not sure what a meta description is, it's the portion of text under every search result. Google's search results snippets used to be about 160 characters long or less, and now the average length has doubled. The current 320 character maximum meta descriptions provide a better idea of what you'll find on the actual webpage. As pointed out by Moz's expert Rand Fishkin, on both mobile devices and desktops,
instead of an average of two or three lines, now you'll probably see three to six lines of text
. Notice the visual difference between the
previous
and current meta descriptions, and their differences in content style: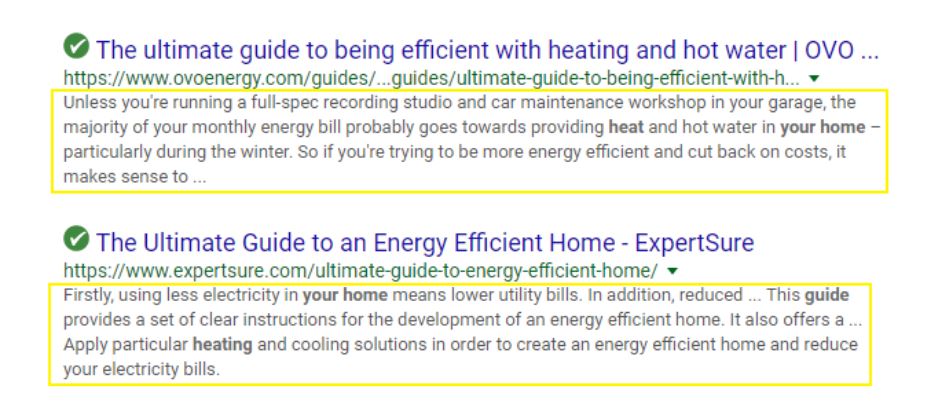 How This Change Could Impact Your Website
Even though a change in meta description optimization might not seem revolutionary, it still has consequences. These longer snippets will probably cause click through rates (CTRs) to decrease at least moderately. Don't panic about how this could be detrimental to your website traffic. You have to re-focus on what the purpose of your website is. Your site is a living, breathing calling card for your business. Ideally, every prospect that clicks would become a customer. A more realistic objective is to maximize the positive brand awareness and attention your company receives from being one of the top ten search results. As long as users realize that it's your company/brand/agency that was at the top and provided them value, you're winning. Longer meta descriptions could also cause lower CTRs to search results that aren't ranking in the top five or ten results, because users have more of a chance of finding what they're looking for without needing to scroll down much. This is adds more priority to trying to rank as high as you can in Google's search engine results pages (SERPs).
How Best Practices Could Change
The purpose of meta descriptions has always been to help people decide which search results are the most useful for answering their queries.
Google
claims that the point of longer, more descriptive snippets is to improve user experience. There are mixed opinions about the actions to take next, considering this is still a recent development. Most web gurus are arguing that changing every snippet to be optimized for the longer limit is a waste of time. For example, the SEO experts at Search Engine Land assert that the Google is moving towards dynamically generating snippets based on a user's query and
content found in both the meta description and the content visible on the page
. It would probably be in your website's best interest to re-optimize the meta descriptions of only your most important, high-performing web pages for this new 320-character maximum length. In the words of Matt Southern from
Search Engine Journal
, "…expanding all meta descriptions would be wasted effort, so continue to focus on more important tasks." However, keep in mind if you have a WordPress website that the SEO firm Yoast updated the recommended meta description length on the Yoast plugin to match Google's recent change.
Although research is still being conducted about the extent of the impact of this update, it's important to be as proactive as possible using the information that we have now. Meta descriptions might seem relatively inconsequential in the grand scheme of your SEO efforts, but the truth is that every SEO factor counts in this competitive digital landscape.
As SEO experts, Chainlink can help your business become an industry leader by increasing your organic website traffic and online credibility. We are an action-oriented agency who can provide valuable insights into your customer histories, interactions, preferences and purchases using our proprietary platform, the
Chainlink Marketing Platform
. This information can also empower you to make informed decisions in your keyword research and your overall SEO strategy. Want to learn more about Chainlink's uniquely effective digital marketing services? Reach out to us below to learn more about how we can help your business grow online. We'd love to give you a free consultation. Also, don't forget to
sign up for our newsletter
for more exclusive tips and strategies that are both effective and easy to follow.
Sign Up for the Chainlink Weekly Newsletter
More SEO Insights from Chainlink Marketing
Want to create an SEO strategy that
drives conversions for your company?
Chainlink is here to help.