If you want to rank higher than your competitors in Google's search results, you need to learn how to maximize your SEO efforts by using a keyword research tool. You should be reflecting on your current SEO strategy by choosing the best possible keywords using a keyword research tool.
Unless you are a huge, well-established corporation with a sizable marketing budget, chances are your content isn't getting the attention it deserves.
However, if you put the time and thought into your keyword research strategy, you can improve your search engine rankings organically. Without spending an exorbitant amount of money paying for online advertising, you can oftentimes achieve the same boost in high-converting web traffic.
If you need to rank higher in Google's SERPs (Search Engine Results Pages) and think you have already tried everything, think again. Read on for some tips on how to make the most of a keyword research tool:
The best tool out there is the Google Keyword Planner, which you can use if you have a Google AdWords account set up for your company website. Without actually paying for these keywords, you can use the planner to decide which you should target when producing new content.
It turns out, the solution is not to compete with your business rivals by churning out tons of new content and hoping your website eventually gets bumped to the top of Google's SERPs (Search Engine Results Pages). Instead, you need to choose long tail keywords that are searched frequently and are not extremely competitive.
The Google Keyword Planner is the most effective way to determine which words are high traffic and low competition. Also, if you have no idea how to originate unique and low competition keywords on your own, there's a trick for that.
Simply enter the URL of a webpage of a company's website that has the same target audience as you, and see what keywords Google suggests based on that.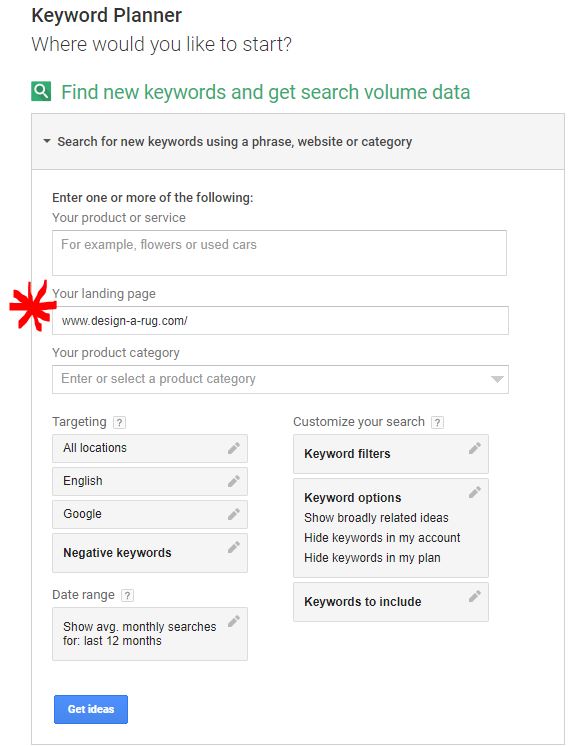 No matter what your industry is, the Google Keyword Planner empowers you to find competitive keywords to drive web traffic to your site. Let's pretend you're a custom area rug company.
If you want to rank alongside websites such as www.design-a-rug.com and www.theperfectrug.com in Google's search results, you need to enter the URLs from some of their landing pages into the Google Keyword Planner and see what long tail keywords are suggested. This is how you can make the most of a keyword research tool.
Increased search engine traffic results from using keyword research tools like the Google Keyword Planner strategically. Most importantly, you have to produce thoughtful, valuable content around the keywords you choose.
The next step is to promote your content so that Internet users are linking to it from relevant, reputable websites. Authoritative websites won't include links to your content if it seems like you're mindlessly writing content just to improve your SEO.
In fact, Google does not reward regularly-updated sites, or sites that are publishing tons of new content daily. If that were the case, then low-quality e-magazines that consistently post an excessive amount of articles would frequently rank on the first page.
These e-magazines aren't ranking because they are rarely linked to as accurate sources, and because they aren't making the most of a keyword research tool (if they are evening doing keyword research at all). You don't want to waste your precious time getting stuck implementing the same old ineffective approach.
Wasting your time by listening to regurgitated and frequently outdated advice about SEO will do your business more harm than good. Today's digital landscape is far too competitive for you to expect to excel merely by publishing large quantities of content without keyword research in mind. If you want better organic search results, you need to use a keyword research tool, such as the Google Keyword Planner.
As SEO experts, Chainlink can help your business become an industry leader by increasing your organic website traffic and online credibility. We are an action-oriented agency who can provide valuable insights into your customer histories, interactions, preferences and purchases using our proprietary platform, the Chainlink Marketing Platform. This information can also empower you to make informed decisions in your keyword research and your overall SEO planning.
We hope that you can walk away from this article feeling more knowledgeable about SEO strategy such as using a keyword research tool to your advantage.
Reach out to us to learn more about how we can help your business grow online. We'd love to give you a free consultation.
Also, don't forget to sign up for our newsletter for more exclusive tips and strategies that are both effective and easy to follow.
Sign Up for the Chainlink Weekly Newsletter
More SEO Insights from Chainlink Marketing
Need a hand with your website's content strategy?
Chainlink is here to help.