Squarespace is one of the top content management systems (CMS's) for bloggers, small businesses, photography/portfolio websites, and small-scale ecommerce shops. It's extremely user-friendly and streamlines the process of developing a professional, aesthetically pleasing, and secure website.
Although the majority of websites we build and optimize are on WordPress, we wanted to write a post focusing on the SEO basics for our clients who use Squarespace. We have written about Squarespace's ecommerce capabilities/tools in a previous post, but we didn't get the chance to talk about an overview of what is (and isn't) possible to optimize.
Squarespace might have more limitations as a CMS compared to WordPress, but there are still actions you can take to improve your search engine visibility before resorting to switching to a different platform. Squarespace has a great support section with video tutorials (definitely necessary to check out), but it can be time consuming to filter through and digest all the instructions and examples they provide when you want clear and quick guidance.
In this post, we cut straight to the point with 3 key sections of information that will clear up any confusion you might have had about making sure your SEO efforts for your Squarespace website are on track.
Basic Optimization Tips for
Your Squarespace Site
If you have a Squarespace subscription, you know that it includes some great perks, such as high quality website templates, content hosting, and 24/7 support. The Squarespace CMS automatically ensures your technical SEO is set up properly, including automatically generating a sitemap for your website, optimizing for mobile, and guaranteeing that you have an SSL certificate.
However, Squarespace is very clear on its support pages that SEO strategy is not within the scope of Squarespace support. The baseline for ensuring positive SEO results is straightforward, but the nuances of competing for top spots on search engine results pages are not.
You have to navigate the backend of Squarespace and customize the SEO elements for your site. These elements include but are not limited to:
– Website Titles
– Page Titles
– Meta Descriptions
– Image Alt Text & Captions
– Product Categories
– Product Tags
– Header Structure
– URL Structure
To access these elements, you have to go to "Settings", click "Website", and then update the elements found under "SEO".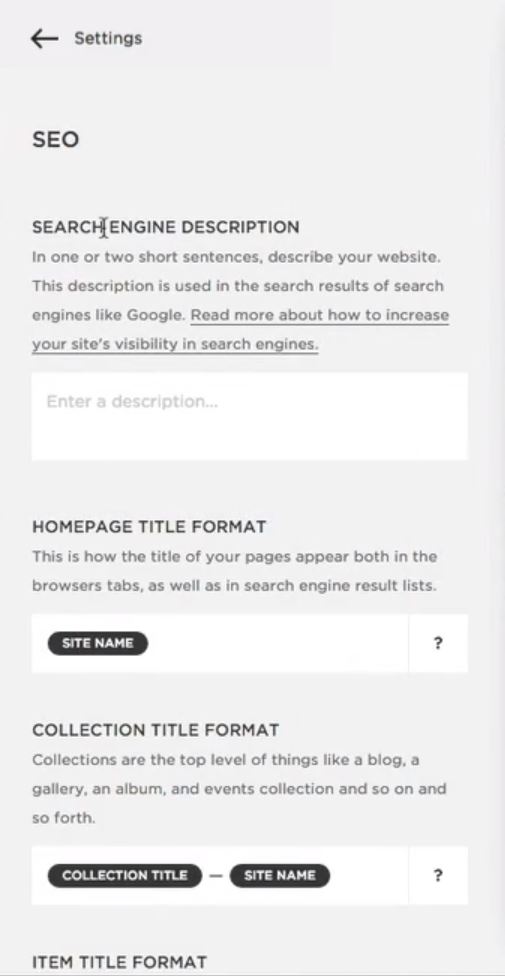 Maintaining a Blog on Your Squarespace Site
You've heard a million times the importance of content creation, optimization, and distribution for your brand's link building and overall SEO efforts. For Squarespace websites, regularly blogging and updating content is just as important for SEO as it would be on any other website.
Thankfully, Squarespace allows you to add keyword-rich URLs, organize your header structure, and customize descriptions to your images and image galleries. If there is one aspect of your Squarespace site to focus on to give you an SEO boost, it's your blog. It's completely within your control, no matter your industry or niche.
An interesting thing to mention is the fact that Squarespace doesn't allow users to utilize plugins, which many blogs built using WordPress use to add fancy custom features or designs. Although you can use custom CSS to tailor a pre-made Squarespace blog template, it's not the same level of customization available.
Although some people might see the lack of freedom to add plug-ins as a disadvantage, it's useful in terms of not having to worry about plug-in updates or other issues disrupting your blog. Plus, Squarespace keeps an eye on the plugin market and makes updates in-house based on what the organization deems appropriate.
Link Building on Your Squarespace Site
When it comes to manually building links for your Squarespace website, the approach is pretty much the same as it would be if you were using any other CMS. Google and other search engines evaluate the quality and merit of inbound links on Squarespace as they would if your site was a WordPress, Shopify, Wix site, etc.
Even though inbound links can be powerful, they might not be worth the time investment of actively reaching out to get reputable blogs, publications, and other companies to link back to you. You can always fall back on "natural" (passive) link building which is when content is good enough to organically generate links over time. However, a passive approach will likely not produce the kinds of results you expected. At the end of the day, you need a long term link building strategy.
If you're still not gaining momentum with your SEO efforts for your Squarespace website, instead of thinking it has something to do with the CMS, re-analyze the content itself. There is almost always room for improvement. Also, small errors such as not including the right keyword is your title tags and meta descriptions could hurt you in a subtle way. If the keyword competition is too high or your content isn't interesting enough, unfortunately it doesn't matter how amazing your link building strategy is.
Whether your Squarespace site is brand new, or you've had it for a while and it needs an SEO refresh, we hope you found this post useful. At Chainlink, we reassure our clients that they can see results from SEO efforts regardless of the CMS they use. We encourage our clients to use WordPress, but we never want them to feel like it's their only option.
Squarespace could be the best choice for your business, or maybe you thought it was the best choice and want to make the most of it until you make the transition to WordPress. At the end of the day, what works for your business will be unique to you and your situation.
We know firsthand that even if you have all the knowledge in the world about SEO, if you don't have an organized, dedicated effort sustained over a period of time, you won't see results. Our team takes the time to learn the ins and outs of what makes your organization's digital marketing needs different, so that we can better serve you.
We can guide you through using the tools you need to use to improve your search engine visibility once and for all. Reach out to us to learn more about how our services can help transform your business. Also, remember to sign up for our newsletter for more exclusive tips and strategies, too.
Sign Up for the Chainlink Weekly Newsletter
More SEO Insights from Chainlink Marketing
Want to create an SEO strategy that
drives conversions for your company?
Chainlink is here to help.