Twitter is a worthwhile social channel for your business to focus on throughout 2019. Digital marketers use Twitter as a platform for engaging with current/prospective customers, for strategic networking, for sharing important news, and more.
Twitter's 330 million monthly active users are overwhelmingly young and affluent, and the company's first quarter 2019 results show signs of continued growth. How will your company take advantage of Twitter's opportunities to grow your brand, drive sales, and turn customers into loyal advocates?
Excelling at Twitter marketing and establishing a strong presence on the platform takes planning and patience. Twitter is always testing new features as it competes with its social media competitors. Regardless of your industry or the size of your company, use this guide to help you set goals, stick to a plan, and take clear steps to improve your Twitter marketing this year.
Part 1: Set Up Your Twitter Profile for Success
The first step to Twitter marketing success is creating a solid first impression of your business on Twitter. You can update it periodically, but your brand message and the images you use should be consistent and high quality.
Establish a strong profile and follower base
A visitor's first impression of your company's profile will depend on your bio, profile and background images, and your pinned Tweet. Many of the same tips professionals follow when optimizing their personal Twitter profiles should apply to building a strong profile that accurately reflects your brand.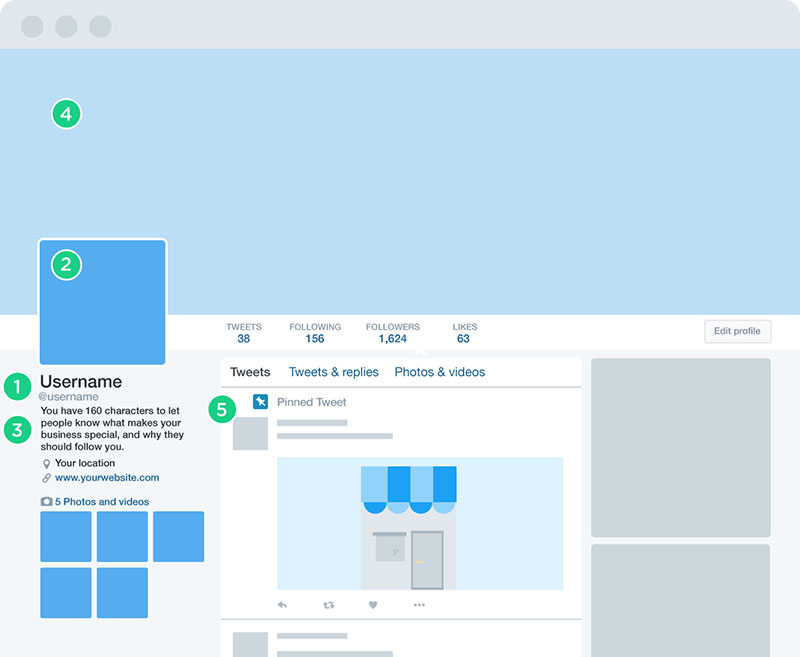 1) Write a keyword optimized Twitter bio
The focus should be more highlight your expertise and services than being entertaining. You can use your pinned Tweet to be eye catching or entertaining to capture someone's attention.
Stick to the essential information in your company's bio to not distract from the selling points of your company or agency. You can include a hashtag or two, but don't overdo it. Note the difference in simplicity between digital marketing influencer Larry Kim's personal Twitter profile and the Twitter business profile for his company, WordStream.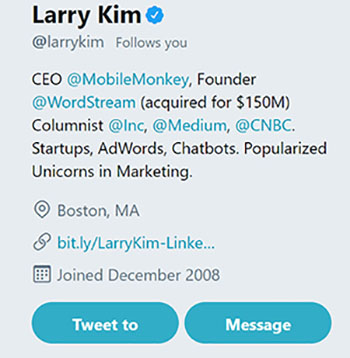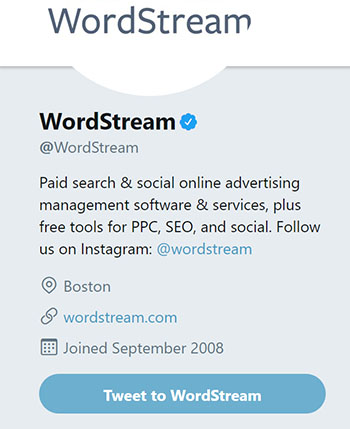 2) Include a URL to your blog or a website in your bio.
You want to make it easy for followers to find your brand's site and connect with you outside of Twitter. It helps to emphasize that there is a team of humans behind your company. You can also list the name or profile account of your Founder or CEO, too.
3) Make sure your profile is visually consistent.
Your company's profile image and header image should complement each other. The suggested image size for a profile image is 400×400 pixels (the image automatically resizes to fit).
Twitter header images should be 1500×500 pixels. Remember to keep in mind what your profile will look like on mobile devices, too. If someone stumbles across your Twitter profile and finds it cohesive and professional, they're more likely to take you seriously. Take a hint from Google.

4) Make it easy for people to reach you from your Profile page.
Consider adding a "Tweet To" and "Message" button under your profile. If you can weed through the Spam messages, you might find some genuine leads worth pursuing. SEMrush is a pretty sizable company, but they still leave Tweeting and Messaging to the public.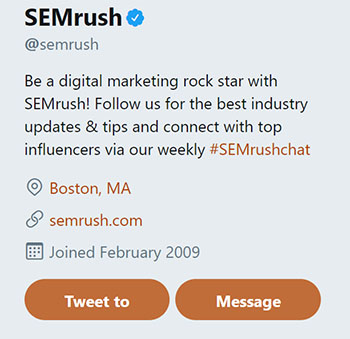 Leverage previous business connections
Twitter only allows you to follow 400 new people a day to avoid robots from mass following and unfollowing accounts, and to prevent other malicious activity.
1) Start by making sure that members of your own personal and professional network follow you. Twitter makes it easy to ensure your phone contacts and email subscribers are also following you on Twitter.
2) Next, think about how to get more followers who will actually be active members of your network. These are some examples of potential followers you should reach out to:
– Previous customers
– Business partners, colleagues, and peers
– Suppliers/contractors, freelancers, and vendors
– Professional organizations for your industry (i.e. the American Marketing Association)
– Local business owners or business owners you know
– Respected experts, influencers or thought leaders in your industry
– Follow the followers of thought leaders and influencers in your industry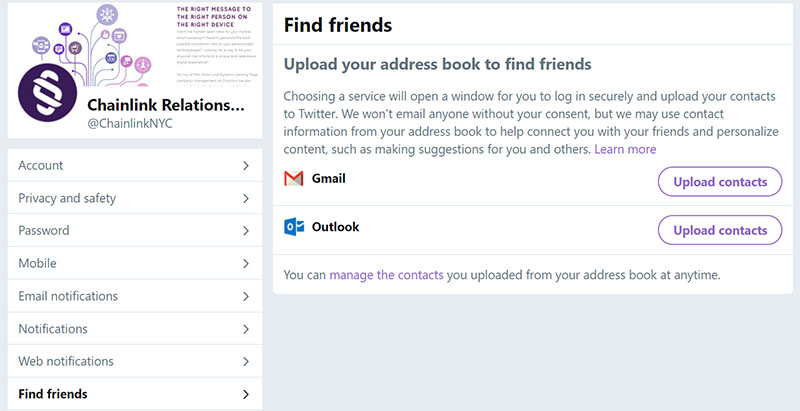 Explore unexpected potential connections
After leveraging your contacts and their contacts, start brainstorming options for expanding your follower base. 400 new follows a day is still a generous limit for following users.
Think outside of the box and branch out of your industry slightly to target people less likely to be interested in (or even know about) your product/service. We don't recommend automating this kind of outreach. People can tell right away when a bot sends them a message versus a human.
Here are 2 tips:
1) Take the time to draft a personalized, thoughtful pitch via Twitter DM (direct message) to share why someone might want to check out your product or service could pique the interest of someone who was unsure about your product in the beginning.
However, if you have a niche product, be smart about not turning people off who are not at all in the market for your product.
2) Spread awareness about your company in a memorable way with personalized and sincere outreach.
Social networks are spaces where sometimes connections can be easily forged thanks to mutual connections or mutual interests. If you carve out some time each day to dedicate to this type of outreach, it can really pay off.
Part 2: Set Attainable Goals & Create a Twitter Calendar
Setting the right goals and focusing on accomplishing one at a time forces you to make your Twitter marketing efforts more efficient.
Even if you have a general social media calendar, creating a calendar solely focused on crafting Tweets and posting them at the optimal time helps your business intentionally create better posts specifically for Twitter.
Audit your Twitter Account
Auditing your Twitter account allows you to establish a baseline of strengths and weaknesses of your business account. Jumping right into goal setting without taking stock of where you currently stand leads to setting goals that are incorrectly prioritized. You do not necessarily need to rely on third party software to perform a basic Twitter audit.
Twitter gives you plenty of free information about your followers through its free built-in analytics dashboard. You can view data on your audience's demographics, interests, preferences, lifestyle, and whether they are using primarily mobile or desktop. We wrote a blog post all about Twitter Analytics, explaining some of the main ways to leverage this free data.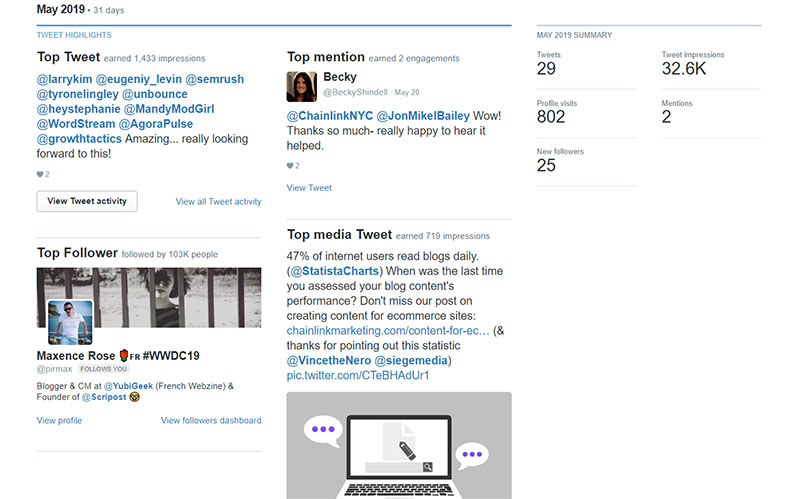 Pro Tip: Thanks to @brandwatch, we recently figured out that Moz's social media tool, Followerwonk, has a free version. If you can, use Followerwonk to help you visualize and compare your followers with your competitors'. The tool can help you understand Twitter users' behavior to better target them. However, there are limitations to the free version of the tool, and you must have less than 25k followers to use it.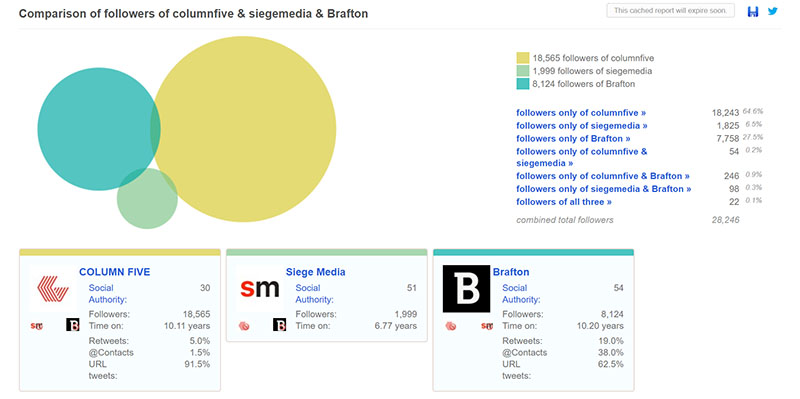 Use your goal to guide your Tweet strategy
We recommend focusing on one "big picture" goal at a time. Let's say your overall goal of your current Twitter marketing effort is to increase your brand's visibility. Make the have a start and end date, and break it down with smaller objectives.
1) Twitter Marketing Goal and Objective Setting
Some of actionable objectives might be:
– Gain more followers who are actively posting on Twitter (who will help you spread awareness about your brand)
– Interact with your followers on a more consistent basis and encourage their engagement
– Improve your social media monitoring and social listening to understand where you stand in relation to your competition.
Then, get more specific. In the example of increasing brand visibility, these might be:
– Increase active followers by [some percentage]
– Increase Likes, Retweets, and Mentions by [some number or percentage]
– Increase Impressions by [some number or percentage]
The metrics you pay attention to will vary depending on your goal. In the case of our previous example of increasing brand awareness, some of the metrics to focus on will be:
– Followers
– Impressions
– Likes
– Retweets
– Mentions
However, be careful not to solely base your success on vanity metrics. If you can, work with a data savvy member of your team to be sure the basis of your success is solid.
Note: If you have a big team and you think tackling more than one primary goal is possible, go for it. We know how easy it is to be overly ambitious and become overwhelmed with any social media marketing goal setting.
2) Creating a Tweet Strategy
Some of the best Tweets are the ones that are perfectly timed but seem unplanned. Social media automation tools such as Hootsuite and Buffer have their place in Twitter marketing, but oftentimes these posts come across as robotic (even when they are designed to sound natural).
For example, imagine scheduling a Tweet that features a piece of information that is no longer accurate or relevant due to recent events, but it gets posted and seen by your followers anyway. You don't want to seem out of touch and lower your credibility.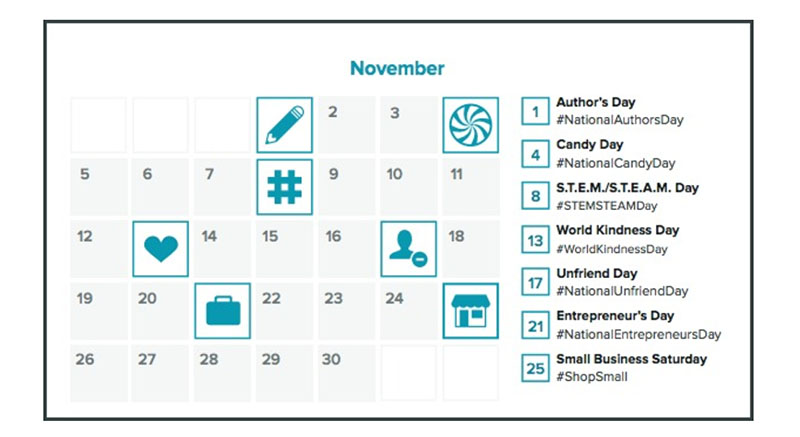 Follow these 3 guidelines to make sure your Tweets are well-planned without being contrived:
1) Decide your Tweet schedule two to four weeks in advance for holidays or other scheduled events (such as planned promotions) that are unlikely to change.
2) Make Tweeting a daily practice. Whether you are sharing blog content from your website, facts or quotes from other accounts in your industry, or relevant food for thought to spark a conversation, make a plan for what time you plan to Tweet something each day.
What you post can vary, but Tweet at times during the day when you know your followers are active. You can use a social media automation tool to help you determine the best time to post Twitter updates, or you can track it on your own and adjust accordingly.
3) Use images, GIFs, and video content as much as possible. Did you know that 90% of information transmitted to the brain is visual? Videos on Twitter drive the highest recall and emotional connection on any digital platform, according to a recent report by Twitter.
As the platform continues to evolve and compete with its social media counterparts, visual content will continue to be a priority. Be sure all visual content is optimized for mobile devices. This is especially important considering 90% of Twitter video views happen on a mobile device.
Another reason to consider incorporating video content into your Twitter strategy, Siege Media pointed out the significant increase in businesses using video content as a marketing tool in 2019 compared to 2018.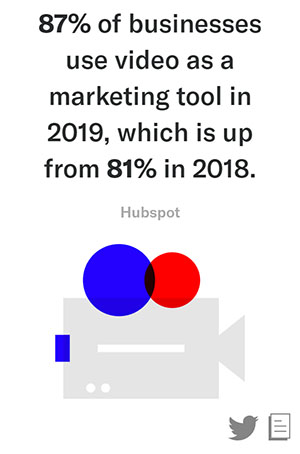 Analyze Tweet performance and adjust your strategy
When a Tweet is performing well, it's generating a lot of likes, comments, and Retweets and ultimately drives traffic to your site. When you are Tweeting frequently and juggling multiple marketing tasks, you need a reliable way to keep track of the Tweets that are generating the most website traffic for your business.
1) Figure out the right reporting method for your team
You and your team might be comfortable with your current method of tracking social media KPIs, but take a step back to make sure your system is measuring performance in the best possible way.
Invest time in making sure your tracking spreadsheets are organized and capable of being easily translated into visual representations of your results. You could be overlooking a key piece of data that could help inform your Twitter activity if you are not tracking and interpreting your insights in the most efficient way.
2) Use the right social media management tools
Take advantage of free trials for social media scheduling, analytics, and management tools. Test and use these kinds of tools (Hootsuite, SproutSocial, Buffer, etc.) until you find the right fit for your team's needs. If one of these tools is not currently in your budget, consider investing in the most affordable option to start. The performance analytics that these kinds of tools can offer can make a huge difference.
For example, one Hootsuite tool (Hootsuite Composer) easily allows you to directly add Google Analytics UTM parameters to your Twitter posts so you can definitively identify which Tweets are driving the most traffic to your website. Also, A/B testing Tweets is easier using a social media management platform. Buffer is an example of one of these platforms that streamlines the process of A/B testing on Twitter.
Part 3: Increase Engagement With Your Audience
Creating and sticking to a deliberate plan for engaging meaningfully with your followers (and the greater Twitter community) is a crucial part of Twitter marketing.
Take the time to strategize how to keep your engagement consistent and sincere with customers, targets, and industry peers alike.
Participate and Host Twitter Chats
The ability to start or join a Twitter Chat to contribute meaningful insights and subtly promote your brand is a unique and useful feature of Twitter.
A Twitter Chat is basically a topic-focused conversation unified by a hashtag. If you join a pre-existing one, you can use it for networking purposes and to establish your company's knowledge and/or stance on a hot topic or issue in your industry. For thought leadership or customer service purposes, you could host your own Twitter Chat. SEMrush does a great job with their #SEMrushchats.
Check out this site for examples of Twitter Chats and when they take place.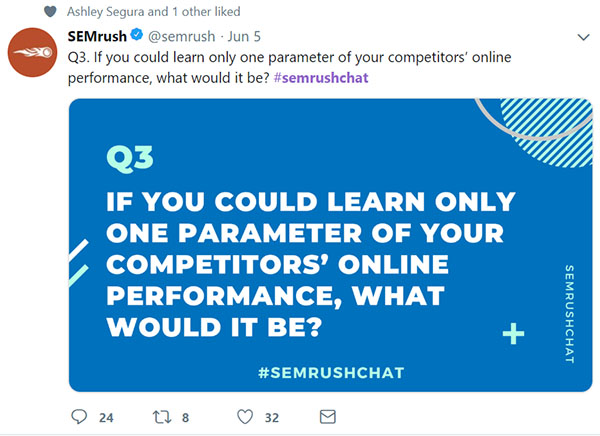 Use Twitter Lists to Stay Informed and Active in Your Industry's Twitter Community
A Twitter List allows you to filter the Tweets you see on your Twitter timeline. Why is that important for your business? If you are following hundreds (or even thousands) of accounts, some people's posts are bound to be overlooked. Building a Twitter list of accounts you follow (for example, of competitors and industry peers) ensures that you can see the posts made by those accounts all in one place whenever you click the list.
Twitter makes it easy to build and organize lists. We love this guide from Post Planner on how to make the most of this Twitter feature.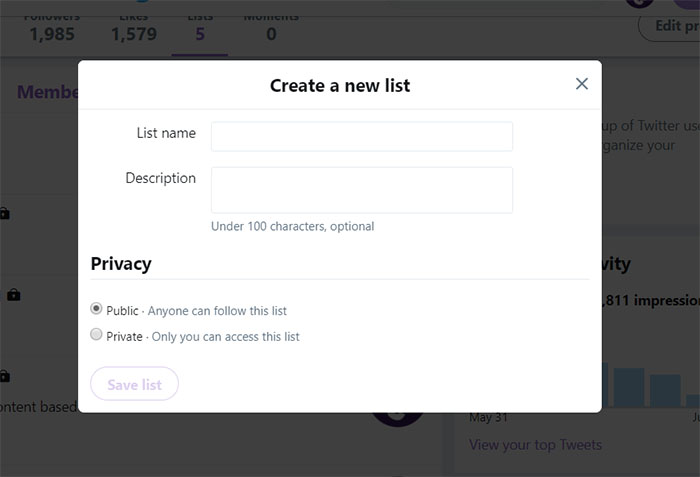 Wrapping it up…
We want to help you stay focused on the most important tasks necessary to map out a plan you can follow to improve your Twitter marketing and networking efforts this year.
Creating and optimizing a paid social ad strategy on Twitter deserves its own how-to guide.
You might already have a social media marketing strategy, but tailoring that plan for each social platform can make or break your brand's success with social efforts. Twitter is a fast-paced platform that requires attention and consistency to provide the maximum benefit for a company.
If you and your team invest in a concerted Twitter marketing effort, the results can be extremely rewarding. We hope that you gained insights and tips from this guide that you can start trying today.
Chainlink Can Help
Our team can help you decide with the best social media engagement plan to maximize the success of your campaigns. Need more advice on navigating today's social media landscape? Reach out to us to learn more about how we can help your business succeed online.
We'd love to connect and tell you how our services might be the right fit for you. Also, don't forget to sign up for our newsletter for more exclusive tips!
Sign Up for the Chainlink Weekly Newsletter
More Social Media Insights from Chainlink Marketing
Need a hand with your social media marketing strategy?
Chainlink is here to help.