Ecommerce brands today need to come up with innovative strategies to acquire new customers and retain existing ones to stay relevant in a competitive digital marketplace.
We wanted to write this post to review some key details of an ecommerce strategy that can make or break a customer's experience. Let's take a look at some steps you can take to improve ecommerce store, and therefore set your brand up for more successful marketing efforts.
1) An organized store leads to more organized marketing efforts
An ecommerce website's organization plays a key role in its success, regardless of the online platform that a brand uses to run the store. Having your products sorted properly (including filters) helps to make the shopping process easy and efficient. Naturally some of your website visitors will only ever browse, but you should focus on the potential customers who visit your site with specific items in mind or a certain shopping goal.
For most ecommerce sites, items should be classified into basic categories, then further divided into subcategories. Categorizing clothing items into "tops" and "bottoms" is usually too broad. "Bottoms" should be divided into skirts, shorts, pants. "Pants" can even be further divided into denim and trousers.
The grouping of your products will ensure that customers can find the item they are looking for with ease. Then, adding filters helps narrow down options by size, color, price, and material. The more filters, the better, since you never know what a customer might be searching for.
An example of a brand that does an excellent job of grouping and filtering is Madewell. The category "Tops" is broken down into seven more sections. Within each section, the customer can filter by color, size, sleeve length, and material. The website also has a great sort feature and allows the user to customize how many items they want to view at once.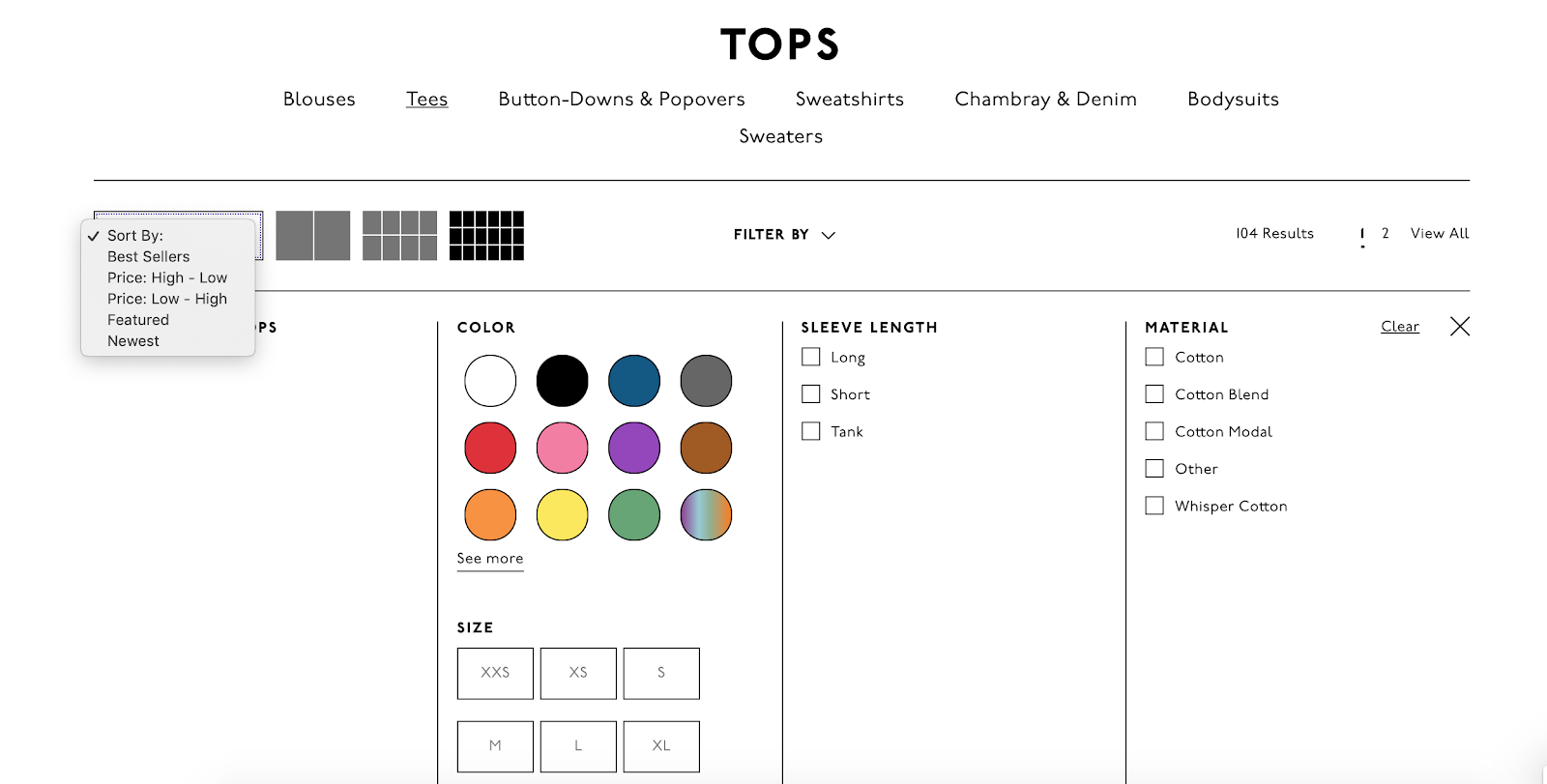 2) Improving user experience leads to more conversions
As a customer, it can be difficult to keep track of your page when browsing a site. Adding "Preview/Quick View" and "View All" buttons can make the shopping process less frustrating and ensure that customers don't lose their place. A "view all" feature gives customers the option to have everything displayed at once without having to click the next page after every scroll. Clicking back and forth between pages and re-scrolling can also be tedious. The "Quick View" button allows the customer to get a closer look at the item without having to navigate away from the page and losing their place..
For example, Forever 21 does a great job utilizing the Quick View feature. Not only can the user view the other photos of the item, but they can also see the various colors and sizes available. Better yet, once they have decided to add the item to their cart, they can exit out of the pop-up and return to their previous location on the page.
3) Better product descriptions can encourage sales
Often the description of an item is even more important in making a sale than the photos or price. Customers are aware that items can appear distorted in photos and often have trouble gauging a size. Descriptions help clear the air and answer any questions – but they should include more than the material and product number.
Essentially, this section should be used to give any and all information that a customer could probably want. An incomplete description looks unreliable, but a thorough description shows the customer that the brand made an effort to be clear about their product.
Websites like Revolve and Amazon have excellent product descriptions. Revolve focuses on the physical description, size, and fit, of their clothing items. For Amazon's Echo device, the company provides diagrams, dimensions, and connectivity features.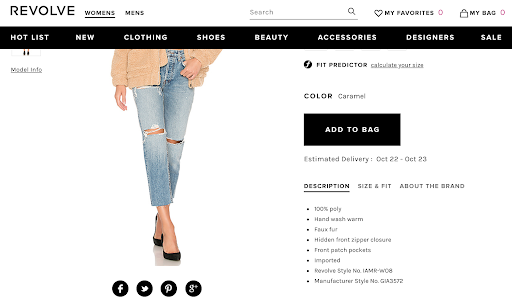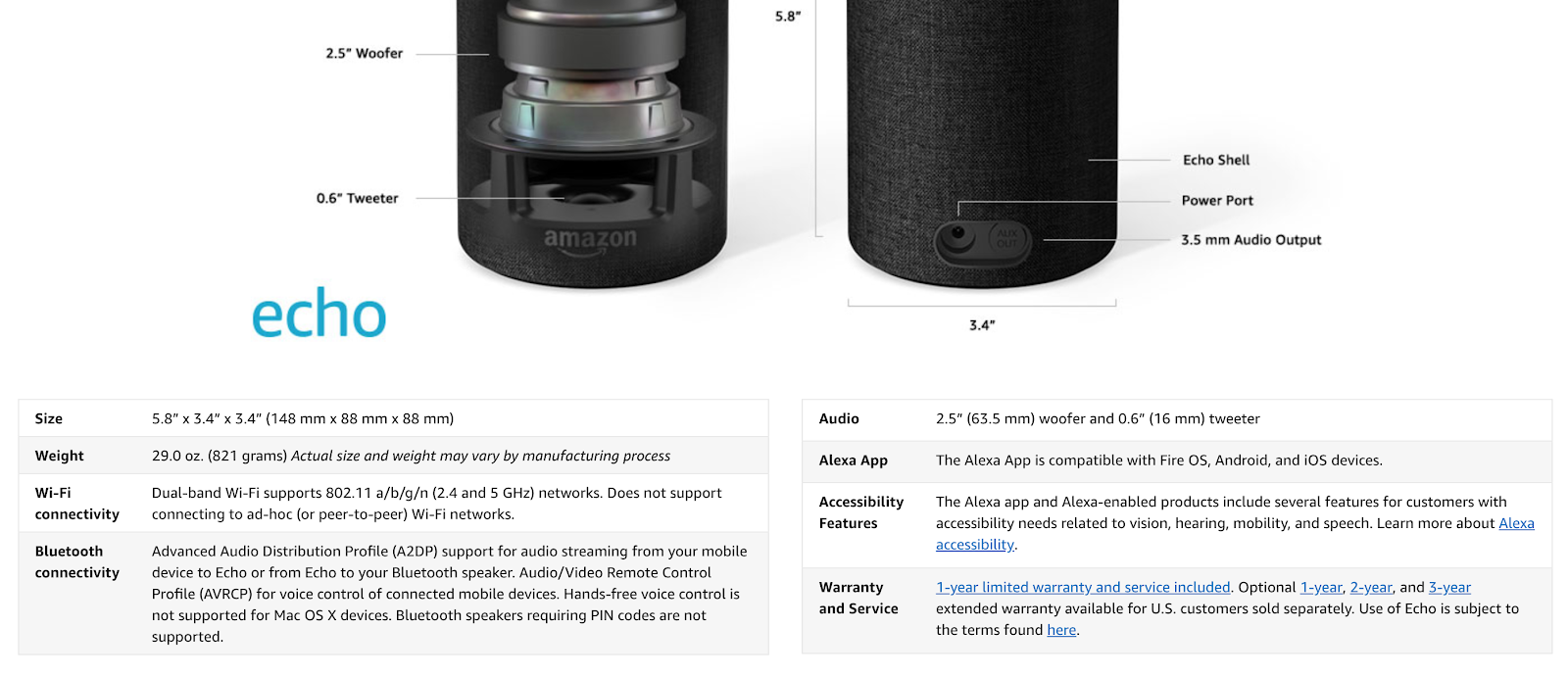 4) Optimize your online store's checkout process
Thus far, your customer has browsed the site, narrowed down their options, learned more about the products, and accumulated some items in their cart. They have reached the final step: the checkout. For an ecommerce brand, this is the most important step. As a result, it should be the easiest for customers to complete. Make buttons large and easy to find and allow customers to view all the information they have inputted up to the last step.
Steve Madden's checkout page is a perfect example of a well-executed checkout system. The customer is able to see their cart and confirm the items and quantity, all while completing the order information. What works especially well is the ability to see all of the information that has already been inserted without having to press a back button to refer to previous info. It looks visually appealing, is super organized, and shows the customer everything they need to see.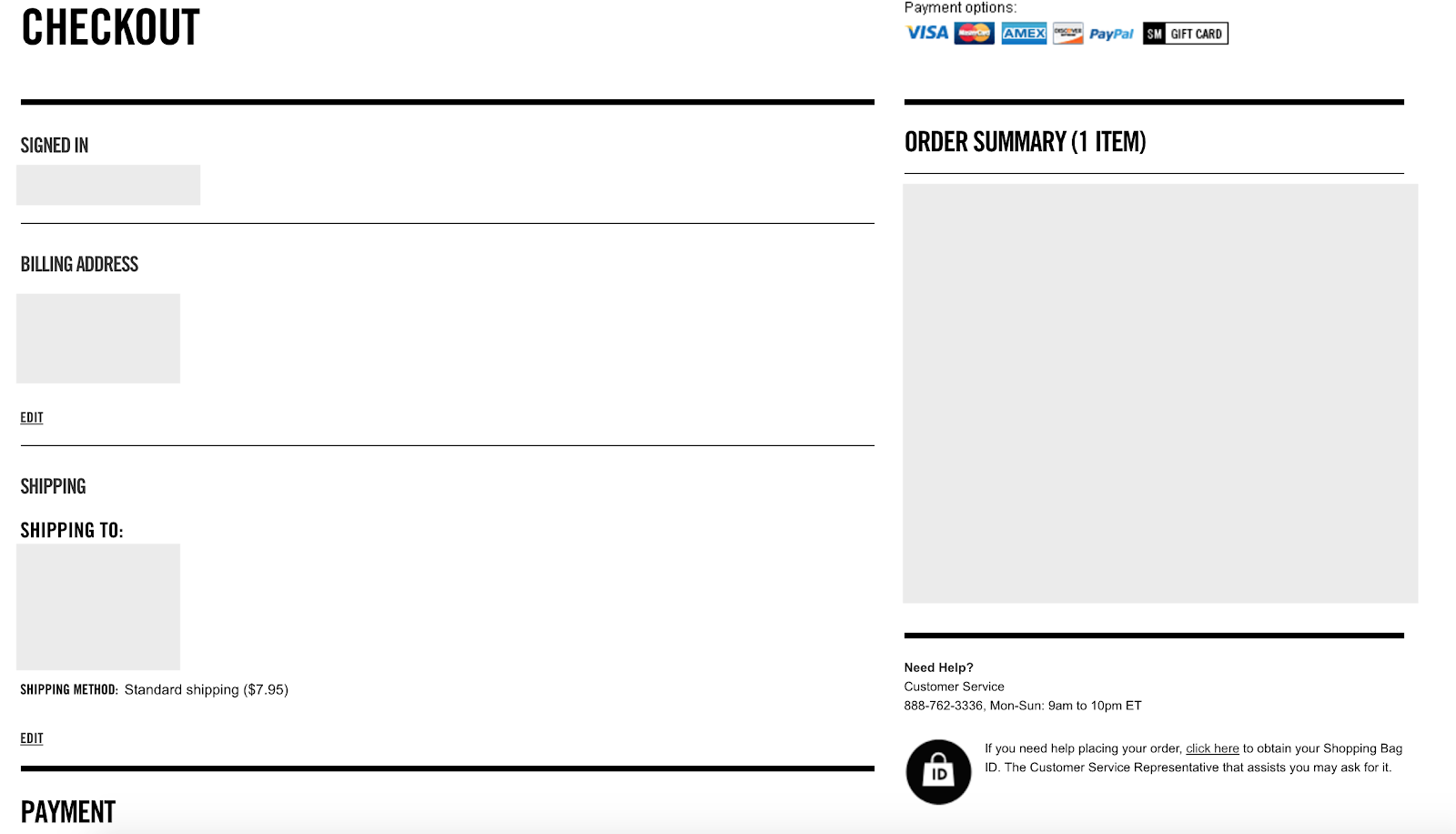 5) Include a customer review section (preferably with images)
When a customer receives their order, they can have any number of reactions. They might love it, or it might not be what they had expected. This is a natural part of online ordering. The most important part, however, is giving customers an outlet to share their experience with others.
If there is a review section available, most customers will use it to their advantage and take a look at what previous customers have experienced. This gives them a better idea of what they are spending their money on and will either lead them to make a purchase or prevent them from being unsatisfied. Customers are also aware that items can often look different in person, so adding a photo section can be beneficial.
Amazon has one of the most thorough online review features. Customers can rate the item, add photos, and ask questions. Furthermore, users can rate how helpful reviews were in guiding their decision. With such a helpful review section, customers can make informed buying decisions.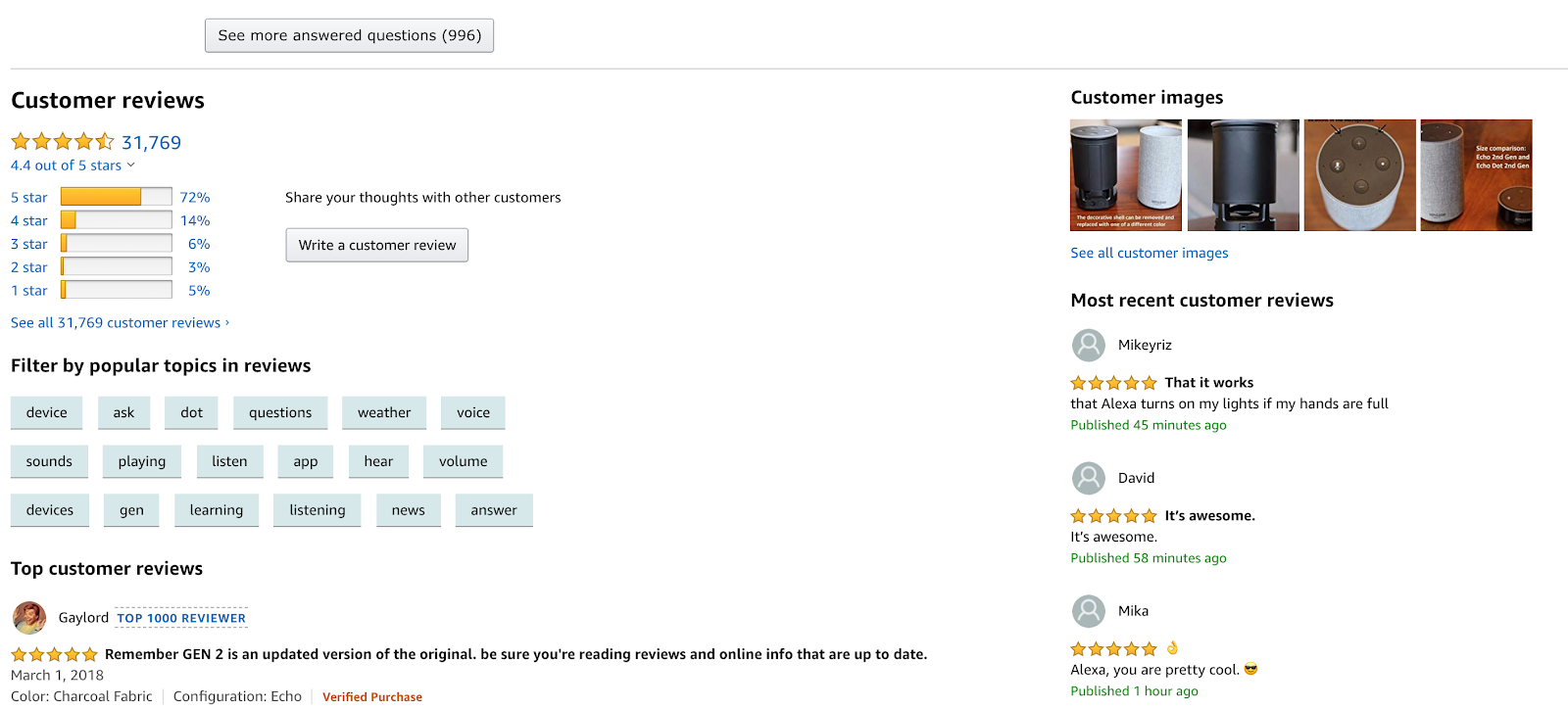 6) Use email retargeting to reach potential customers you otherwise would have missed
Email retargeting is one of the most effective ways to retain ecommerce customers. This method helps to create long-term connections between your brand and your customer. These emails should be personalized and eye-catching in order to increase conversion. Check out our full post on Email Retargeting to learn more.
Clothing website PrettyLittleThing has a highly effective email retargeting strategy that solves cart abandonment. They email shoppers and remind them of the items they had selected and entice them to make a purchase. The best part? They only send one or two emails. Once no action is taken by the customer, they stop sending emails which prevents them from appearing as spam and losing subscribers.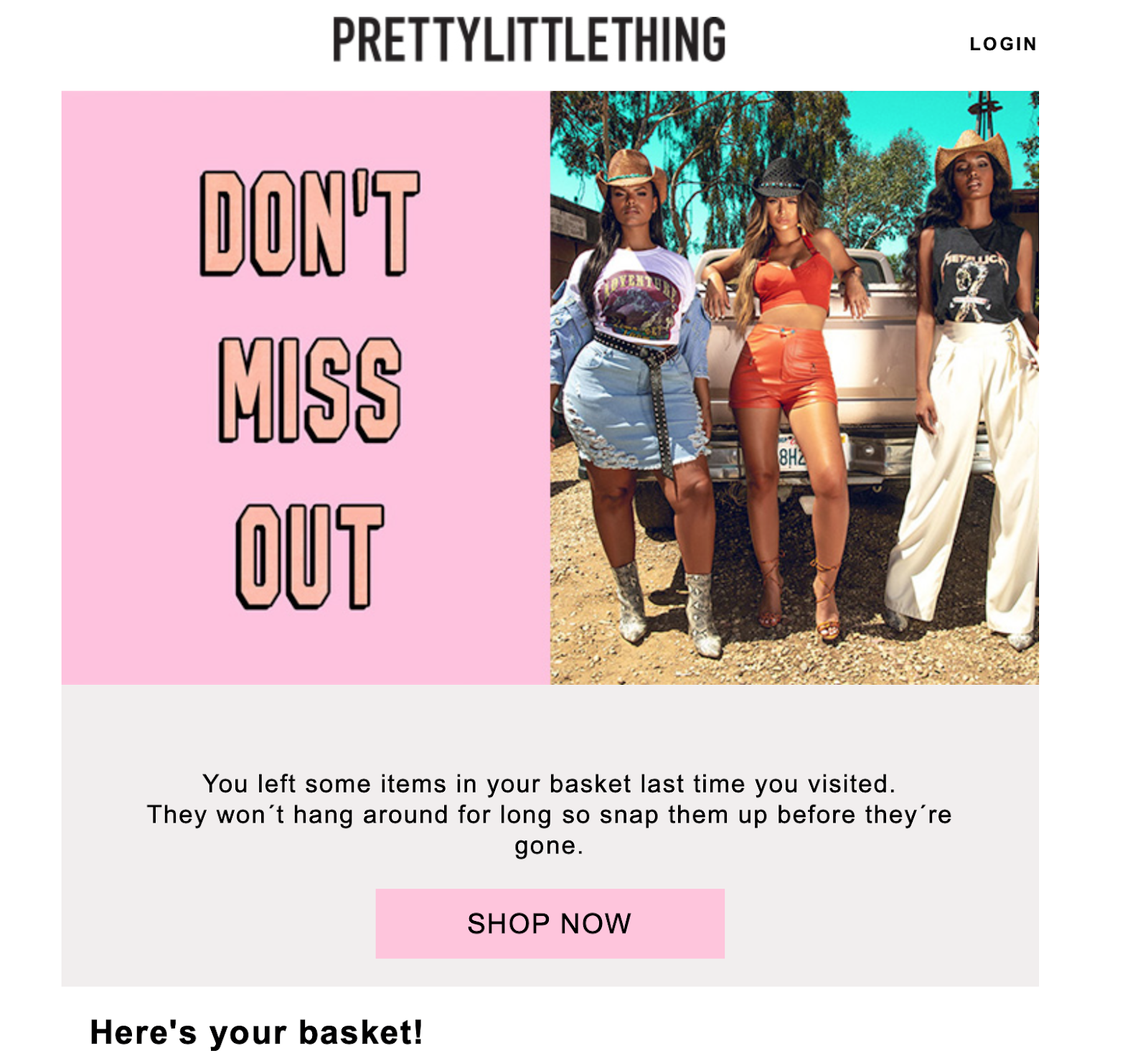 When it comes to ecommerce marketing, a strong foundation of a well-built and optimized website set the stage for better marketing efforts. There is only so far that you can take your efforts if you don't do everything in your power to make sure the products you're selling and the shopping experience match up in the most user-friendly and efficient way possible.
It's key to take the average customer's preferences into consideration from the initial site visit to the sale. By prioritizing simplicity and efficiency, you will experience an increase in customer engagement.
At Chainlink, we have a wealth of knowledge and experience in the ecommerce space. Having helped luxury brands and start-ups alike, we understand the nuanced strategies required for different online stores. If you need the guidance to figure out the best plan and execution for your company's ecommerce endeavors, our team can help.
Want to learn more about our full service agency's ecommerce solutions? Reach out to us to learn more about how we can help you with all aspects of your ecommerce website and marketing strategy. Also, don't forget to sign up for our newsletter for more exclusive tips.
Sign Up for the Chainlink Weekly Newsletter
More Ecommerce Insights from Chainlink Marketing
Not sure how to take your ecommerce brand's marketing efforts to the next level?
Chainlink is here to help.