Online reputation management is imperative in a digital age where a company's bottom line is directly affected by people's opinions expressed on the Internet. By using smart social media tactics and following the right SEO tips, you can help ensure your business maintains an overall positive reputation online.
We wrote this post to help you out. We'll share why online reputation management deserves to be a top priority, two ways you can help boost your brand's reputation, and six companies' customer interactions on Twitter that preserved their reputations. Some of the tips we provide could be applied to helping improve your personal brand online, too.
Online Reputation Management: Why It's More Important Now Than Ever Before
If it isn't already, online reputation management needs to be a top priority for your business in 2019. In fact, according to Status Labs, 85% of consumers trust online reviews as much as personal recommendations. Even the most beloved brands are not immune to attacks from dissatisfied customers. Unfortunately, even if you invest in building brand authority online, your trustworthiness will inevitably diminish if unhappy customers are spreading the word that you are not as great as you seem.
Inc. magazine reported that according to the White House Office of Consumer Affairs that dissatisfied customers typically tell nine to fifteen other people about their experience (some tell twenty or more). Although you could not (and should not) control all discourse about your brand, there are ways to stay ahead of the negative feedback and learn from it. Too many unhappy voices across social media platforms without the right response snowballs over time.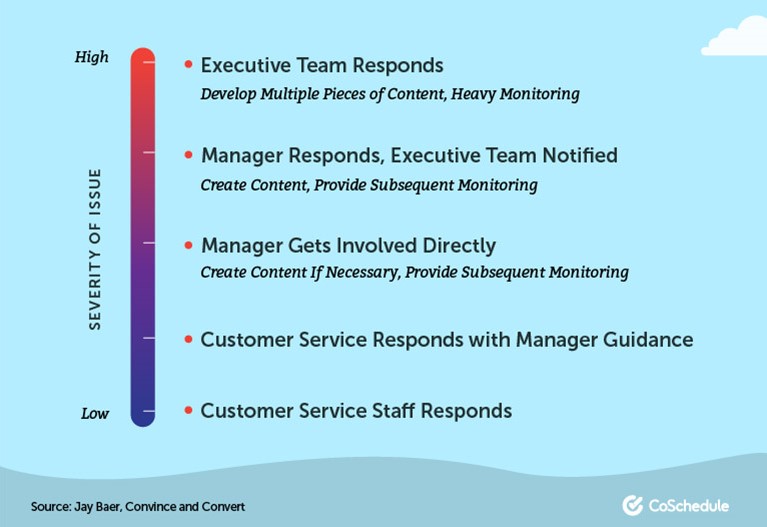 The first step is to make sure your team is on the same page about the severity of the issue. Even if your instinct is to take action the moment you realize negativity about your company is spreading, it's best to pause and evaluate the situation, and approach it using the same logical decision making process every time.
Using some kind of universal flowchart, cheat sheet, or guide might help you and your team stay level headed and consistent when faced with a decision. Check out this infographic from CoSchedule, pictured above.
Online Reputation Management in 2 Steps
1) Create New SEO Friendly Content
Create new keyword-focused content to redirect searchers to positive content and overshadow the negative content out there. When you are creating and distributing the content to thrid parties (i.e. Medium.com) yourself, you can help control the content that ranks for certain terms related to your company. Another way to accomplish this is by leveraging platforms that rank well in your industry to help you appear in a positive light in search results. For example, if you're an interior design agency or boutique clothing company, you might want to focus on leveraging Pinterest.
Resist the temptation of hiring an agency that claims to not just undermine negative reviews by deleting them (which is not only sketchy but also is not a long-term, sustainable solution.) Complaints and negative commentary might actually help you with your overall content marketing efforts. Your content team can turn customer pain-points into content that provides a solution, and your customers will thank you for it.
We love the agency Grow and Convert's piece on "pain-point SEO". In fact, Grow and Convert's entire approach to content marketing revolves around recognizing and providing answers to customers' issues and questions.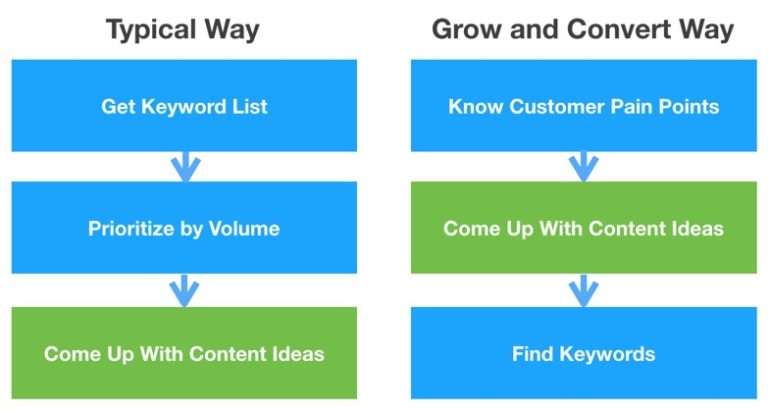 2) Listen to Your Customers on Social Media and Monitor Your Ranking
Your online reputation is the sum of many different opinions, and it's important to at least be aware of them all. Social listening means understanding your brand's perception across social channels, and then acting on those insights accordingly.
Your actual current customers are the people you need to focus on. They will most directly impact your company's revenue. Understanding your paying customers' perception of your company, the general public's perception, and acting accordingly to problem solve.
You need to accurately monitor your brand's ranking before you can create an action plan for improving the rank of the content you want seen first. Rand Fishkin of Moz suggests using a tool such as a Mention.com, but you don't need to rely on a paid tool.
Online Reputation Management Through Twitter Customer Support
Online reputation management on social media is no easy feat. Prompt, patient, and constructive feedback is required for even the most unreasonable customer complaints. However, succeeding at customer support on social networks like Twitter is a sign of a mature and trustworthy company. We wanted to share a few examples we found (mostly large corporations) of great responses to customers on social media on Twitter.
Xbox
Xbox does a great job at anticipating and preventing negative feedback through proactive communication with their customers. It's easier to manage your online reputation when you stay one step ahead. Xbox has a separate Twitter account solely dedicated to fielding support requests. This Tweet is a prime example of recognizing a problem, keeping people updated about it, and offering support.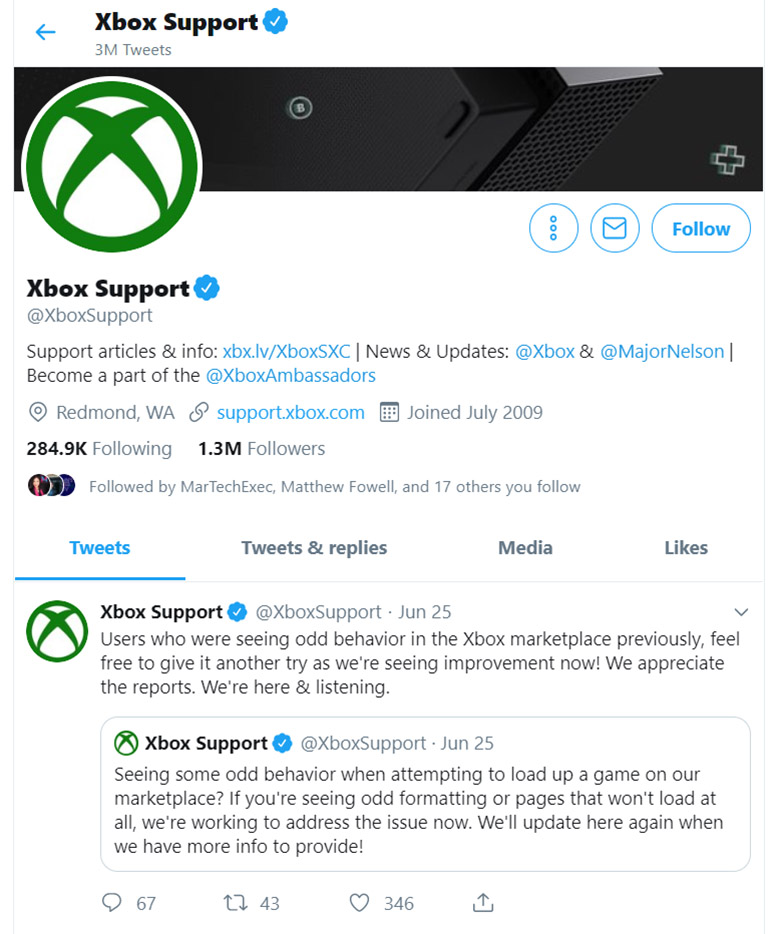 Daily Harvest
Even when an issue is completely a customer's fault, responding with patience is key. Since Daily Harvest is a new company, they need to be particularly on top of their customer interactions as they build and maintain their customer base.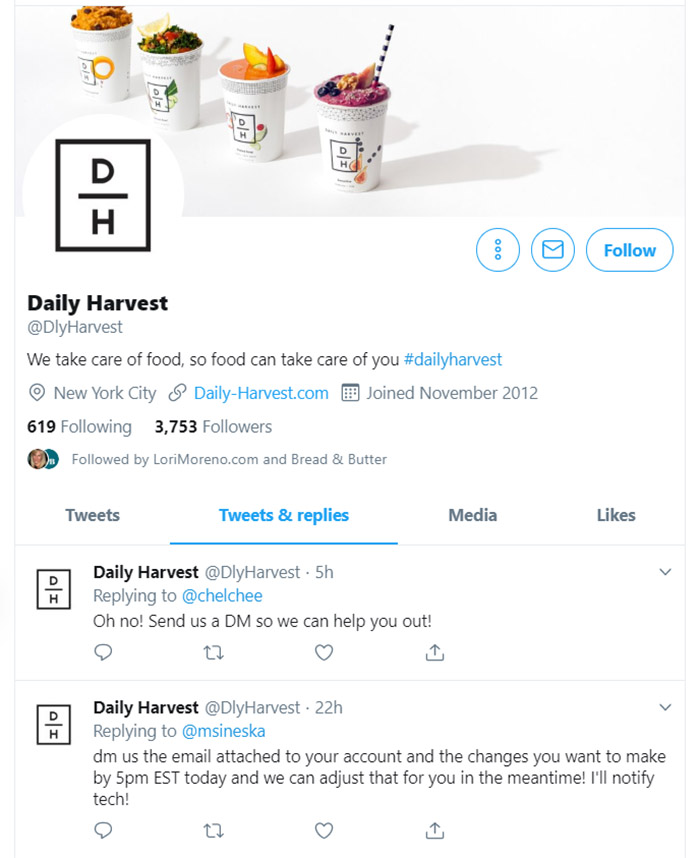 Daily Harvest's Twitter account is attentive to every request and replies with an action-oriented response.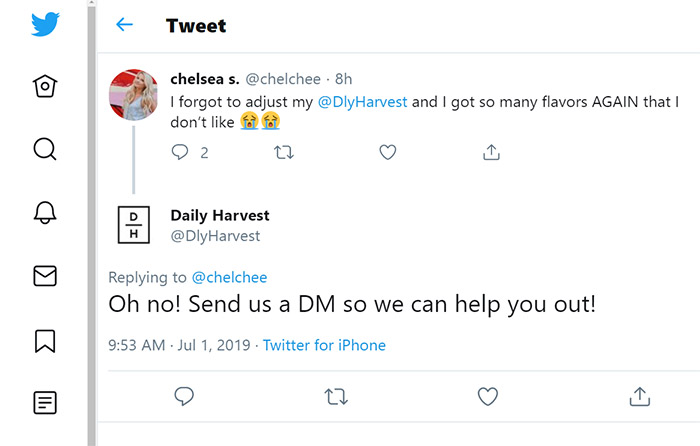 McDonald's
Global fast food giants like McDonald's can maintain and improve their online reputations on a micro level by responding to complaints (and compliments) with a personalized touch. Even the simple detail of including a customer's first name in a Twitter reply can go a long way.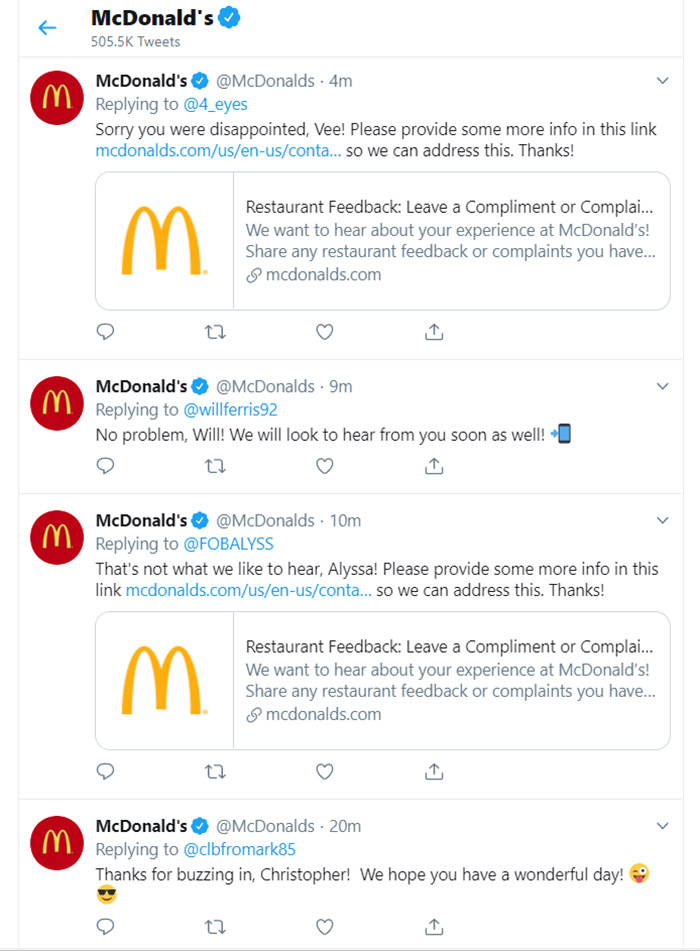 Glossier
The cosmetics industry can be brutal when it comes to product reviews. Glossier, which has been an ecommerce success for almost ten years now, and the company has always taken its community of customers seriously. It's evident by the quality of their Twitter replies that they care about customer satisfaction, and it pays off when it comes to having a positive online reputation.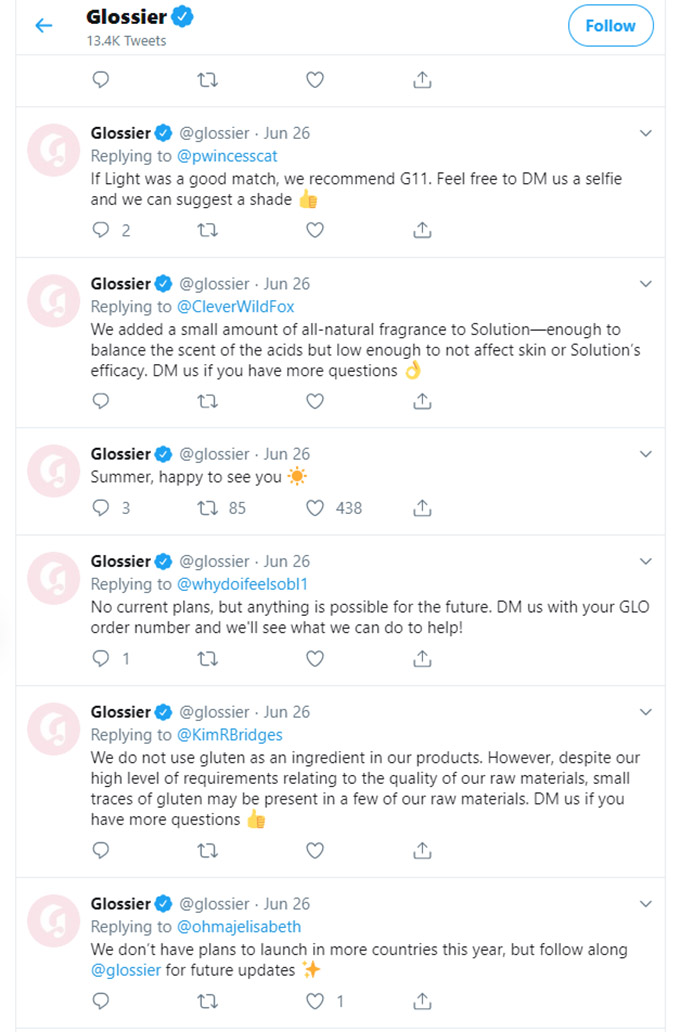 Lowe's
Negative experiences with your company might drive a customer to directly compare you to your competitors. Lowe's handles this situation well.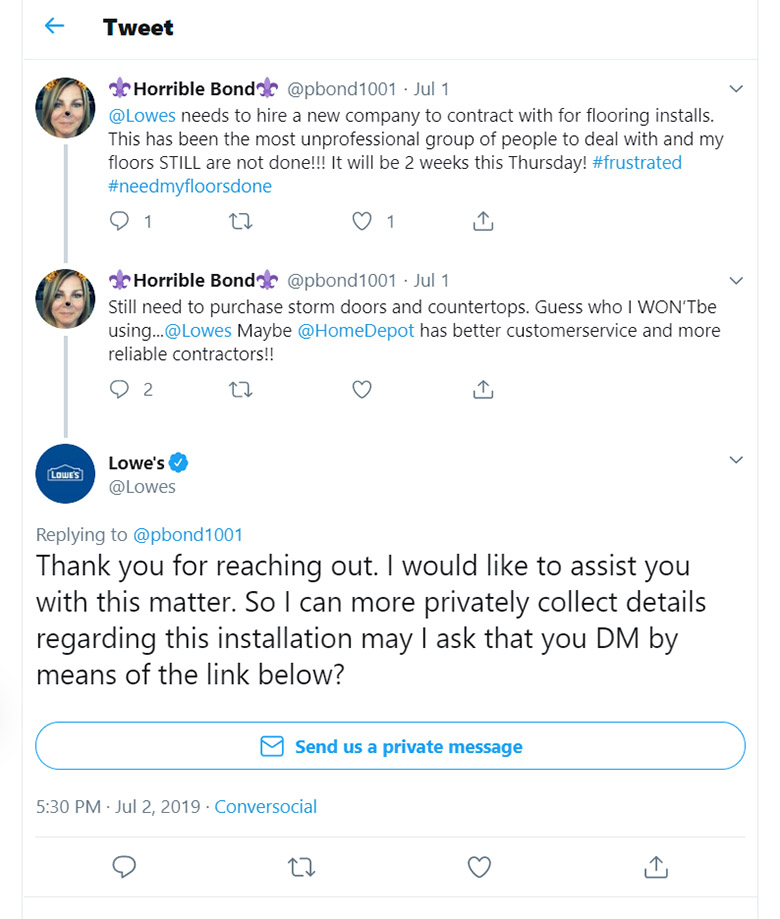 Another aspect of online reputation management is following up on every positive request, too (even if it doesn't seem as urgent.)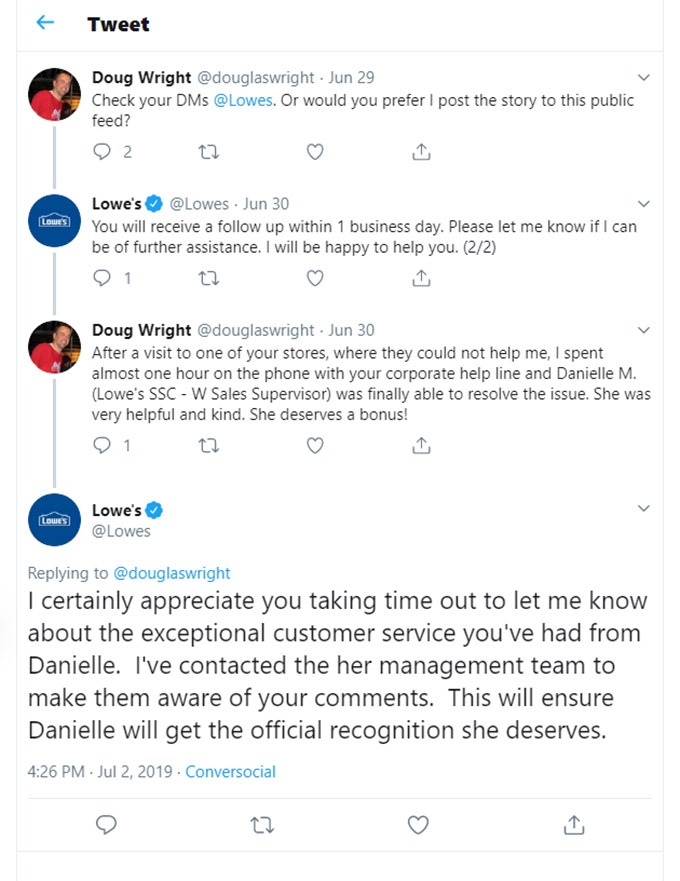 Apple
We like how Apple Support often troubleshoots customer issues publicly on Twitter, instead of continuing the conversation in Direct Messages or email. It demonstrates Apple's support team's logic and patience in problem solving, and the information could help other customers with a similar issue (all of which as positive when it comes to online reputation management.)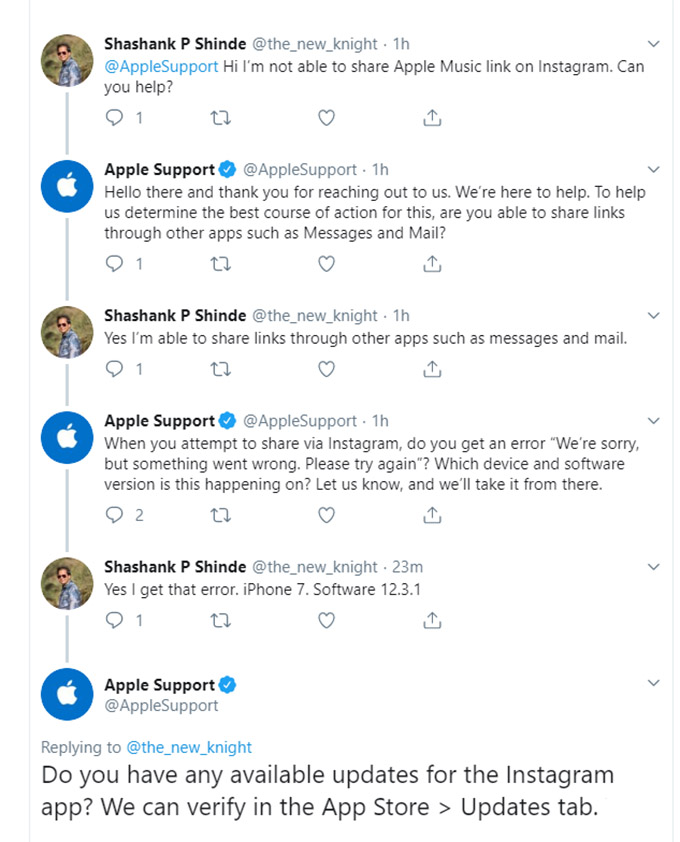 Wrapping It Up…
Proactively preventing and responding to both small and large scale customer satisfaction issues always pays off. Use negative customer comments to help the dissatisfied customers and demonstrate your understanding and respect for their opinions.
Our team believes in the importance of using proven methods to improve your online reputation management efforts through SEO and content marketing. If you want to learn more, reach out to us below. Also, don't forget to sign up for our free newsletter for more digital marketing tips you don't want to miss!
Sign Up for the Chainlink Weekly Newsletter
More SEO Insights from Chainlink Marketing
Want to create an SEO strategy that
drives conversions for your company?
Chainlink is here to help.