It's not enough to use content marketing to acquire an audience, you also have to retain your blog readers and customers. The tactics that have been working for you the past five years could be obsolete sooner than you think. In 2019, people are more likely to scan blogs than spend time reading them in depth due to increasingly short online attention spans.
You have to engage your readers so they stay on your website and interact with your content. We hope our four tips can help you create a sustainable content strategy that retains your blog readers and customers.
1) Use Google Analytics to Streamline Your Content
Blog content becomes outdated quickly. Use insights from Google Analytics to help you cut the content that isn't relevant anymore. Even if eliminating content seems counterintuitive, deleting pieces that no longer serve your blog's goals is beneficial for SEO.
Google Analytics can help you make informed decisions about what should stay, what should go, and what needs to be improved. Advanced tools that are usually used to help ecommerce websites can also be used to track how your blog content is performing. You can also use free tools like Niel Patel's UberSuggest to help you evaluate performance.
You can set goals and create funnels for visualizing a user's journey to conversion. Conversion might not be making a purchase… it could mean signing up for the newsletter. Google's Funnel Visualization tool helps you track how your sales/marketing funnels are performing. There are limitations to Google Analytics and its suite of free tools, but it's a great place to start.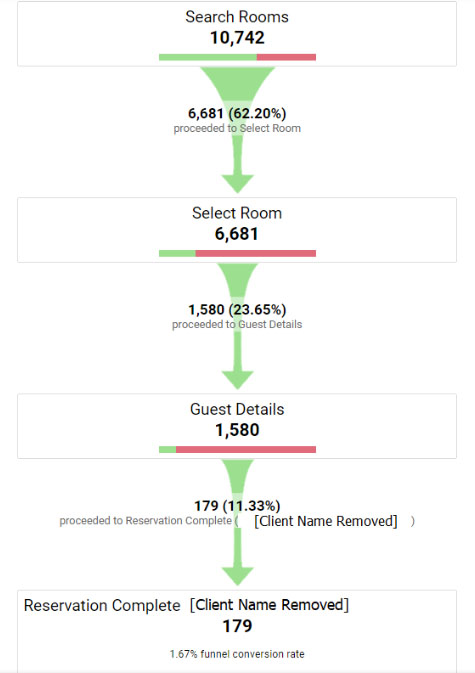 Also, a goal funnel visualization using Google Analytics (as seen above) allows you to find "problem pages" within your site. For example, you can identify exit pages where potential customers leave your website. You can eliminate or optimize these pages to improve performance.
2) Produce Content with a Long-Term Vision in Mind
Creating content that performs well in the long run doesn't necessarily mean you need to ONLY create evergreen content. Your mission is to make a lasting effect on your audience. This is where visually appealing content can work in your advantage. One of the best ways to leave a lasting impression is through thought-provoking or emotion-driven content.
Content marketing guru Kameron Jenkins points out that business blogging is one of the highest ROI channels businesses are ignoring. In fact, Kameron pointed out that 65% of the business blogs had fewer than 1% of keywords ranking on the first page of search engine results (check out the pie chart below). Google Analytics can help you figure out the blog posts that are getting practically no organic traffic so you can avoid reproducing similarly low-performance content.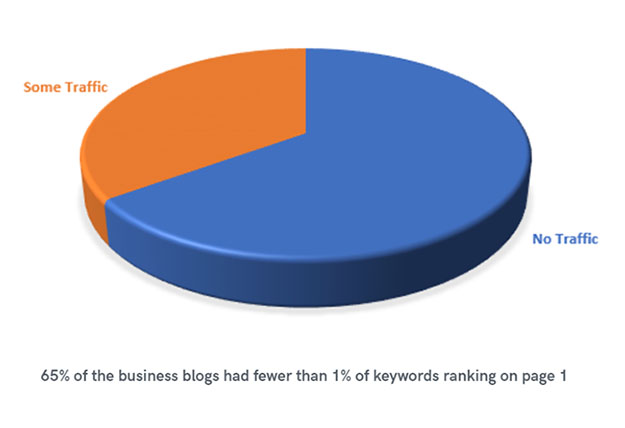 Interactive content is a great way to keep your audience interested. Give your audience fresh, engaging content that piques their curiosity. Deliver content that people not only interact with, but also starts a conversation that they want to participate in. Successful retention is built upon providing constant value. Consistently delivering the right message at the right time will increase the chances of loyal customers sticking with you.
Another idea for producing content as a part of a long-term strategy is collaborating with other businesses and bloggers in your industry who consistently attract massive amounts of traffic. When you are intentional about who you collaborate with, you're more likely to build relationships and retain visitors who came from these efforts. Otherwise, it's likely that visitors will just return to the channel that they came from.
3) Gather and Apply Insight from Your Customers
Brainstorming topics and researching keywords with your current customers' behavior in mind is key to retaining customers through your content marketing efforts. In addition to looking at their consumer behavior, surveying and interviewing customers is important. Members of your customer experience team can set up interviews and create some kind of forum for collecting and responding to feedback promptly.
Benji Hyam, co-founder of Grow and Convert, can attest to the importance of knowing customer pain points to produce better content that they'll enjoy and reference more often (therefore resulting in higher reader retention rates). Don't just interview these customers once in a while, but actually make it a routine part of evaluating progress. Observation is important, but direct feedback is usually the fastest way to the heart of an issue.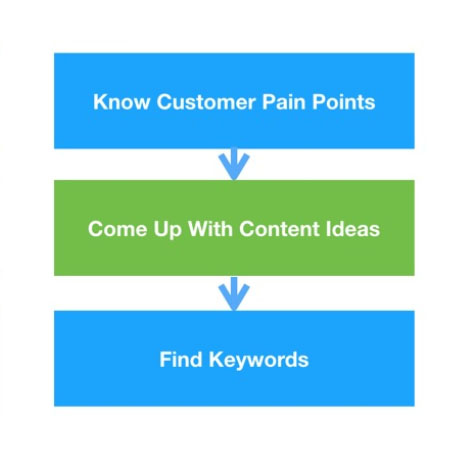 Some brands go as far as creating a Slack channel of a select number of their top customers who can provide feedback. By keeping your finger on the pulse of customer feedback, you can guide your content creation strategy to cater to retention and not just acquisition.
4) Prioritize Personalization and Authenticity
Be transparent about why you are creating and distributing the type of content you're sharing. You'll increase retention and gain more trust from your customers if you explain your thought process behind your content strategy. A content marketing strategy that incorporates user-generated content is a great way to increase authenticity. Glossier's online blog publication called Into the Gloss is a perfect example of a blog that doubles as a platform for brand advocates to feel part of the brand.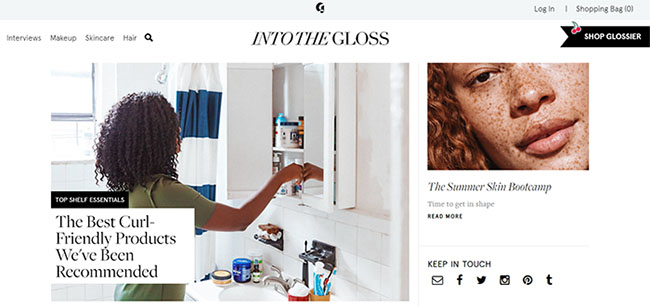 If you're a new company, retaining a solid base of recurring business is especially critical. Making the transition from a burgeoning brand to a respected business with a loyal following is a pivotal change in the financial success of a business.
Wrapping It Up…
Efforts to ensure customer retention should start the minute you acquire a customer. When you start achieving your content marketing goals, it's easy to think you'll continue to experience success by sticking to the same routine. However, maintaining a steady stream of quality content and retaining readers and customers is an ongoing process that requires constant evaluation and adaptation.
Our team believes in the importance of using proven methods to take your content marketing efforts to the next level and improve customer retention. If you want to learn more, reach out to us below. Also, don't forget to sign up for our free newsletter for more digital marketing tips.
Sign Up for the Chainlink Weekly Newsletter
More Content Marketing Insights from Chainlink Marketing
Need a hand with your website's content strategy?
Chainlink is here to help.