The Ultimate Guide to Event Marketing in 2023
April 2023
Regardless of the type of event you are planning, there are universal best practices that can make a positive impact on your overall event success.
The tips we talk about in guide can be applicable to all kinds of events from conferences, tradeshows, and conventions to galas, balls, parades, and more. By following the suggestions we mention throughout these five phases of planning/running an event, our own team helped increase attendance for one of our client's events by 120% in two years.
For each stage of event planning, marketing, and management, we want to show you steps you can take to achieve your goals.
This is the ultimate event marketing guide to creating a thorough event marketing plan in 2023 in 5 sections with examples and actionable tips.
For each phase of event planning, marketing, and management, we want to show you steps you can take to achieve your goals:
Part I: Build the Event Website
Part II: Optimize the Event Website
Part III: Use a Marketing Platform for the Event
Part IV: Manage the Event On Site
Part V: Implement a Post-Event Strategy
#1 – Build the Event Website
Every event needs its own website or landing page to be as successful as possible online. Businesses who only create an event page across social media channels miss out on the chance to reach a broader audience of people and build their websites' authority.
We highly recommend creating an event website and creating social media pages for your event, and then linking back to the main event website page from the Facebook, Twitter, and Instagram pages and vice versa. The more visibility you can gain, the better it is for your event.
For our client, the Krewe of Cleopatra, we built a website for them and made sure they linked to the website on their Facebook page (which is their most active social channel).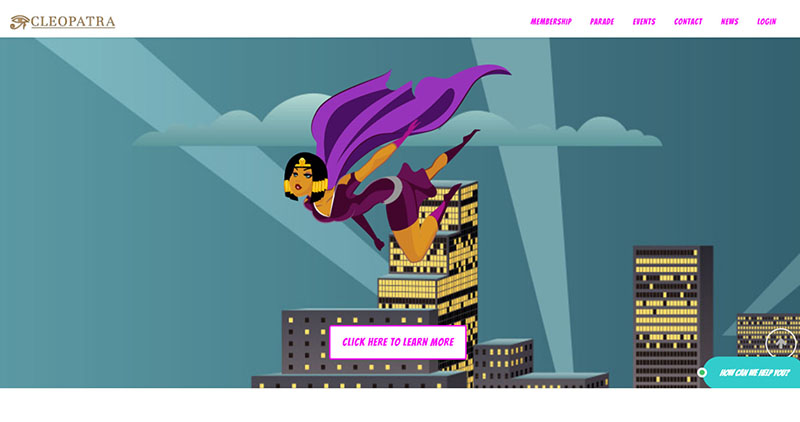 When you are launching an event's website, here are 2 basic questions to ask yourself before doing anything else:
1) How can I make this website as attractive as possible for new sign-ups and first-time attendees?
2) How can I make this website as user-friendly as possible for all users?
Below, we'll outline the essentials of what to include on your event website homepage:
Date and time of the event with an add-to-calendar button
Description of the event (including a general timeline of how the event will unfold)
Venue location/address, directions, map images, and transportation suggestions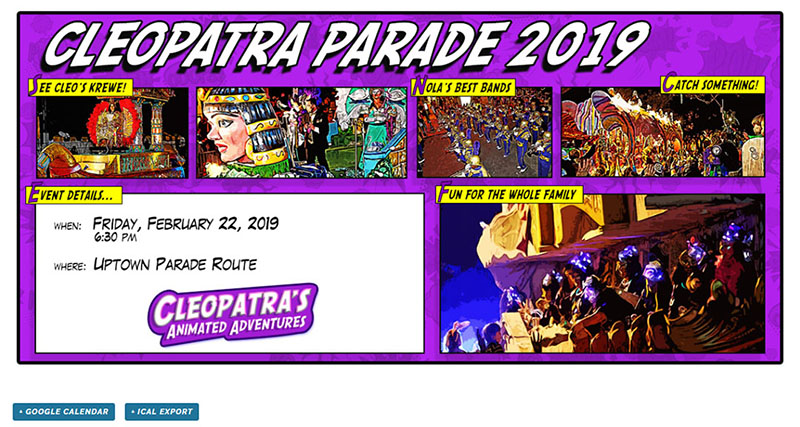 Images of the event from past years. A photo carousel of highlights from the event or a promotional video is a surefire way to seize your website visitors' attention.
Key Tip: If it's a brand new event and you don't have a collection of professional photos from past years to choose from, create an original design. Incorporate your organization's logo(s) and theme graphics relating to the event in a visually appealing way.
Links to the event's social media pages. As we mentioned, the more people you can reach through social media, the better it is for your event. You can either include a link or social icons.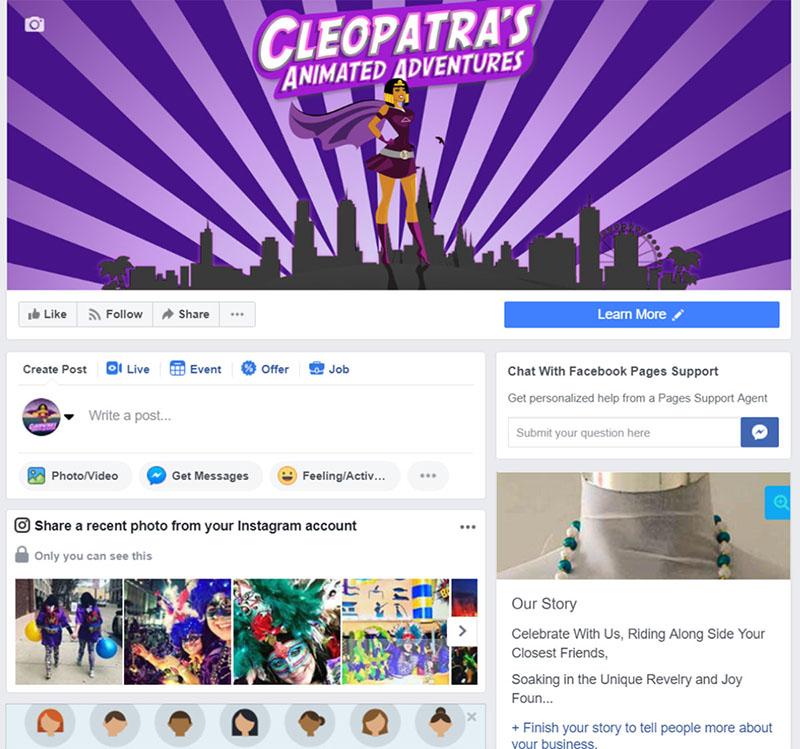 A button to click to register, apply, buy tickets, etc.
Key Tips: Include a succinct explanation of your ticket refund and transfer policies. You'll also need to spell out the details in a terms and conditions section.
Also, a general FAQ section and contact information for the event organizer will allow prospective and current guests to feel supported during the time leading up to the event.
If you're selling different types of tickets (i.e. regular vs. VIP tickets) at different costs, be sure that you're clear about what each ticket includes and why.
A blog/news updates section of your site allows you to make important event announcements, highlight different guests/speakers, feature attendees/participants, and more. It's a great idea to have a blog for search engine optimization purposes, too. Check out the Krewe of Cleopatra's blog page: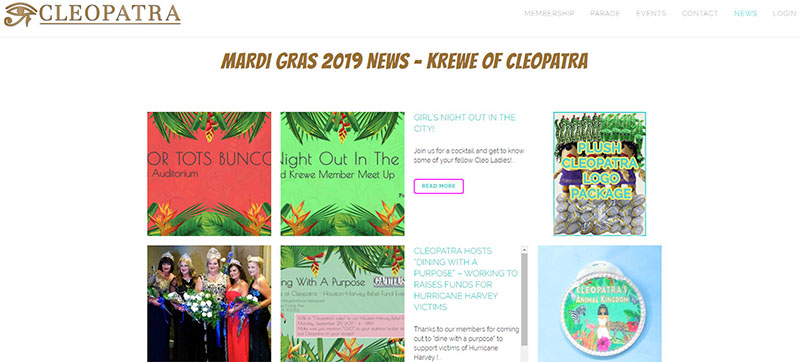 A newsletter sign-up button and/or call to action to a related event run by your organization. Why not maximize the opportunity of having captured people's attention by getting them to attend other events or buy products from your organization, too?
#2 – Optimize the Event Website
Now, let's walk through SEO best practices to follow to make your event's website as search engine friendly as possible.
1) Keyword Optimization
A website for an event needs to keep in mind all of the same on-page search engine optimization considerations you would keep in mind for any website. Part of your event website optimization and promotion is directly related to how much energy you invest in your on-page optimization efforts.
On-page SEO specifically means everything from the website's URL to its alt image tags should include the appropriate keyword term. The keyword term/phrase for your event should be pretty straightforward to identify.
Once you know the keyword you're targeting, you can include it in your search engine title tag, meta description, and image alt tags, and URL. If your event website is built using WordPress, you can use a plugin like Yoast to carry out your on-page optimization efforts.
Let's say your event is a digital marketing conference in New York City. Your longtail keyword might be "New York digital marketing conference" and you might want your event to appear in Google search results like this:

2) Include an Optional Form on the Event Home Page
One way to invite your influential participants to help out with event promotion is to have them fill out a super short form on your event website homepage. The form could be as simple as "Love this event and want it to grow even more? Please take a minute to fill out this brief form!" Ask what organizations they work with and if they have any connections with news sources or helpful social media connections.
Be sure to make this form optional. There could be backlink opportunities right in front of you from reputable blogs that your own participants (or their friends/families) run. You don't want to miss out because you simply didn't ask.
3) Identify and Reach Out to Influencers
Pinpoint who your target audience engages with and trusts. Find attainable influencers (probably best to start small than to aim for the big names in influencer marketing). Instead of cold calling influencers, it's a lot easier to identify them early on in your event planning process and build a relationship.
Small-scale organic outreach requires a dedicated time and energy investment but it can be worth it. There are plenty of built-in search functions of each platform to find relevant profiles. For example, if you are planning a children's event, regional "mom blogs" and their associated Facebook Pages could be a great place to start your influencer search.
Or, if your target demographic is young adults and you're located near a university, reaching out to local, influential college students is an option. The Krewe of Cleopatra took this approach with local college students helping them promote their event apparel, and it was a great move.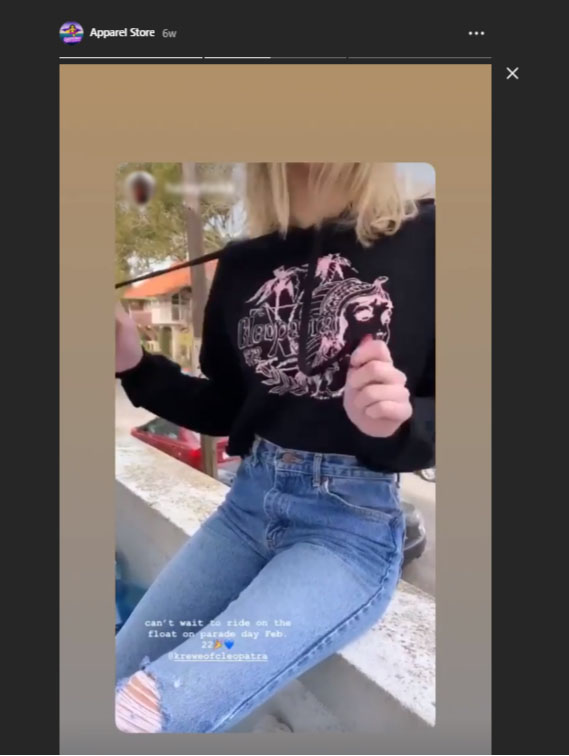 4) Maximize Relationships With Event Participants
One of the best ways to start with off-page SEO is by looking at existing relationships. Identify which past and current participants could help you gain backlinks on other reputable, related websites.
Figure out who is well-connected that attended your event in the past (or would be likely to support it now) and ask for their help posting the link to your event.
For example, if you're running a charity dinner centered around international cuisine and you have a friend or past attendee who is a well-known foodie and blogger, he or she could be a great help in expanding your off-page efforts organically.
5) Perform Competitive Analysis of Similar Events
Ask your team to find out which websites are linking to your competitors or related events. In some cases, there might be non-direct event competitors that you didn't even realize existed. Whichever news sources or blogs are linking back to this competitor event could link back to you, too.
Let's say you are running a fundraising event for a particular charity and your competitor is a similar charity event taking place the next weekend. Using a tool like SEMrush or Ahrefs, you you can find out the keywords the event webpage is ranking for. That information can help guide your backlink outreach strategy. Tools like SEMrush can be useful to identify backlinks like this.
6) Technical SEO
Your web development team for your event website can help you look into your technical SEO (which has to do with making sure the technical structure of your site is optimized for search engine bots ). Talk to your development team about schema for your event website.
SEMrush wrote an article where their experts recommended a couple of different tools for testing schema:
– Google's Data Highlighter (Google Search Console)
– Google's Structured Data Testing Tool
#3 – Use a Marketing Platform for the Event
Collecting, organizing, and managing attendee information in the most efficient way possible requires using a digital platform and/or set of tools.
Regardless of the platform you decide to use, there are several things you should be able to do (and features the platform should offer) that are pretty non-negotiable.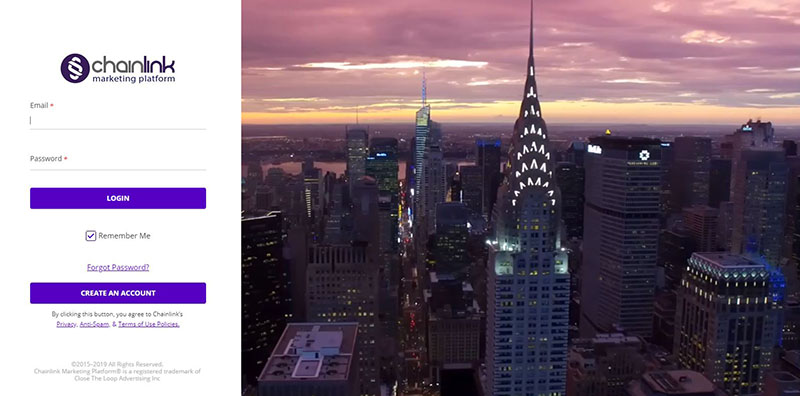 1) A Streamlined Event Registration Process
Event registration is the start of it all. If event registration is difficult, you can leave a negative first impression on event participants, which you want to avoid at all costs. Also, it's crucial to set up your registration form so that it is automatically closed when it reaches capacity to prevent overbooking an event.
We'll use the example of one of our clients, the Krewe of Cleopatra Mardi Gras parade organization. We were able to help them simplify the application process for people to sign up and improve user experience.
Let's break it down into 5 guidelines to follow to make sure your registration process is efficient for your participants/attendees.
1) Only ask for essential information
Some event organizers think the initial sign up form is a prime opportunity to squeeze as much information as possible out of people. The initial registration form is not the time to overwhelm participants/attendees with questions.
It will probably either annoy them, make them suspicious, or downright deter them from finishing the sign up process. Check out how straightforward we made the Krewe of Cleopatra's application form: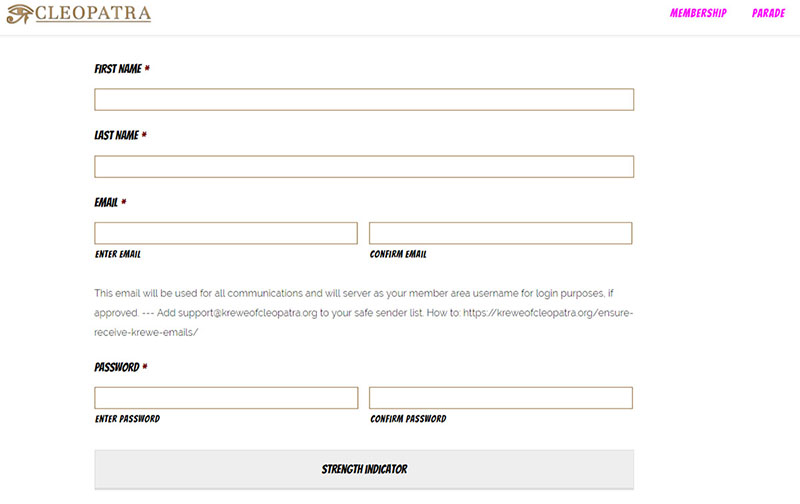 2) Make the sign up web page and form simple and visually appealing
This is your participants' first impression of your event, and possibly your organization as a whole. Provide all the key information your registrants need to know about sign up. Spell out the next steps after registration. However, don't bombard them with unnecessary details they will learn later on leading up to the event.
3) Create an easy payment process
Make the payment process as seamless as possible. Be sure that you're accepting multiple forms of payment. Include the options to pay via PayPal or credit card. Ideally, returning event attendees should be able to quickly make their payments without having to reenter their payment information because that information was saved on your company website in the past.
Make sure your attendees receive an email confirmation and/or receipt after their payment is processed. The email should include a thank you message and a heads up of what to expect next leading up to the event.
Take a look at the checkout page for the application fee for Krewe of Cleopatra's sign up page, which gives the option to use PayPal or a credit or debit card.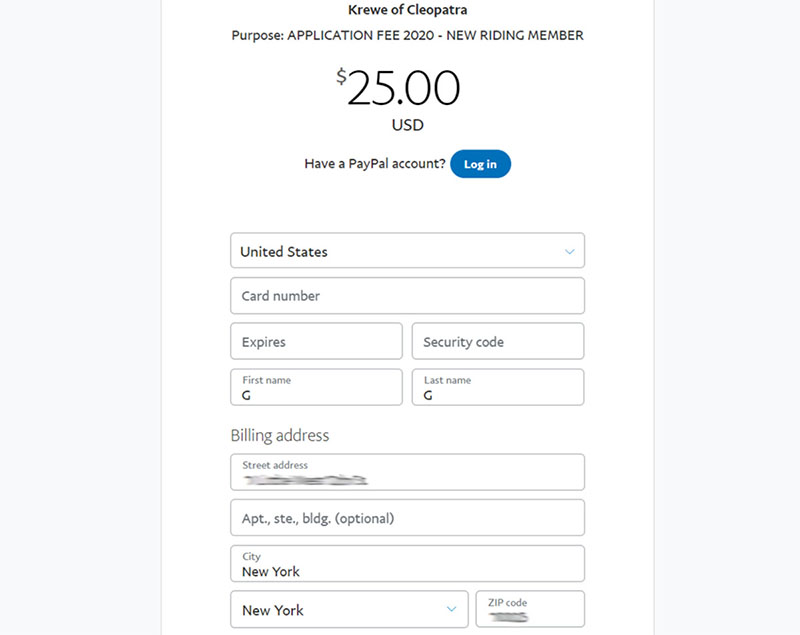 4) Include an optional preference section
Anticipate the special requests or unique cases that some of your participants might have. Simple fill-in-the-blank prompts or checkboxes can help you be proactive in accommodating everyone and to provide everyone with the best possible experience.
Questions regarding catering preference, merchandise interest, or special accommodations needed for personal or medical reasons are just some examples.
5) Make everything mobile-friendly
Be sure that your registration form (and your entire web page and website) are mobile responsive to accommodate the large number of people who do everything from their phones.
It would be a shame to alienate potential registrants because they didn't have access to a computer but couldn't finish signing up on their iPhone because the font and images of your sign up page weren't legible. Here's what the mobile friendly version of the Krewe of Cleopatra's application looks like: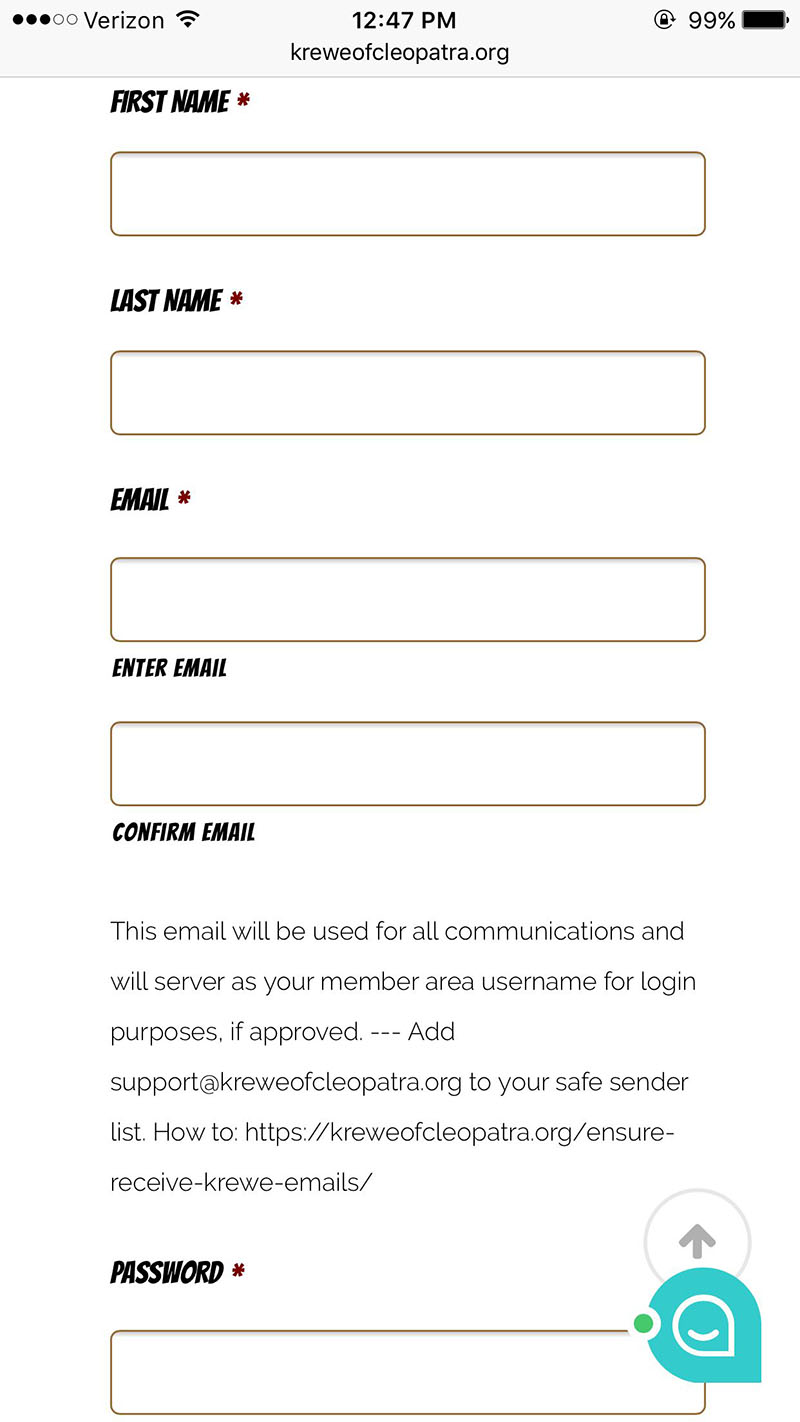 2) A Centralized Data Warehouse
A data warehouse to store all of your attendee and prospective attendees' information is a must-have. A data warehouse serves as a centralized storage space for your contacts and empowers your team to grow and retain event participants year after year.
Below are 2 of the main reasons why a data warehouse is an invaluable organizational tool to have when planning and marketing an event.
1) You have the ability to analyze data all in one place
A data warehouse can store and easily analyze detailed historical data, which can be a game changer for event planners, managers, and marketers. A typical transactional database isn't ideal for handling large quantities of data in the way that a data warehouse can.
Using a digital platform, like our proprietary Chainlink Marketing Platform, you can easily identify patterns and trends in your attendee data and generate reports. You can find opportunities to boost your attendance and create the best possible event experience for attendees by seeing what did and didn't work in the past. A data warehouse improves your decision making abilities, giving you an edge over competitors.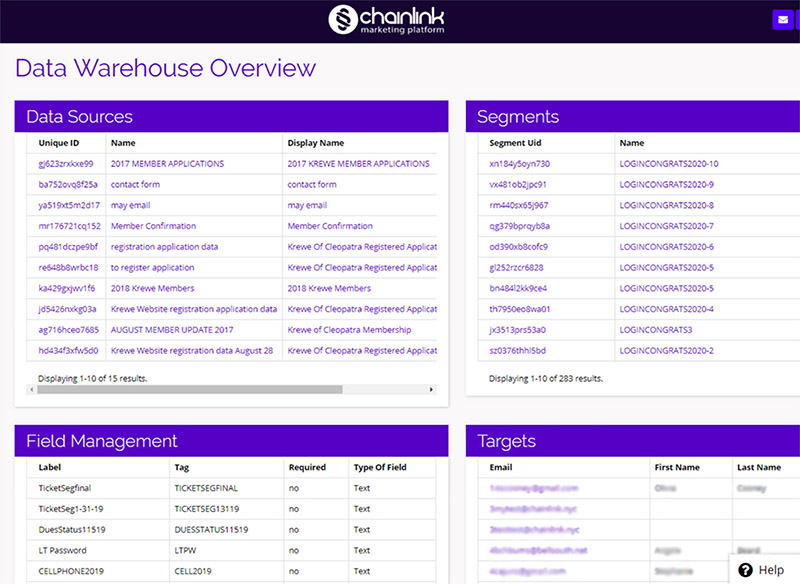 2) Provide better support to attendees
The ability to create a more personal support experience is another invaluable benefit of having a centralized data warehouse for your contacts' information. When you have all the key data you need about attendees stored in their individual profiles in your data warehouse, it's much easier to help them quickly solve an issue or answer a request.
You can search for that person, pull up their key background information, attendance history, special notes, etc. to provide a more personalized support experience for them. The more information you can collect without being invasive, the more helpful you can be.
In the Chainlink Marketing Platform, there are numerous options of data fields you can fill out for each contact's profile. However, you don't have to collect all of that information at once.

When your event contacts are stored in a data warehouse in a marketing platform, it's easy to build segmented lists to create personalized email programs for different types of attendees.
Let's go into more detail about how powerful email segmentation is as a tool for taking event marketing and planning to the next level.
3) Email Automation Throughout the Event Lifecycle
A data warehouse that is integrated with sophisticated email automation tools can help you create powerful, targeted email programs for your event.
Not all of your prospective and current attendees should be receiving the same email blasts. If I bought a VIP ticket and I'm getting email updates about rules for general admission, I'm either going to be confused or annoyed.
You want to create different segments for different types of attendees. How can you create the most engaging and efficient series of messages for each subset of your participant pool? Let's go step by step.
STEP 1: Create an Email Automation Strategy
The first step to create any successful email effort is to outline your email automation strategy. There are some questions that you should ask yourself to make the most of your event contacts' data. Here are some of the questions we recommend taking into consideration:
– How often are you communicating with your email contacts?
– How will your communication style vary depending on the reason for contact (i.e. if you're relaying event information vs. promoting a merchandise sale)?
– How will you integrate other marketing strategies with your email marketing messages (social, remarketing ads, etc.)?
– What action do you need or want email recipients to take after opening your email?
– What is the end goal of each email program you send?
STEP 2: Build Email Segments Straight from the Data Warehouse
Creating segments of email contacts in your data warehouse is the first step to smart email marketing. Using a marketing platform like the Chainlink Marketing Platform, segments are built using conditional logic. Conditional logic is exactly what it sounds like: if a certain contact in your data warehouse meets a certain condition, then it will be included in that segment.
For example, to build a segment in the Chainlink Marketing Platform, select what your condition will be based on (profile, behavior, etc.) and add as many conditions as necessary.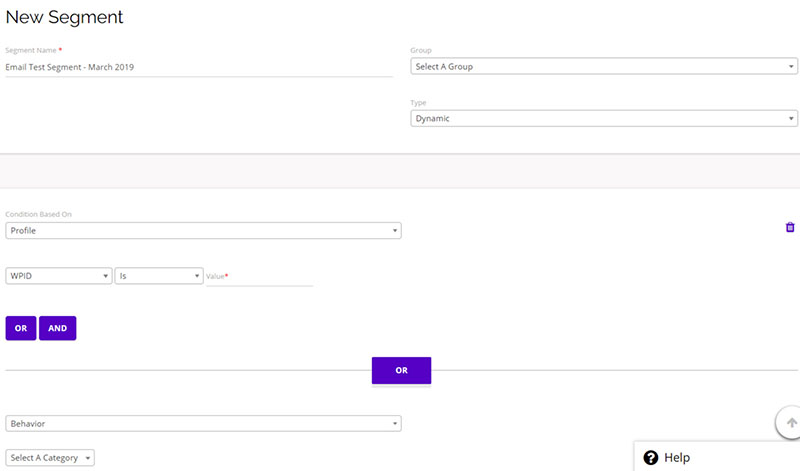 Let's say you want to send an email to all new attendees who expressed interest in promotional merchandise related to your event.
You can easily build a segment by making the first condition based on the date an attendee's profile was created and the other condition based on if they clicked a link in a previous email expressing interest about merchandise.
STEP 3: Develop Email Workflows Based on Your Different Segments
A "workflow" is simply a series of emails triggered by recipients' behavior. Most marketing automation platforms give you the ability to build different workflows for different segments.
Let's continue with our example about the segment of new event attendees that you are sending an email because of their expressed interest in purchasing merchandise.
Here is an example of a super simple email workflow that someone could build: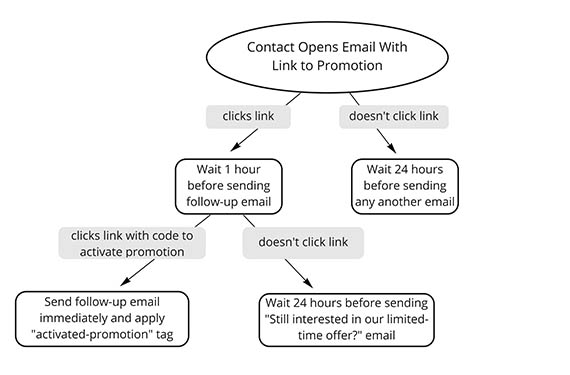 STEP 4: Analyze and Improve the Effectiveness of your Email Programs
Most digital tools, including the Chainlink Marketing Platform, have easy-to-read dashboards with key information you would want to know about the performance of your emails.
Here is some of the key information provided in the Chainlink Marketing Platform's email report dashboard:
Program Overview:
– The name of the email program
– The email's subject line
– What time the program was sent
– Which segment received the email
– Number of email recipients
Email Tracking Statistics:
– Total deliveries
– Unique email opens and unique opens rate
– Unique clicks and unique clicks rate
– Unsubscribes
– Email bounces and bounce rate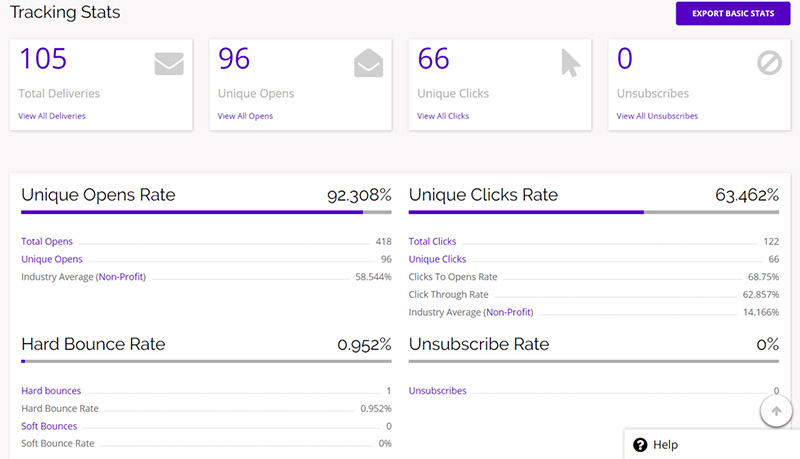 Talk to your team about the performance of your email program and how you can improve it. There are dozens of ways to alter your email strategy to make it more effective depending on how it performed.
#4 – Manage the Event On Site
On the day of the event that you meticulously planned and prepared for, there are some steps you can take to ensure everything runs smoothly on site.
1) Email Communication on the Day of the Event
On the morning of your event, attendees need to receive an email with a reminder of everything they need to know.
All the helpful information that you have been providing leading up to the event culminates in the email communications you send day-of. Be sure the email includes key details such as:
– Address of the venue
– Arrival instructions (information about parking details, check-in, etc.)
– An overview of the timeline of the event
– Tips for downloading and using the event's app (if relevant)
– Any other useful information (special notes about the venue, wifi password, etc.)
2) Social Engagement on the Day of the Event
Social media activity on the day of the event will most likely start hours before it starts, during the actual event, and continue in the hours and days that follow. Monitoring what people are saying about your event and engaging with them can have a positive impact on the outcome of your event.
For example, reinforcing positive comments and feeding into the excited buzz of posts leading up to the event is a great idea.
Some event organizers might be tempted to shut down certain conversations or censor certain comments, but resist the impulse to control the social media dialogue. Even negative comments on the day of an even probably won't be detrimental to its overall success, unless you raise a red flag and draw more attention to it.
The best approach to social media management is to stay aware and stay one step ahead without directly interfering. One way to make sure you don't miss anything related to your event across social media channels is by tracking the event's hashtag(s).
3) Check-in on the Day of the Event
To make sure check-in for your event is headache-free, you'll want to set up an electronic process. Some event management platforms have an easy system to keep track of event check-ins in real time, with the option to export the information into a spreadsheet. Exporting this information for post-event analysis and for knowing who to send follow-ups will save you a lot of time later on.
Whether you have an electronic list where you can easily search for and check off a name, or a digital system where you can scan a ticket, think about what will be the most seamless process on the day of the event. Digital check-in also guarantees a real-time count of checked-in attendees. This is key information to know to stay updated on the status of your event.
Regardless of the check-in process you decide to use, it's smart to have a back-up alternate method of verification on hand. That way, even if all of your devices crash or there is a crazy issue with the Internet, you'll have printed, organized lists of attendees and you don't have to delay the start of the event.
#5 – Implement a Post-Event Strategy
Marketing and communication after the event is critical to keep the momentum of the event going and set the stage for success the next year. Create a post-event strategy that includes advanced email automation campaigns to re-engage attendees and notify them about future events.
1) Send a post-event debrief and thank you email
Sending a thoughtful and sincere wrap-up/thank you email is the first step towards attendee retention. If you collected attendees' feedback from a live poll/mobile survey during the event, you can mention the feedback you received so far in the email.
This is the first email in a series of re-engagement emails you should plan to send. Keep the conversation going. Even contacts on your list who couldn't attend the event this year can enjoy receiving these emails if you write them well.
2) Distribute a survey to gain feedback on the event in a systematic way
You can pave the way for even better attendance for next year through post-event email surveys and follow-up messages. SurveyMonkey is a great option. Here are some questions you can ask:
– On a scale from 1 to 10, how satisfied were you with this event?
– Which parts of the event did you enjoy the most and least?
– What did you think of the venue/food/music/schedule?
– Do you plan to attend/participate next year?
– What can we do to make the event easier or more convenient next year?
3) Create a year-long active community that builds excitement for the event
Social media is one of the best channels for event-goers to foster community post-event. Use photos, videos, etc. from the event and compile into an event highlights section on your event website. You could post photos taken by participants during the last day's presentations or the closing remarks on social media.
Keep the event's social media accounts alive throughout the year with fun and creative tactics. You could post regular throwbacks, create polls, or even start a contest.
The more you can encourage attendees to like, share, and organically promote your event, the more likely you are to stay front-of-mind and re-engage with attendees who might have started to lose interest.
The Krewe of Cleopatra does a great job of sparking year-round engagement with a countdown to the parade starting months in advance.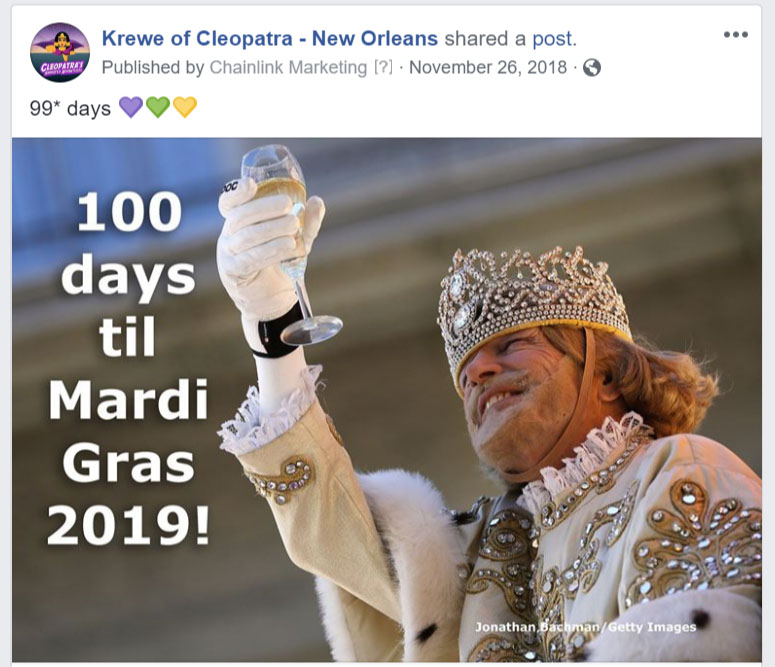 That being said, it's also smart to be aware of how frequently you are posting on the event page. You don't want to have the opposite effect and make members of your Facebook group turn off notifications or leave the group because they are annoyed by your incessant posting.
4) Make predictions and devise a post-event marketing strategy using analytics
Tools like our proprietary Chainlink Marketing Platform's attribution analysis features help event planners calculate their return on investment (ROI) for the event.
The last thing you want to spend time worrying about as a marketer is organizing your leads to figure out where they came from and how many of them actually converted. Things to keep in mind as you figure out your ROI:
– How many event-generated leads converted to customers
– How to attribute revenue to its marketing source
You can accurately predict average future event attendance and projected budget spend using data analytics through a marketing platform. For example, our Chainlink Marketing Platform give you the ability to collect data and accurately measure/attribute your ROI.
Wrapping It All Up…
This guide had plenty of actionable tips for pre-event, mid-event, and post-event planning and marketing. We didn't get into detail about the strategy options for running social media accounts for an event, and we didn't talk about buying ads to promote an event.
Let us know if you'd like us to cover these topics in depth next! There is an endless list of sub-topics to cover under the umbrella of event marketing in 2019, but we hope this guide will get you started in the right direction when it comes to event marketing and management.
Every event has its unique challenges, but there are always solutions with the right team working with you to plan and oversee an event's digital marketing and overall organization strategy. Want to learn more about how our team at Chainlink helps our event marketing clients succeed?
Check out our offerings under the section of our site dedicated to event marketing . Don't hesitate to reach out if you have any questions or input about this post. We hope to hear from you soon!
Sign up for the Chainlink Weekly Newsletter