Our team works with ecommerce businesses across industries, and we always emphasize the importance of website content creation to convert site traffic into leads and sales.
Writing content to promote your ecommerce business does not have to be a tedious and forced process. You don't need a team of professional copywriters or video editors to make high quality content that increases sales.
Once you understand what your current/potential customers are regularly searching for (through keyword research, creating effective content for your ecommerce website is easier than you think.
As avid readers and writers of digital content on ecommerce sites, our team here at Chainlink knows what helps website visitors turn into paying customers. Whether you're just getting started and don't know where to begin, or you've been a content marketer for years, our tips below are worth a read.
1) Provide Your Audience With Actionable Tips
Consider what a potential customer would want to know in regards to your product(s) and write something helpful to answer their questions. Thinking like your typical customers will help guide them to buy from you. For example, many ecommerce fashion brands and retailers do a great job of creating visual styling guides that cleverly incorporate their products.
Let's say you need to know how to dress for a certain event and you find a blog or video that perfectly explains the different pieces you would need to purchase to complete the look. Chances are that you'll be more likely to buy the outfit they suggested to make your life easier.
Online shoppers like to take the path of least resistance, so make it seamless for them to follow through with purchasing your mentioned products. Be sure to remove any roadblocks (i.e. unnecessary forms or a difficult checkout process) that might prevent someone from completing the sale.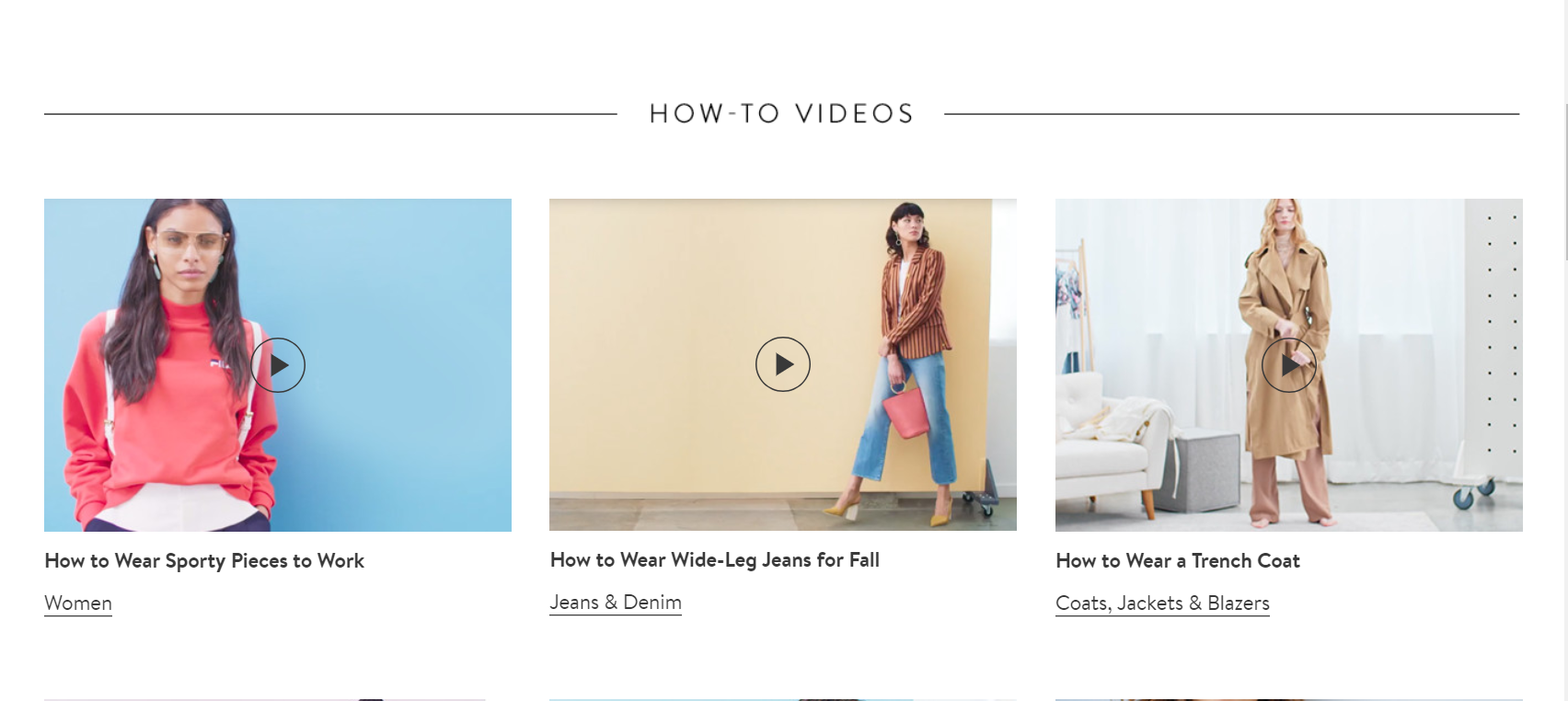 Ecommerce giant Nordstrom is a prime example of a company that has an impressive online library of clothing fit and style guides (mostly videos like this). You can easily find them all on in the How-Tos & Style Advice section of the website. 
2) Get Creative with Content that Incorporates Your Products
We just talked about how creating product guides is one of the most common and effective approaches to content marketing for ecommerce businesses. In most cases, these guides show readers how to use a product. However, you can be more creative and come up with different, out-of-the box ways to use your products as well.
For example, health food ecommerce company ALOHA has a recipe blog with unique dishes and treats to make using their products. They also highlight environmental initiatives that will impress their target customer, such as giving back to the Hawaiian Islands Land Trust.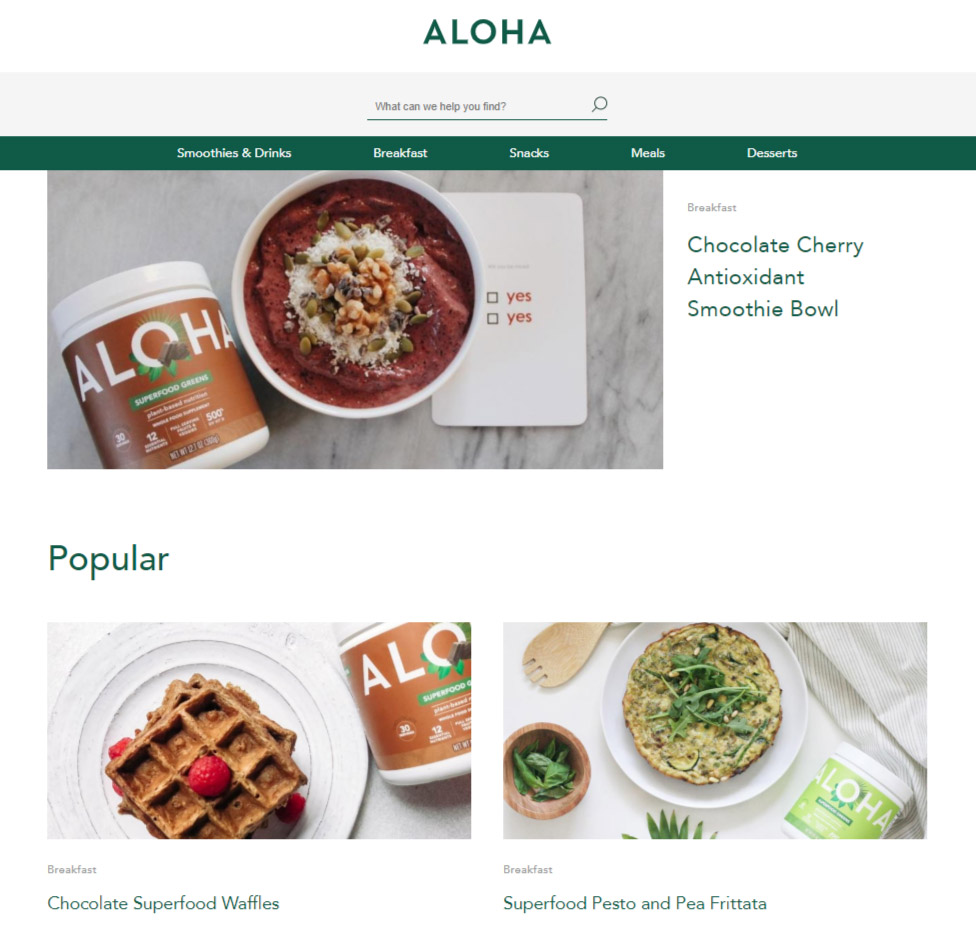 Even if you don't want to think too out-of-the-box, at least create some comprehensive product guides. Check out the super recent how-to article on creating product guides that the blog writers at Elegant Themes wrote, which breaks it down into four steps. The key takeaway is that product guides build trust with your current and prospective customers.
3) Create a Part of Your Website Dedicated to User-Generated Content
Customer reviews are a must for any ecommerce store. Even better than reviews, you could have loyal brand advocates contribute content and re-purpose it to attract new customers. Influencers are great, but user-generated content is allows the average consumer to contribute.
Ecommerce beauty brand Glossier's blog, "Into the Gloss", regularly posts an "open thread" question. The question-based blog post invites readers to respond with their two cents and reply to fellow commenters to keep the conversation going. The subject doesn't even need to directly relate to one of Glossier's products. The idea is to create a forum for beauty product lovers that naturally attracts more of the same type of customer to Glossier's online store.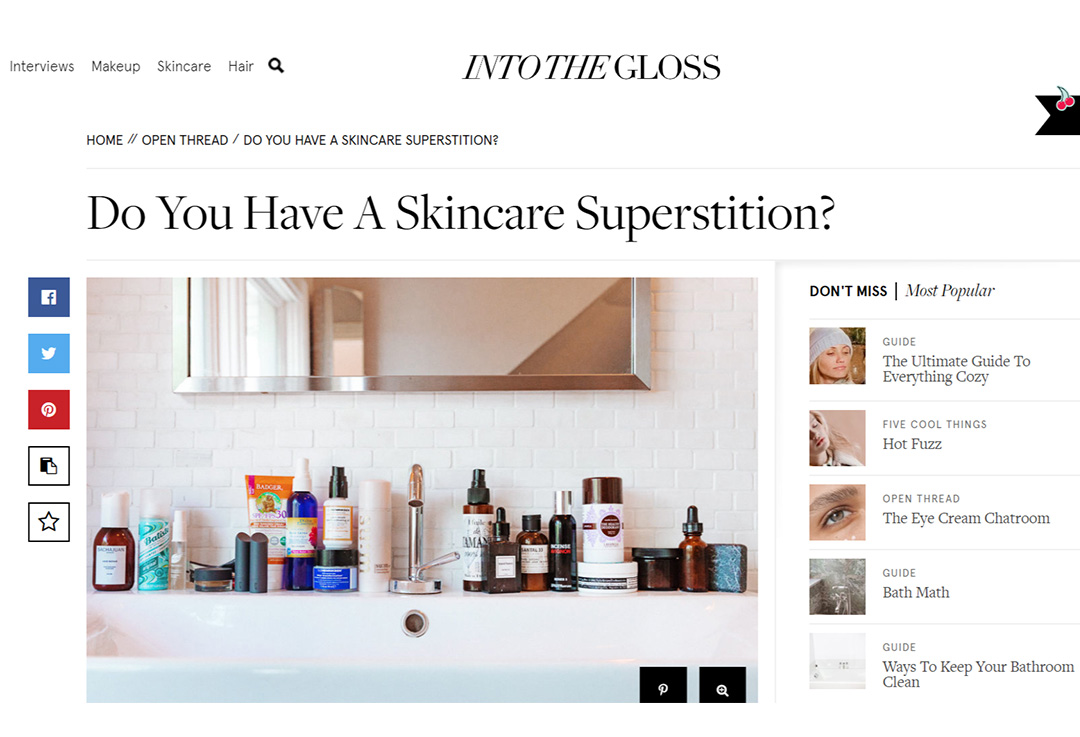 You could also start a contest and include a prize to reward the most unique ideas. Companies that aren't ecommerce businesses have excelled at these kinds of campaigns in the past, from Starbucks to the yoga studio chain CorePower Yoga. Ecommerce businesses can follow their lead by highlighting their own loyal customers' creativity, talent and passion to increase visibility and sales.
4) Use Your Content to Assert Your Brand as a Thought Leader
It's no easy feat to establish yourself as an authoritative voice in your industry (especially if you're a relatively new company). If you can consistently provide your website visitors engaging content in your company's area of expertise, you will build confidence in your brand and products.
Creating and curating a collection of detail-oriented, well-written and visually appealing content that piques your target audience's interests doesn't happen overnight. Quality and quantity are required to establish your brand's content.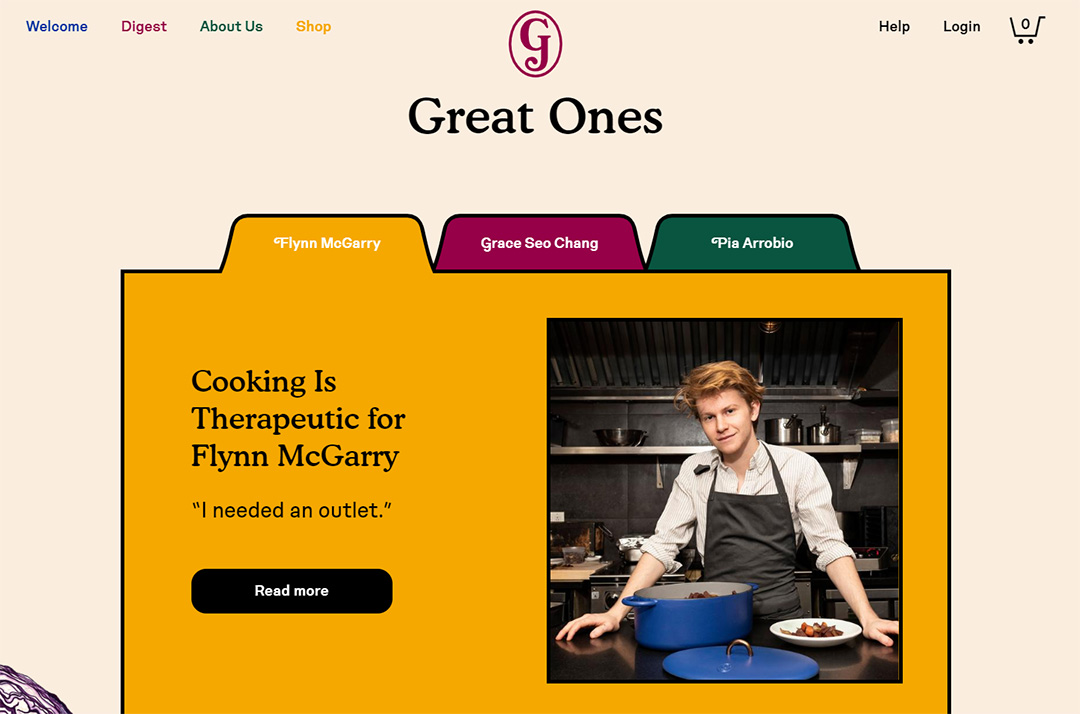 Let's say your company sells cookware, like the new ecommerce brand, Great Jones. You would want to create separate series of content to maximize every piece of content's impact. Great Jones excels at this by creating a visually appealing "Digest" webpage with distinct sections of content (i.e. recipes, how to use the cookware, and interviews with influential chefs).
There aren't any shortcuts to achieving thought leader status in today's highly competitive marketplace. However, the process will be more efficient if you follow the lead of young, digitally native companies like Great Jones that are excelling at content creation with a fresh approach.
To Wrap It Up…
If you walk away from this blog post with anything, we hope it's that strategic website content creation on any scale is a smart move for your ecommerce business. When done properly, content marketing for your ecommerce business will improve your on-page SEO (and therefore your online brand visibility) while also helping you convert more leads into customers.
According to Search Engine Watch, studies from just a few months ago have shown that only 39% of marketers have a documented content marketing strategy. By being in the minority of content-focused ecommerce businesses with a dedicated content effort, you'll likely stand out from your competitors.
On our own Chainlink blog, we can attest to the fact that articles that perform best are usually the ones that serve a specific purpose. For example, instructional guides for getting content featured on Google News or optimizing a Shopify store.
At Chainlink Marketing, our team believes in maintaining long term customer relationships while simultaneously generating new leads. We'd love to connect and chat about how our services might be a good fit for you. Also, don't forget to sign up for our newsletter for more exclusive tips and strategies.
Sign Up for the Chainlink Weekly Newsletter
More Ecommerce Insights from Chainlink Marketing
Not sure how to take your ecommerce brand's marketing efforts to the next level?
Chainlink is here to help.