40 Google Display Ads Examples in 2023 (And Why They Work)
April 2023
The Google Display Network has enabled online advertisers to reach a wide audience across millions of websites for more than fifteen years. In 2019, Google Display Ads are still extremely effective. We wanted to provide 40 quality examples of current Google Display Ads we found that you can reference during your ad creation process.
As a reminder, there are various ad types that can run on the Google Display Network (GDN). Google explains that the GDN includes uploaded image ads, responsive display ads, engagement ads (i.e. video ads on YouTube) and Gmail ads (expandable ads on the top tab of a Gmail user's inbox). For the purposes of this blog post, we won't be focusing on engagement ads or Gmail ads right now.
UPLOADED IMAGE ADS VS. RESPONSIVE IMAGE ADS
1)  UPLOADED IMAGE ADS
Uploaded image ads require the advertiser to take full responsibility for the creative aspects of the ad and its optimization. In short, you need to manually make sure your ads meet the size specifications of a web page in order to qualify for a particular placement (meaning you need to take the time to make different versions of the ad with different sizes).
2) RESPONSIVE IMAGE ADS
Responsive image ads are the default. Google automates the process of making different versions of an ad for different web pages and screen sizes when you run responsive ads. Google Ads automatically tests visuals and copy to determine which combinations are the most effective for your campaign.
WHY PEOPLE CHOOSE GOOGLE DISPLAY ADS OVER OTHER ONLINE ADVERTISING OPTIONS
1)  VISIBILITY & REMARKETING CAPABILITIES
The sheer visibility of ads in the Google Display Network (GDN) is remarkable. They are practically unavoidable for Internet users, without being obnoxious and disruptive. The subtle omnipresence of Google Display Ads in addition to the remarketing capabilities Google offers makes them a favorite of online advertisers.
2) FLEXIBILITY
The flexibility and number of choices for ad size and style is impressive. WordStream did a great job of summarizing some of the different options in a convenient infographic, which we included below.
3) BIDDING SYSTEM
The bidding system to win an ad position is predictable and can be cost effective. Advertisers end up paying the minimum amount of money required to outrank the advertiser in the position directly below them. Google Display Ad targeting is pretty straightforward to learn (even for advertisers who are new to running PPC ads).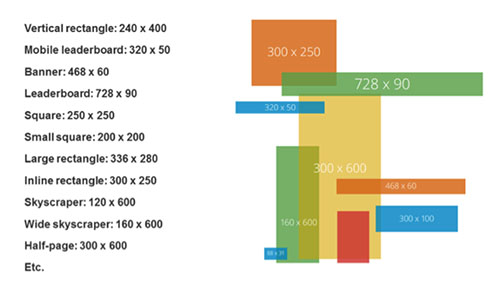 OUR METHOD
How do you find high quality Google Display Ad examples? Visit the websites you frequent (especially online publications) and you'll start to notice how quickly the PPC ads change on the page. The more you pay attention to these ads, the clearer it becomes which ads are well-crafted and contain the elements necessary to attract clicks and conversions.
We chose to share the following 40 examples below to show you how there are various ways to use the same ad space to achieve the same goal. Note that the examples we chose fall under the ad category of "skyscraper ads" that would appear on the right hand side of a web page. The ads we found fell under the following five categories:
APPAREL
1) VINEYARD VINES
Display ads largely rely on the level of interest generated by its featured image. This preppy clothing brand forged a great connection with the Discovery Channel for their Shark Week campaign. The memorable underwater photo and invitation to check out the collection by clicking the call to action button is an effective way to increase clicks.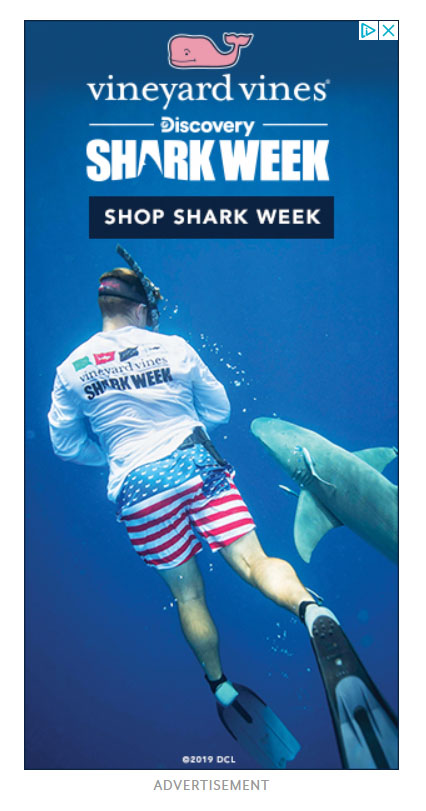 2) UGG
UGG does a great job of promoting one of their most recent products in a way that makes it seem like it's a best-seller (even if it's not yet). The light-hearted ad copy is just enough to catch someone's attention without being too pushy.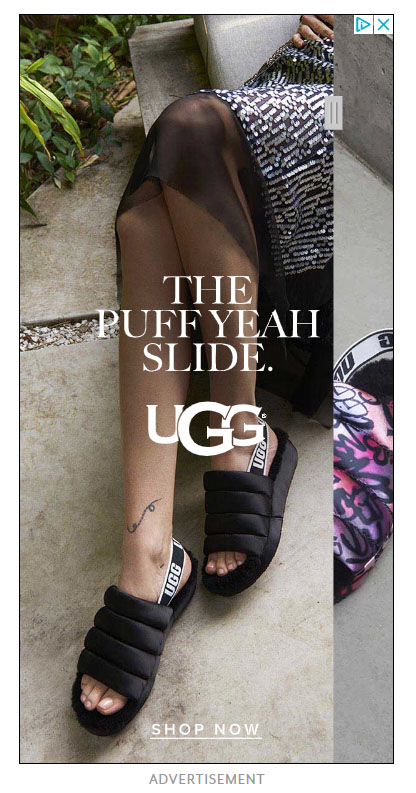 3) HARROD'S
UGG does a great job of promoting one of their most recent products in a way that makes it seem like it's a best-seller. The light-hearted ad copy is just enough to catch someone's attention without being too pushy.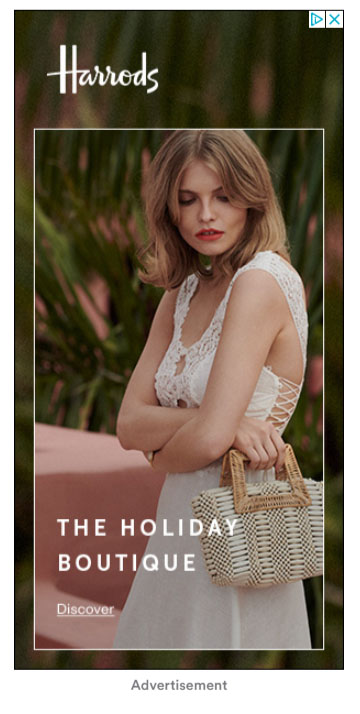 4) NIKE
When Nike needs to promote a specific product, a display ad is a great way to showcase the physical qualities of the product while also summarizing the unique features. This ad has minimal text, but brevity is better when reaching this target audience.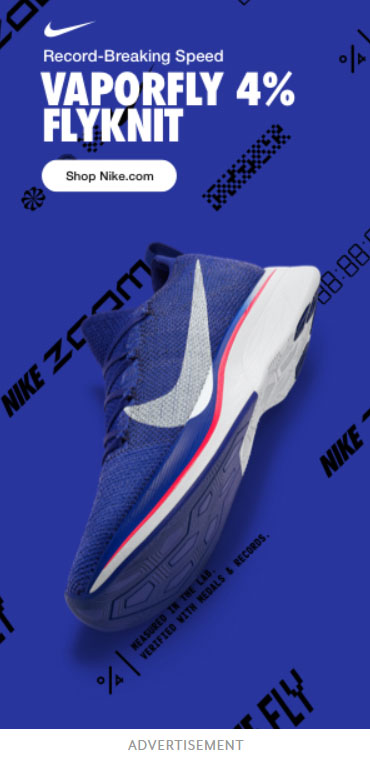 HOME AND AUTO
5) ROCKET MORTGAGE
As sponsors of the PGA Tour, Rocket Mortgage knows that a segment of their target audience is golf fans. The message of this ad is simple, but it's just enough to capture someone's attention and invite a user to click.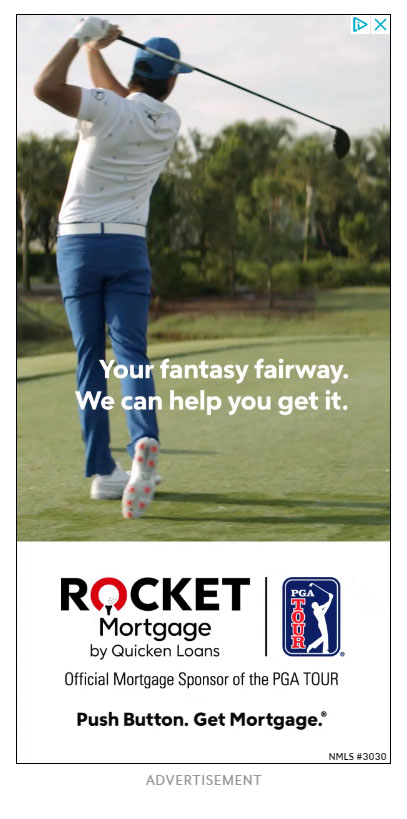 6) PERIGOLD
This ad is a great example of creating an ad that speaks to a specific in-market audience (in this case, luxury interior designers and their clients). If this ad appeared on the side of a page while someone is scrolling down an article on an interior design website like Remodelista, it would be particularly effective.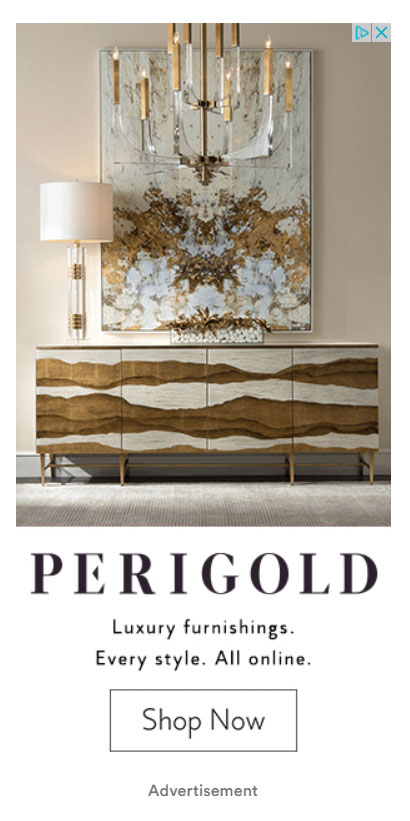 7) WAYFAIR
No time is wasted in this ad to drive traffic directly to wayfair.com. The color and placement of the "Shop Now" call to action button and the prominently placed discount is perfect for the purposes of this ad.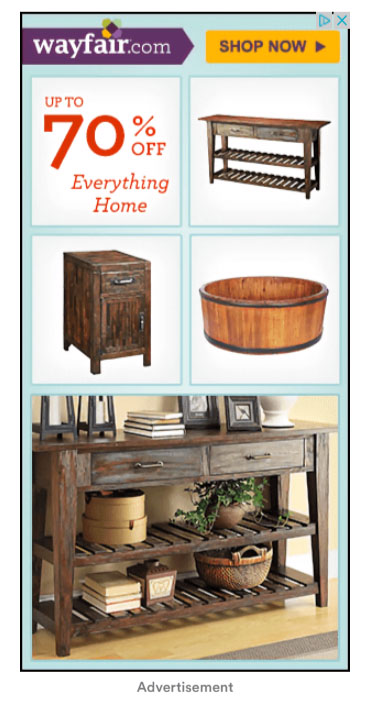 8) CADILLAC
Staying in line with their brand, this ad portrays Cadillac as a luxury vehicle full of conveniences. The two different call to action buttons are a great way to drive more clicks.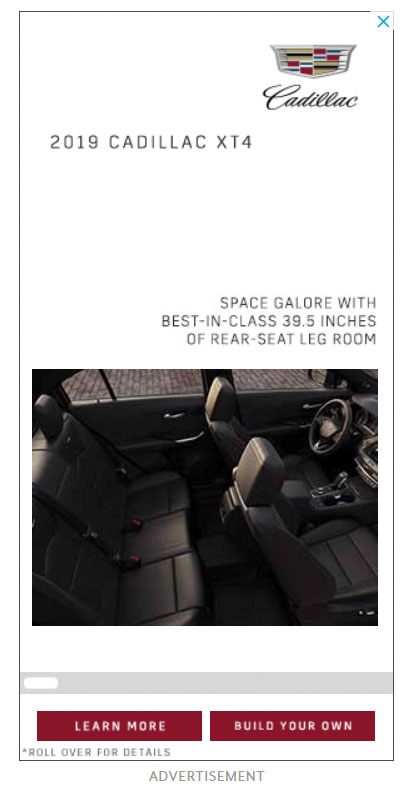 9) CHEVY
Sometimes your ad copy can be extremely simple and still be extremely effective. Including a hover feature to the call to action button that provides more information about the vehicle adds an interactive element to the ad.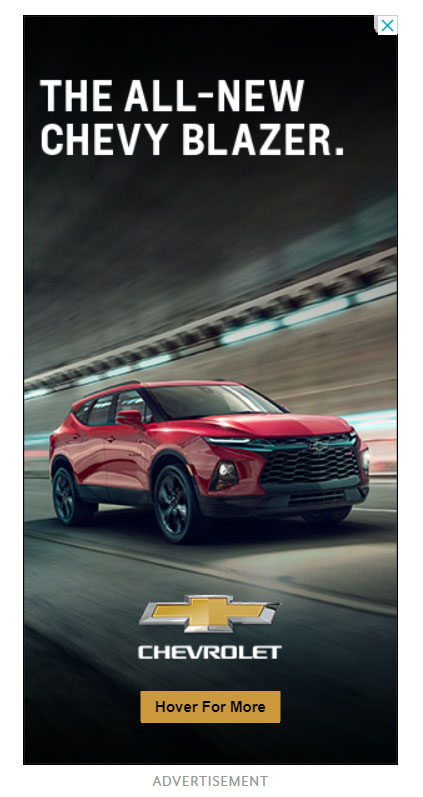 10) GMC
Two elements of this ad make it particularly effective: a desirable feature and multiple CTA buttons to choose from.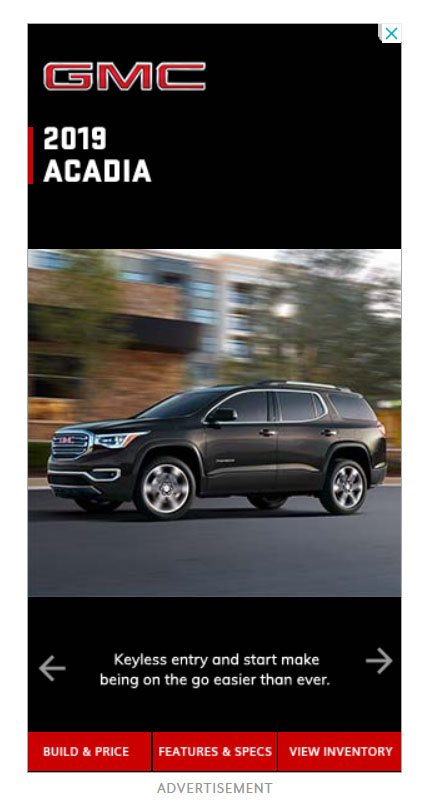 11) BIRCH LANE
Birch Lane uses a high quality photo, a generous discount, and a clear call to action to attract clicks. Remember, since Google Display Ads disappear quickly, you don't have much time to make a strong impression.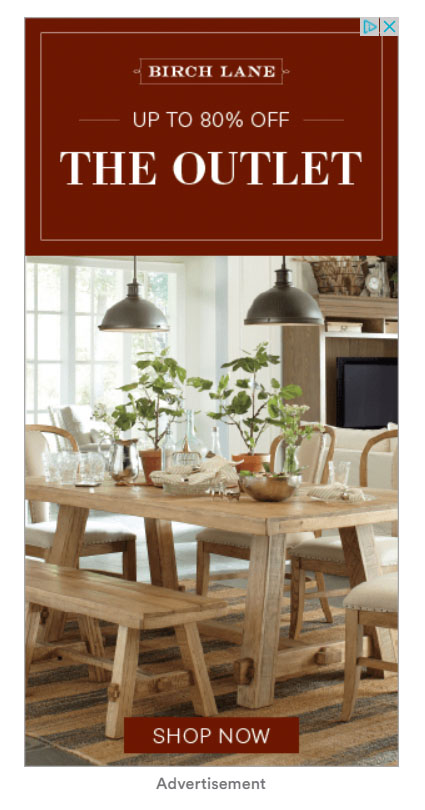 12) SHERWIN WILLIAMS
Sherwin Williams capitalizes on people's obsession with personalization in our digital age by making their call to action button lead to a quiz that results in a "Color ID" specifically tailored to the person. This is a fun and interactive element that is likely to attract more clicks than a "Shop Now" button would on its own.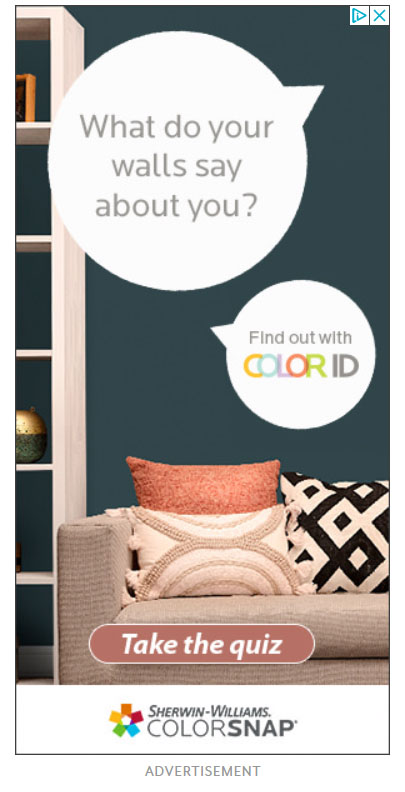 13) ZILLOW
Zillow targets a segment of their user base that is actually seriously considering buying a home. By providing a concise preview of two different available apartments, Zillow makes the most of its ad real estate.

14) LUMBER LIQUIDATORS
A great way to decide if you want to make a huge renovation is by seeing what it would look like. Lumber Liquidators made the right call by running display ads that showed how someone could preview the success of their services using an app.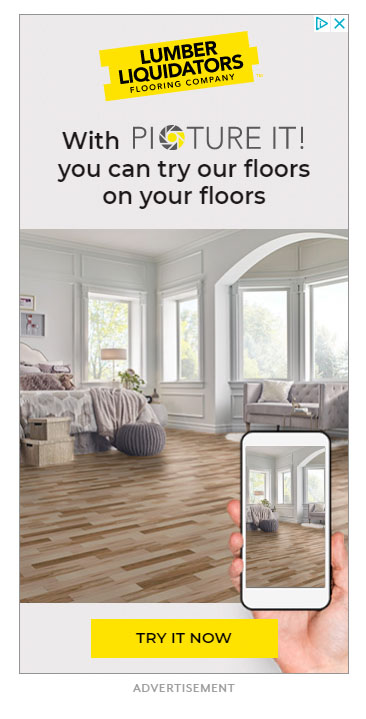 FINANCE AND INSURANCE
15) PAYPAL
This is a great example of increasing awareness of a new offering through a display ad. PayPal targets its younger customers by capitalizing on its new capabilities with Venmo. This ad's rhyming copy is a nice touch, too.

16) PROGRESSIVE
Progressive doesn't waste time with this ad. An attractive discount along with their signature brand character and bright colors makes it more effective.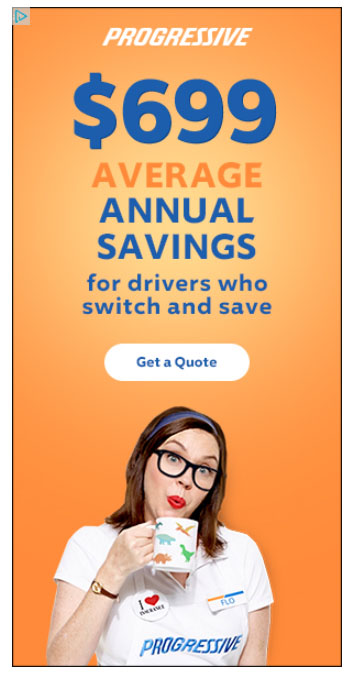 17) SANTANDER BANK
Santander makes use of every bit of empty space in this display ad without making it seem too crowded. The text message exchange is a nice way to appeal to a younger audience. Summarizing the benefits of the Student Value Checking account in a very clear, concise way is ideal for this target demographic.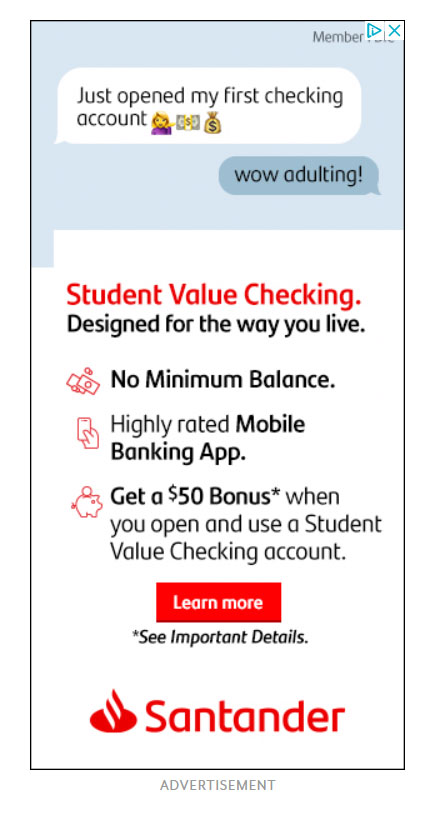 18) SUNTRUST
This time sensitive offer is perfect for a display ad like this. Instead of going into the details of the loan's rate in such a limited space, SunTrust sticks to an inviting photo and a call to action that will drive traffic to the site.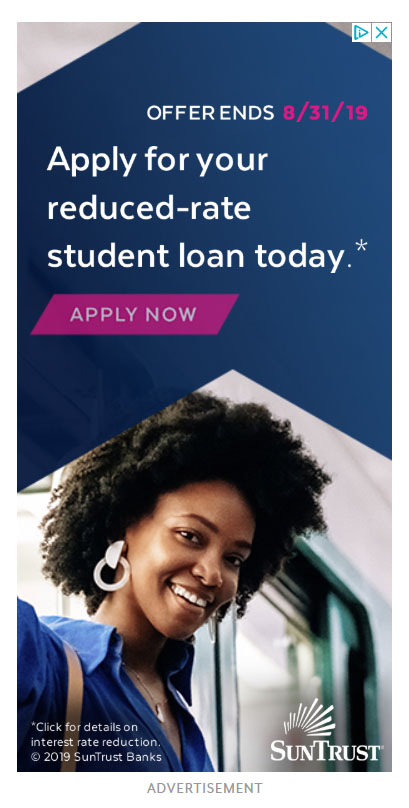 19) BETTERMENT
Even if you don't know anything about the app Betterment, this display ad is a teaser that gives you just enough information to pique your curiosity. The "Start Now" call to action button invites you to learn more.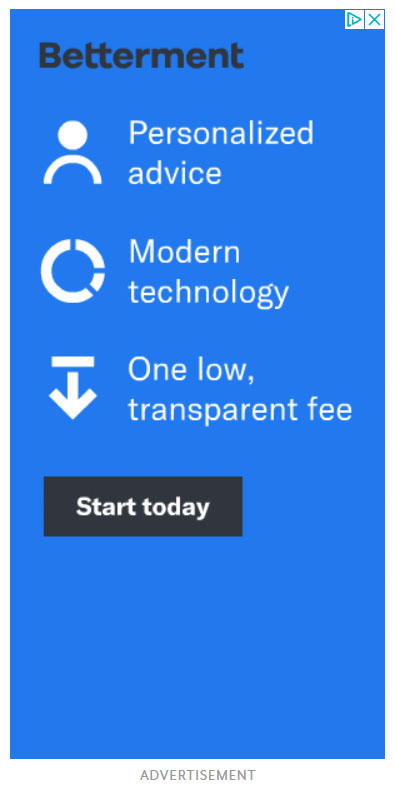 20) WELLS FARGO
Eye-catching numbers and attention grabbing benefits are used in this display ad to make the credit card product offering attractive to potential customers.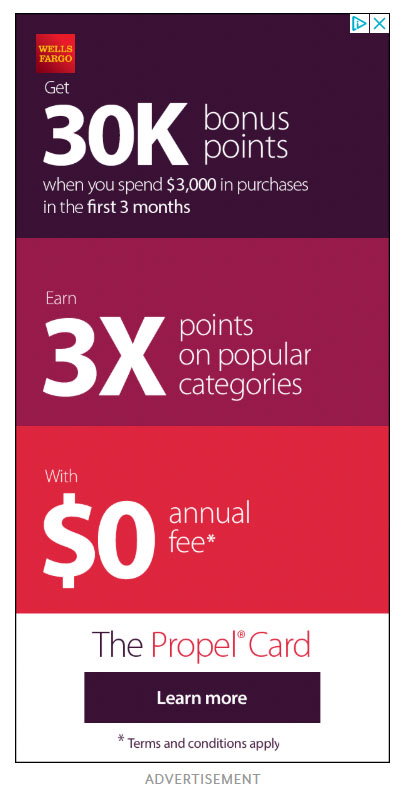 APPS AND TECH
21) ACTIVE CAMPAIGN
The target audience for this software is results-oriented, and the promise for more efficient marketing automation is important The invitation to try it for free is enough to start to get these potential customers on board (or at least get them to click to the website).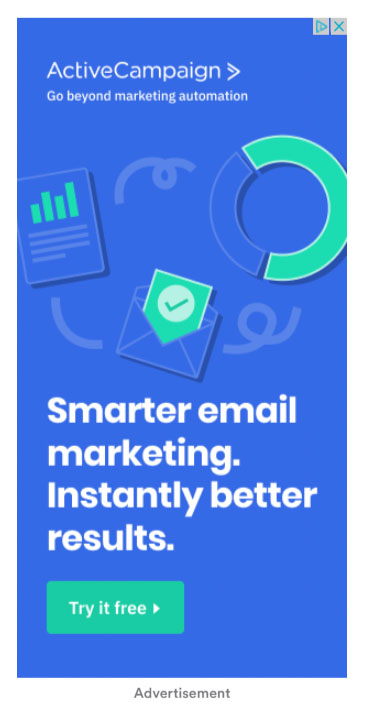 22) ADOBE CREATIVE CLOUD
This colorful display ad shows that you don't necessarily need to overwhelm your display ad with branding to get it noticed. We also love the "Join Now" call to action button.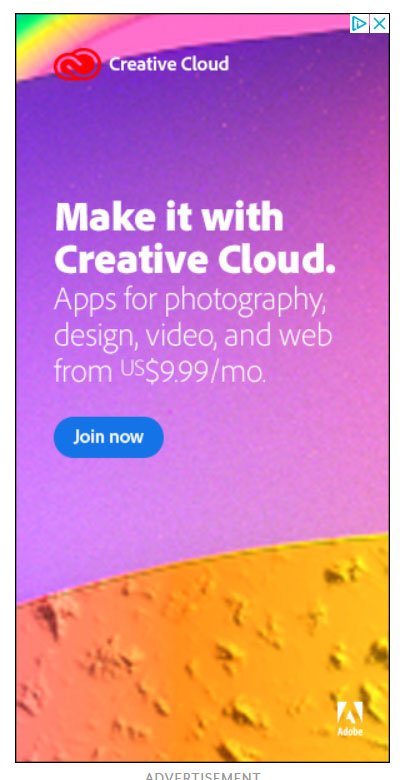 23) CONSTANT CONTACT
The casual, conversational tone of this ad, along with an offer for a free trial makes this a strong ad.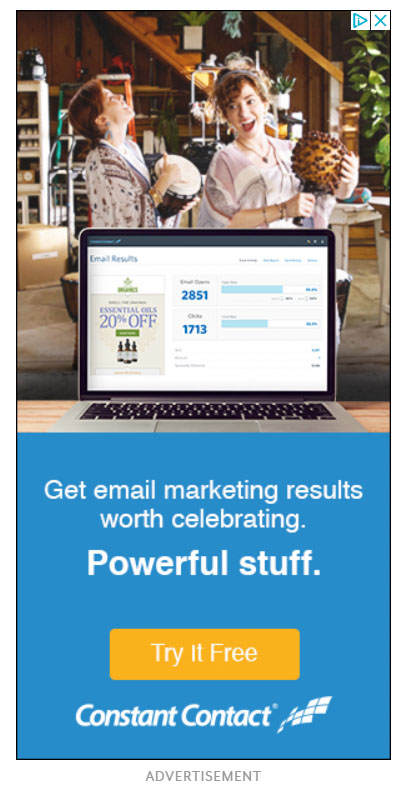 24) MICROSOFT
Microsoft is in a never-ending competition with Google for search engine usage. This promotion of Microsoft's equivalent of PPC advertising on Bing called "Microsoft Advertising" might be a great move for the companies that it's relevant for. This ad is efficient in getting businesses to "Try it Now".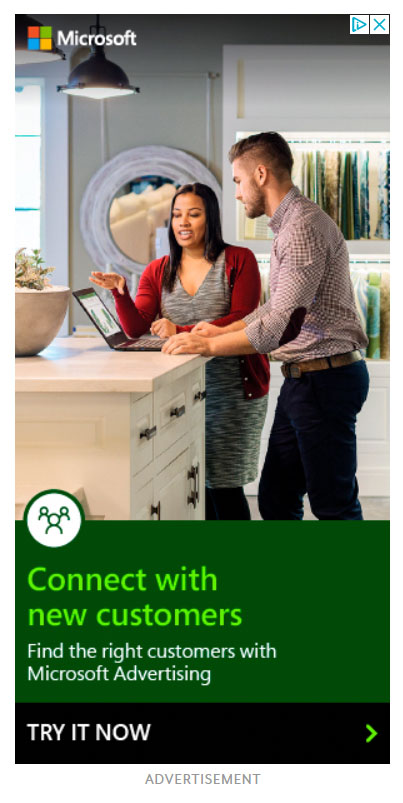 25) SEMRUSH
The use of whitespace in this ad along with the detailed highlights of the software are great. The keywords used in this ad will be music to the ears of the digital marketing professionals in need of an SEMRush subscription.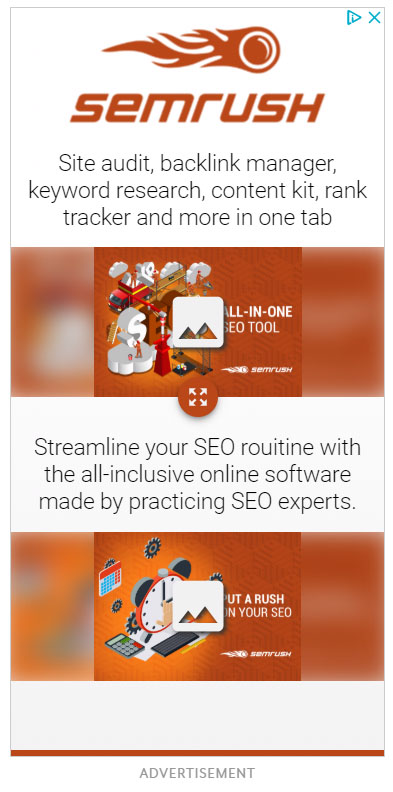 26) SE RANKING
This display ad takes the approach of "less is more". In contrast to how SEMRush loads up the ad with benefits of the platform, SE Ranking simply promises "more than just SEO tools" and drives traffic to their website.

27) SHOPIFY
Shopify nails it with a great choice of contrasting colors, vibrant image, and an unmistakable call to action.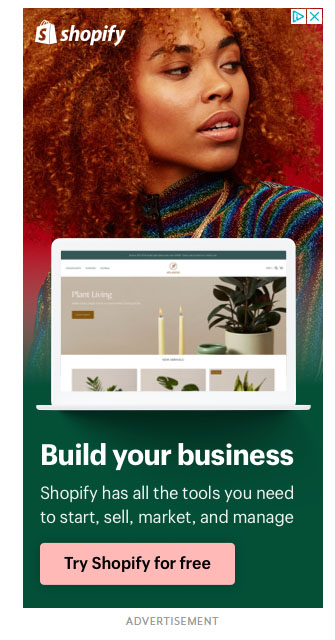 28) TASKRABBIT
TaskRabbit uses a comical, colorful and memorable illustrations and minimal text to draw eyeballs to this display ad, with a "Book Now" CTA button to seal the deal.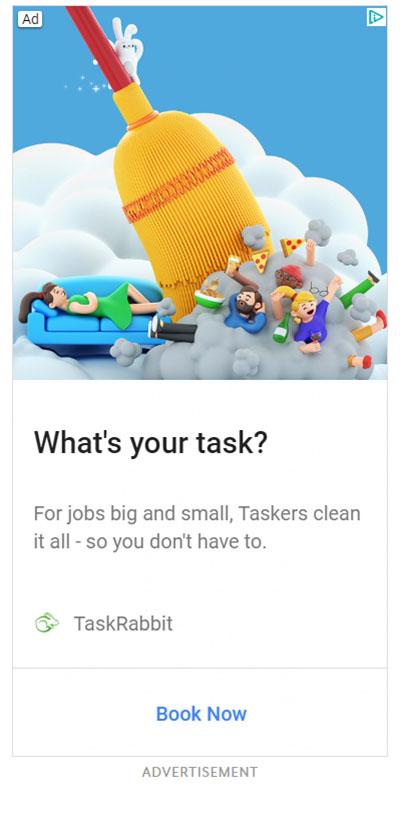 29) BEST BUY
An ambitious use of white space makes the products being sold at Best Buy the center of attention. With an eye catching yellow CTA and the promise of more to come, this is an effective display ad for Best Buy.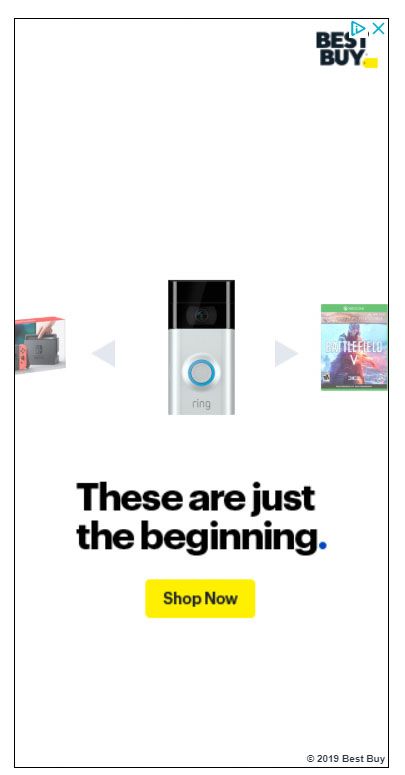 MISC.
30) STAPLES
The purpose of this display ad is to increase awareness of low pricing and increase Staples' store foot traffic. The "Find a store" call to action is perfect for this simple but effective ad.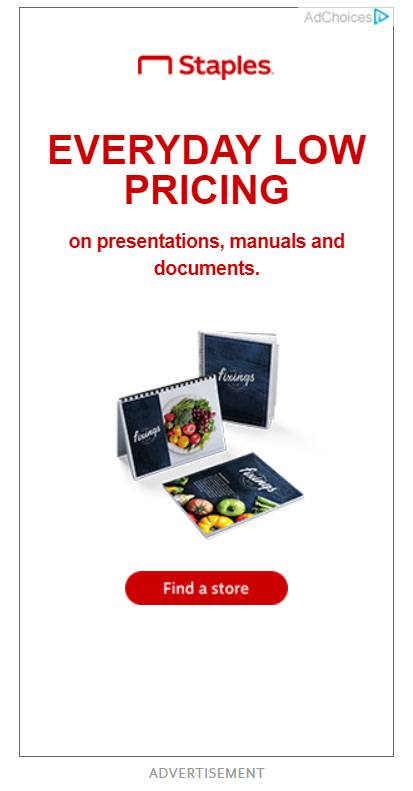 31) AIRFRANCE
The bright colors and low prices are great reasons for someone to be drawn to this display ad. The Book Now button is a great call to action.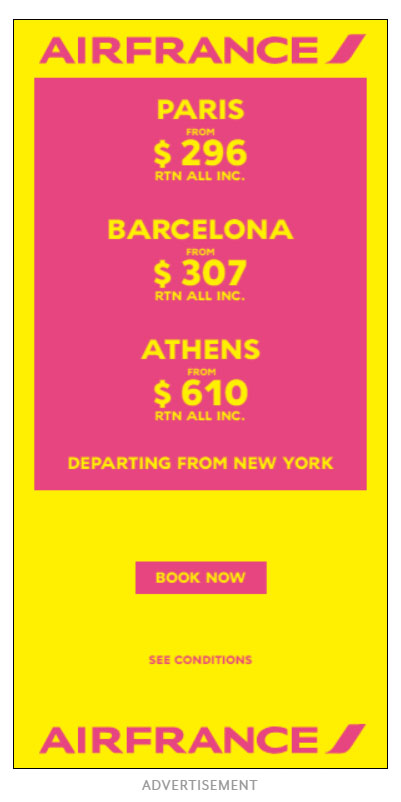 32) ENVIRONMENTAL DEFENSE FUND
An alarming visual is a foolproof way to get people to notice your ad. The option to donate with a match offered is an extra incentive for people to take action right away.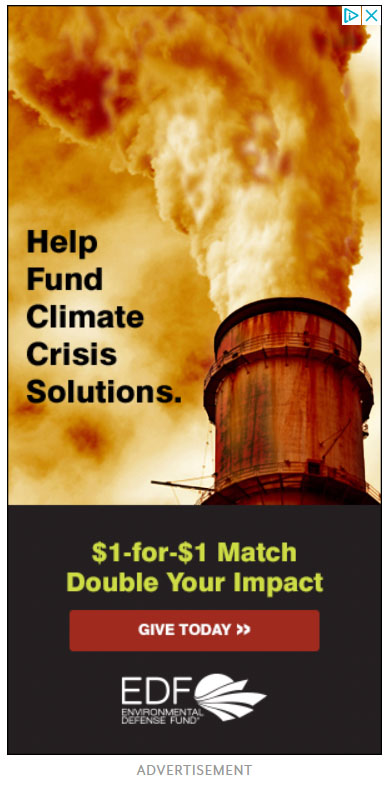 33) NETFLIX
Netflix lets the instantly recognizable image of one of its most popular series carry the weight of this ad. If your business can capitalize on one of your most successful products or offerings to capture people's attention, it's a smart move.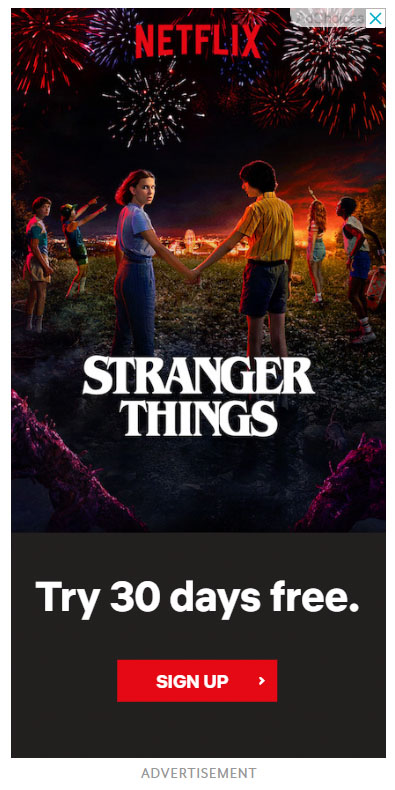 34) PURDUE UNIVERSITY
This ad is the epitome of simple, but it makes its pitch about its affordability effectively.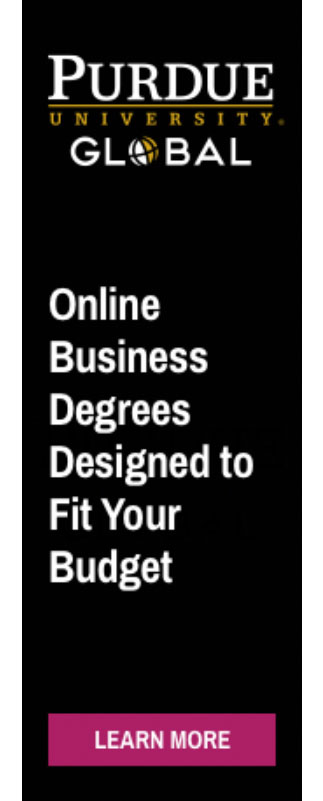 35) SEPHORA
For anyone purchasing makeup, seeing a visual of the product is extremely important. This is why for any cosmetics brand, it's wise to opt for advertising on the Google Display Network to include images in your PPC campaigns.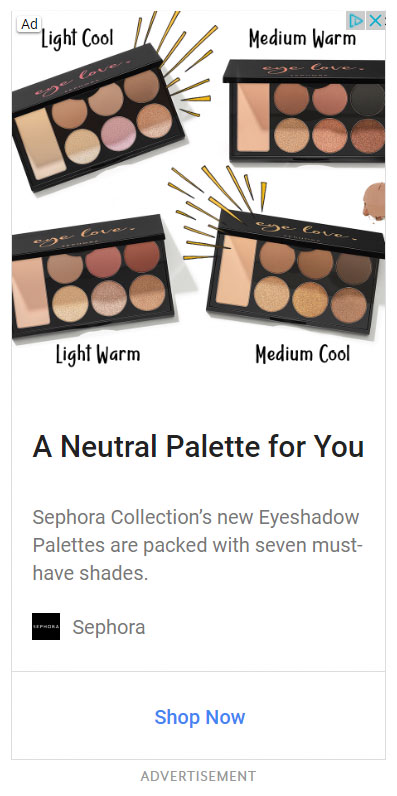 36) SPECTRUM TIME WARNER
Spectrum has the right idea when it comes to upselling customers to an enterprise plan. There isn't anything groundbreaking about this ad, but it is concise and effective.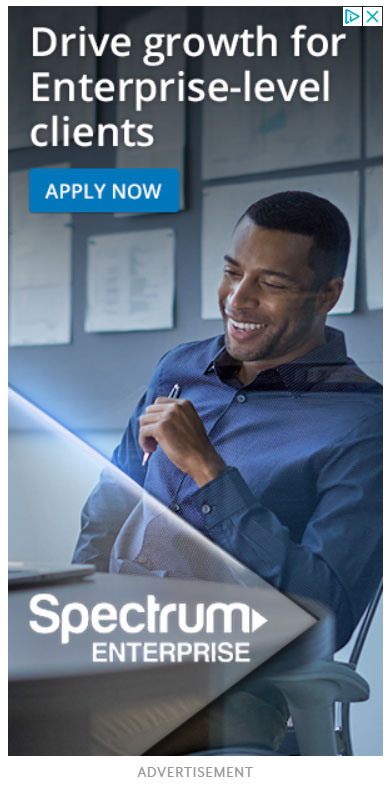 37) VIMEO
In the competitive space of video platforms, one way that that Vimeo tries to stand out from competitors like YouTube is though its special features. This display ad works with just a brightly colored background and one of its unique features to highlight one of VImeo's differentiating qualities.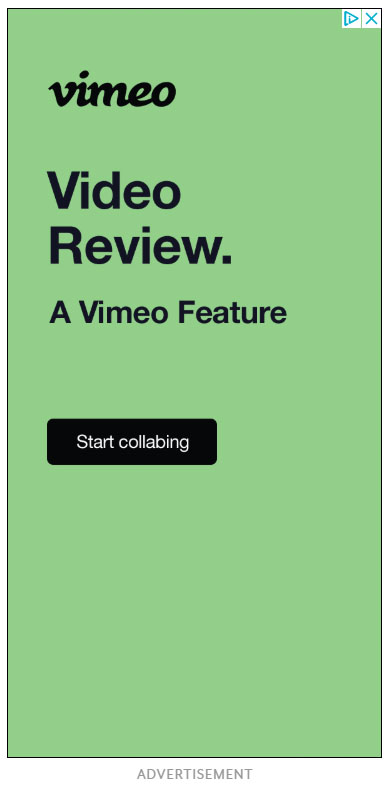 38) VISTA PRINT
This display ad is a quintessential example of clean design, a high quality product image, and a clear call to action.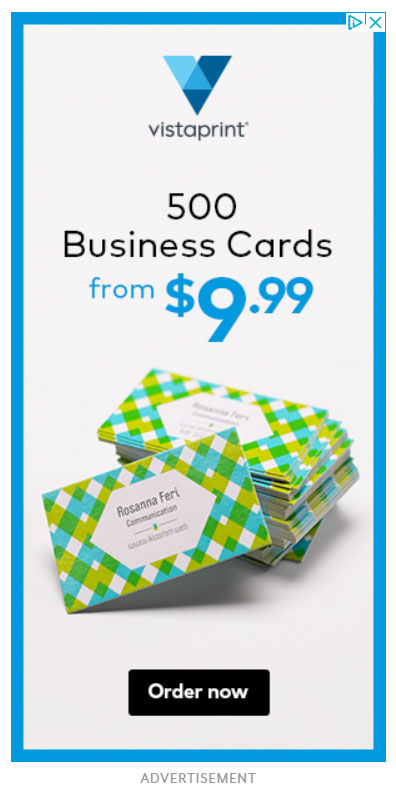 39) FEBREZE
This display ad seems to be more concerned with spreading awareness about a new product than driving traffic to the Febreze website. Even though this ad isn't conversion focused, it's a great example of how a brand can include PPC.

40) HILTON
It's hard not to notice a number like 150,000. Hilton's promotion of its rewards credit card is all about convincing people that it's a no brainer and that people can immediately enjoy the perks it promises.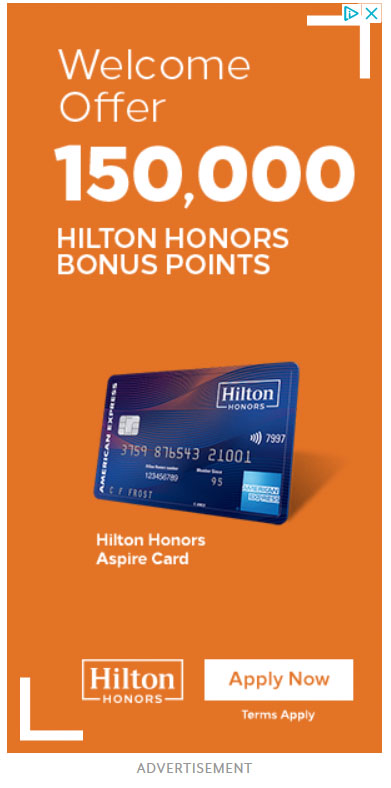 WRAPPING IT UP…
We hope these examples can help you create a visually appealing and effective set of PPC ads for your next Google Display Ads campaign. Regardless of how you produce your ads, keep in mind some of the recurring elements of the successful examples you've seen here.
Also, remember that keeping a consistent look and feel across paid and organic channels and social media is a key part of brand consistency.
Creating effective Google Display Ad campaigns without professional help still isn't easy. Interested in learning how our team of PPC experts can help you achieve your digital advertising goals? Reach out to us below for a free consultation!
Sign up for the Chainlink Weekly Newsletter