Unsurprisingly, Instagram is one of the most popular social media apps at the moment, giving companies the platform to reach a massive audience. Using Instagram to market your company in the most strategic way possible is key. However, running a successful business account (not just a personal account for fun) requires a different level of knowledge and usage of the platform.
Increasing your engagement via Instagram can seem overwhelming because of the sheer number of features available. Keep reading to learn some basic tips for maximizing your engagement and curating your company's Instagram page.
Social media at its core is, well, social. Apps like Instagram are the easiest medium through which users can interact with your brand. By posting, commenting, or direct messaging, customers can ask questions and share their opinions.
As a result, you want to make sure you respond promptly and thoroughly. Brands with quick response times earn the reputation of being approachable and engaged. Frequently reading direct messages, responding to comments, and liking photos that your brand has been tagged in are the easiest ways to ensure that you are staying on top of customer inquiries. Checking your brand's hashtags can also be beneficial and can give you insight as to what customers are saying about your brand or your product.
For example, online clothing retailer Everlane is always active in the comments, answering questions and communicating with loyal customers.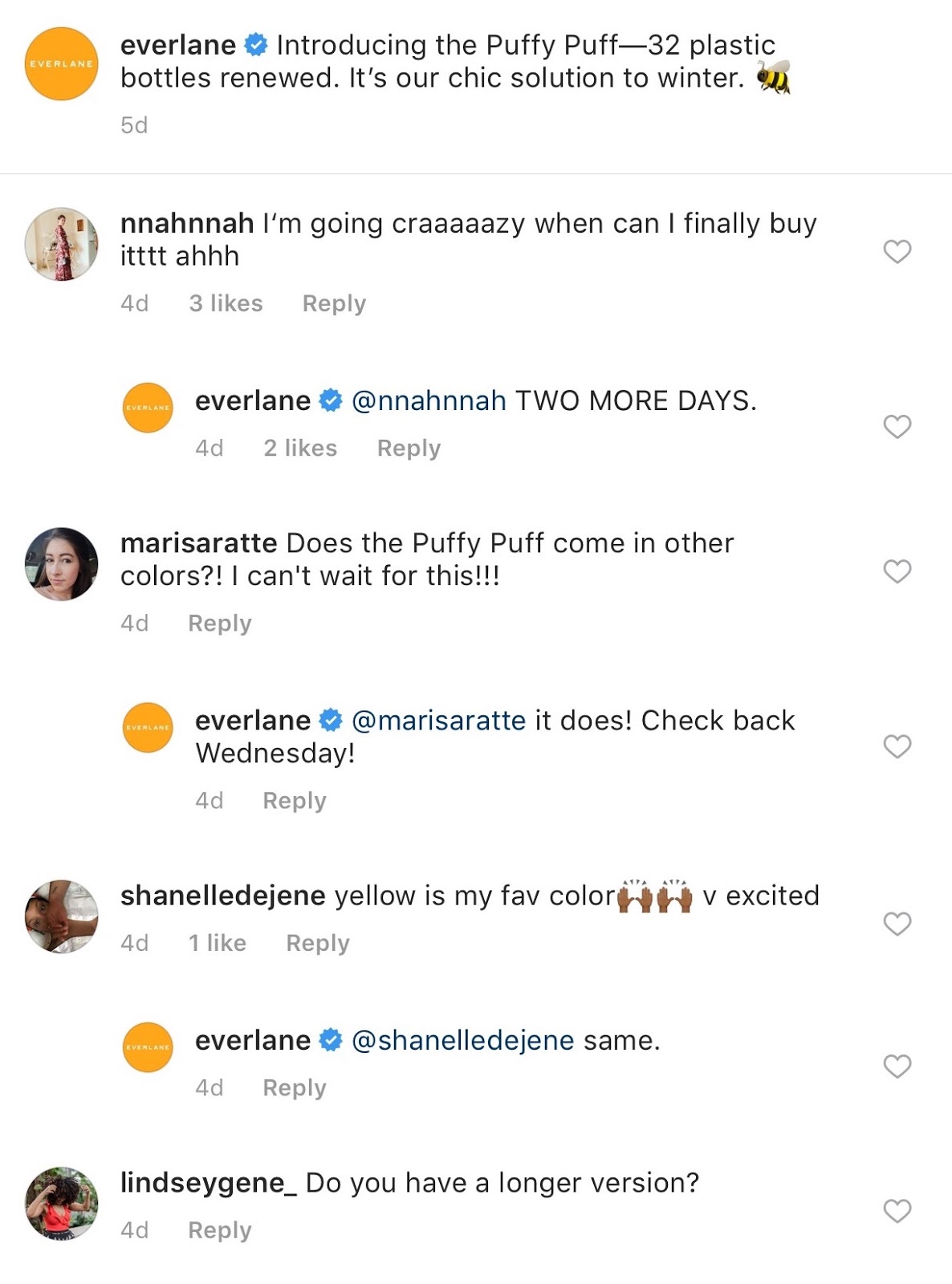 2) Communicate directly
with your followers
Some users might not think to reach out directly. In that case, you can provide them with a forum to ask questions or make comments. The "question sticker" for Instagram stories is the perfect feature for this.
You can either ask a specific question and get input or give users the opportunity to ask their own. From there, you can share your answers on the story itself. This is especially useful for FAQs since everyone who views your story will be able to see the question and response. Everlane and J&Co. Jewelry frequently use the question sticker to get input from their followers.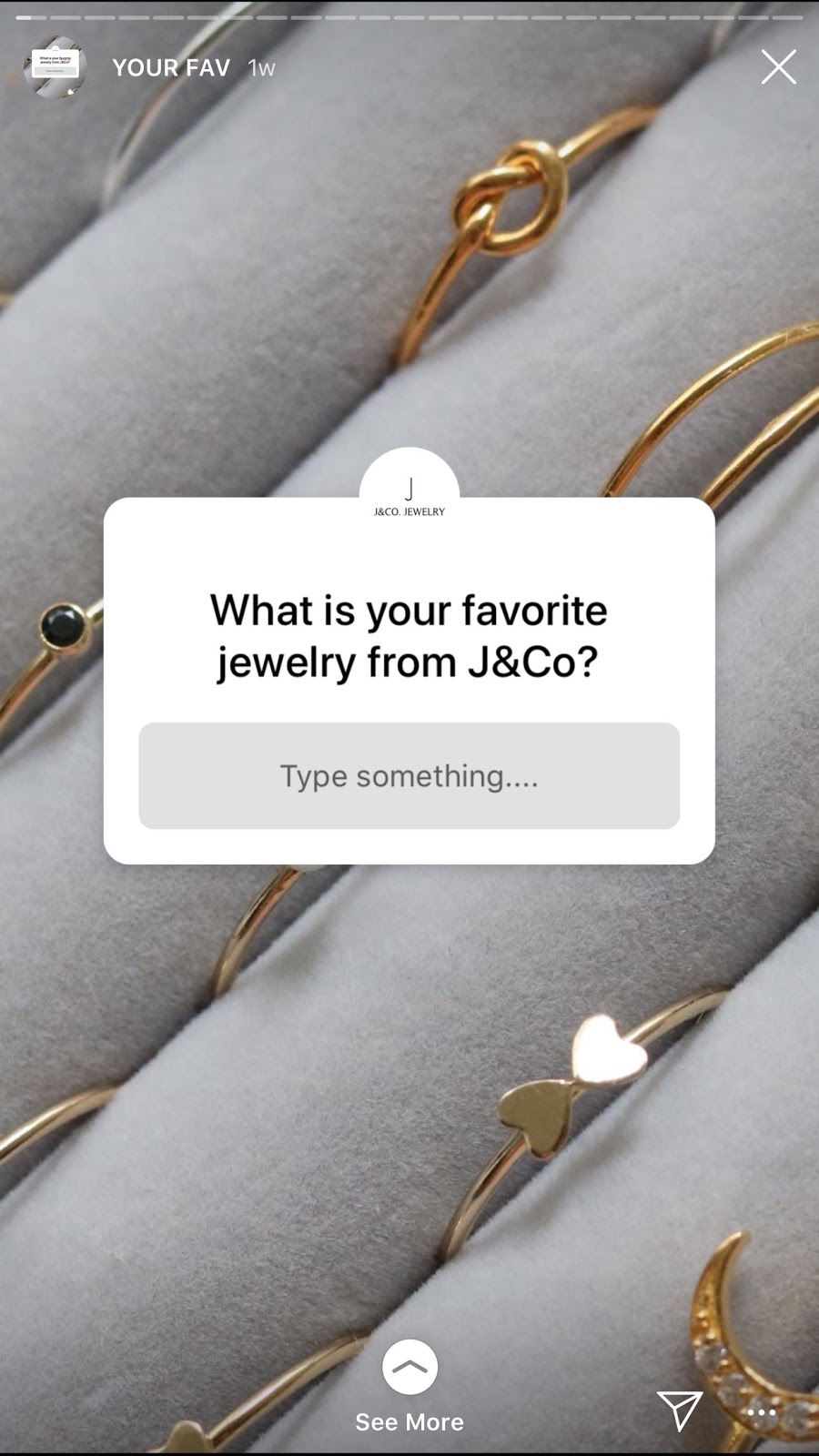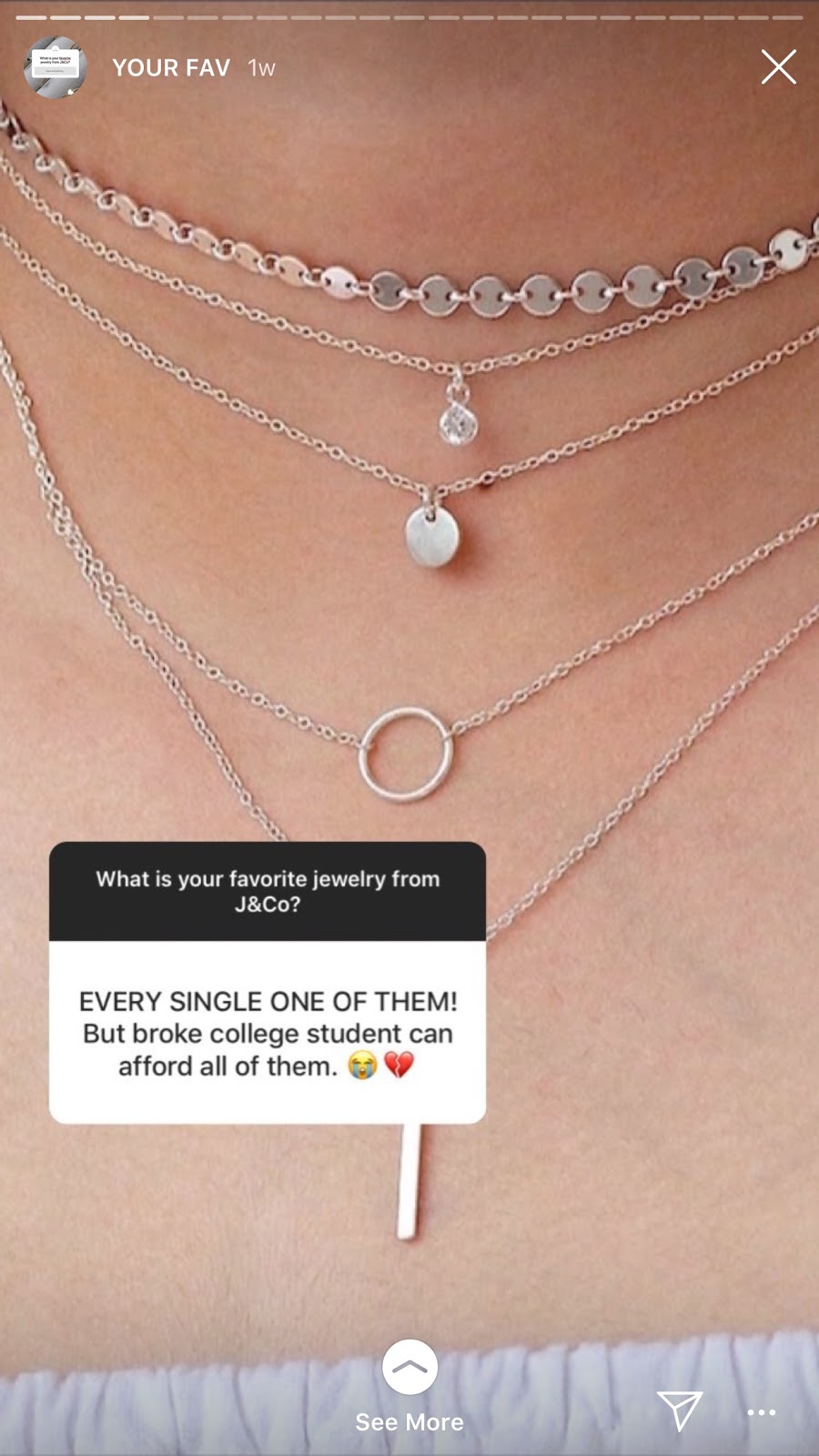 3) Tie in other aspects of your digital marketing strategy
Instagram rolled out the "swipe-up" story feature specifically for verified accounts or business accounts with over 10,000 followers. If your account has access to this feature, you should definitely take advantage of it.
The swipe-up feature can be used to link viewers directly to more content. It can be used to send customers to your website or show them a YouTube video of a product demo. Better yet, you can redirect them to a specific landing page where they can input their email, and you can use email retargeting to keep in contact with them.
Including shoppable stickers can also be effective. This feature allows a brand to tag a product within an Instagram post with the name and price of the item. If a user clicks the tag, it takes them directly to the page where they can purchase it.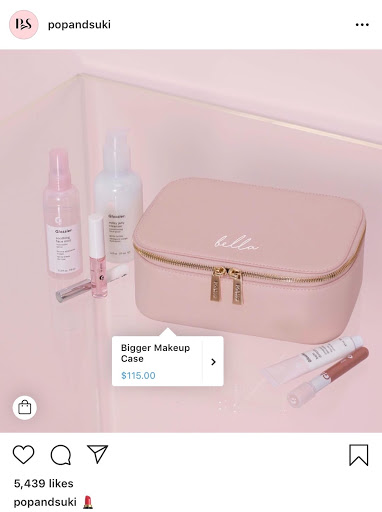 4) Keep your posting schedule consistent
Having a defined posting schedule can help keep your brand on track with pushing out daily content. However, it's crucial to find a balance. Post too much, and you will likely experience a high unfollow rate.
When too many posts from the same account clutter a user's feed, they will often view it as spam. Post too little, and users will view you as inactive and disengaged. Finding a happy medium of how often you post will maximize your audience engagement and prevent you from losing potential customers.
Consistency involves more than just the timing of your posts. The appearance of your photos and the content of your captions are just as crucial. Utilizing a similar photography or design style and finding a "theme" will make your account look cohesive. Additionally, light colors and filters tend to get more likes since they are visually appealing.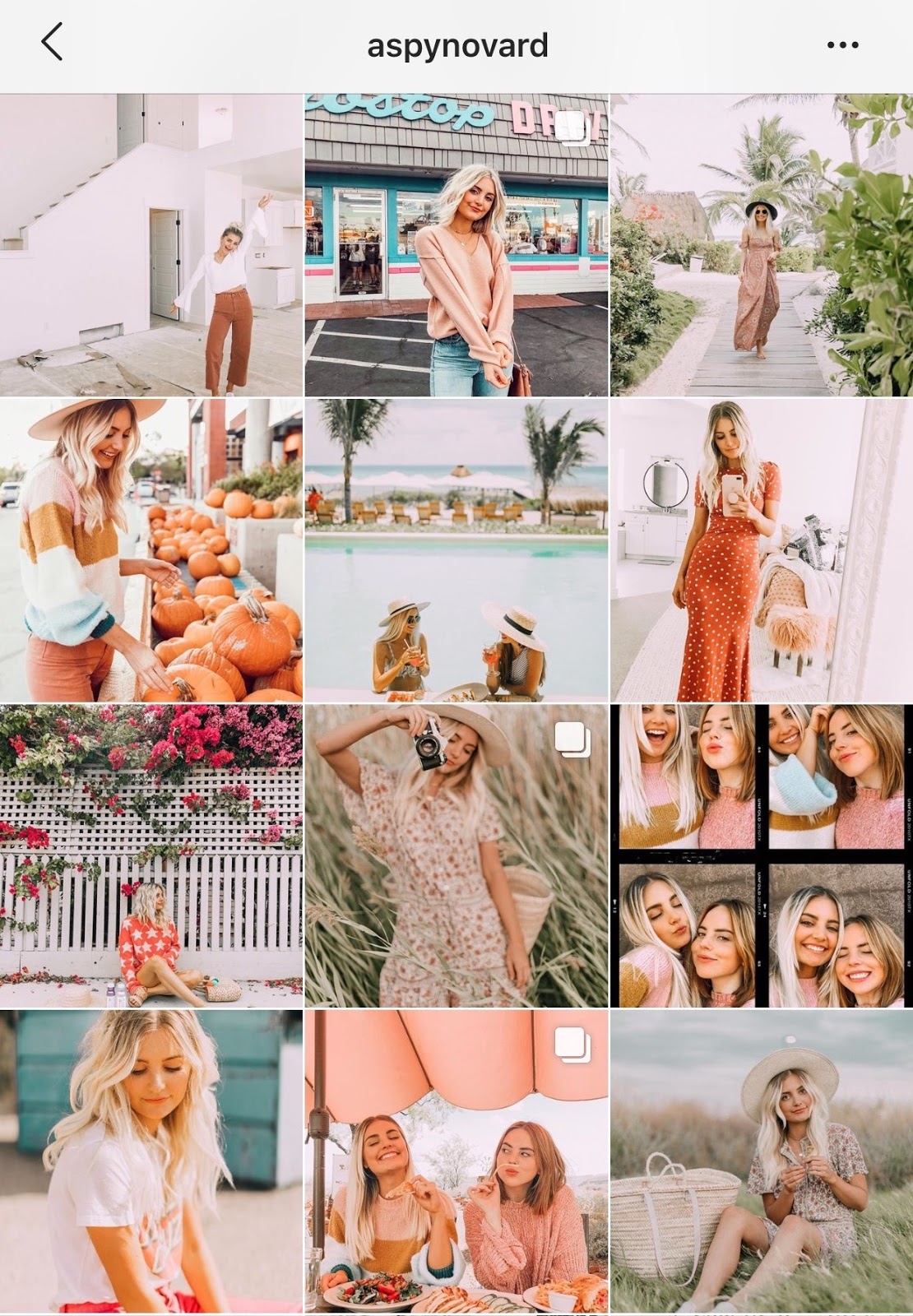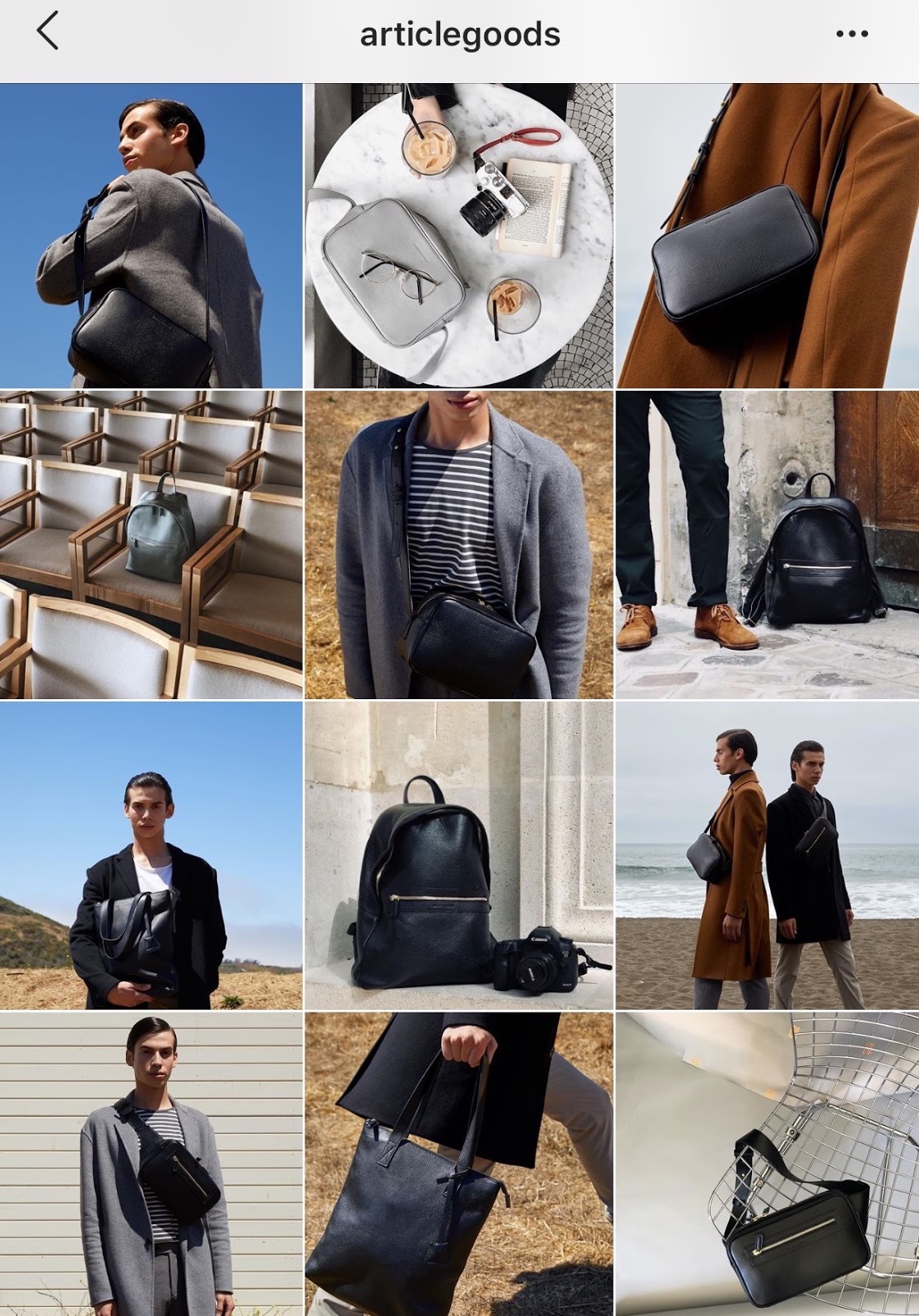 In order to gain more followers, your account should be one that people would want to follow. This means that posting ad after ad is a no-go. Instead, make your feed a bit more stimulating and personalized. People are nosy! They want to see photos from behind the scenes or product sneak peeks.
Day-in-the-life posts are also very popular considering vlogging is so huge at the moment. Instagram story "takeovers" are also gaining momentum. For example, an employee at your company could post a few photos or videos throughout the day showing what their job entails. These kinds of posts put faces to your brand's name and remind customers that you are people, too.
Posting user submissions is also a great way to mix up your content and makes loyal customers feel special when they are featured. The easiest way to keep track of these submissions is to create a brand-specific hashtag. For example, Glossier uses #GlossierIRL, and Madewell has claimed #EverydayMadewell. If you promote the hashtag and frequently check it, you can easily repost user-generated content and show other followers that people are talking about your brand!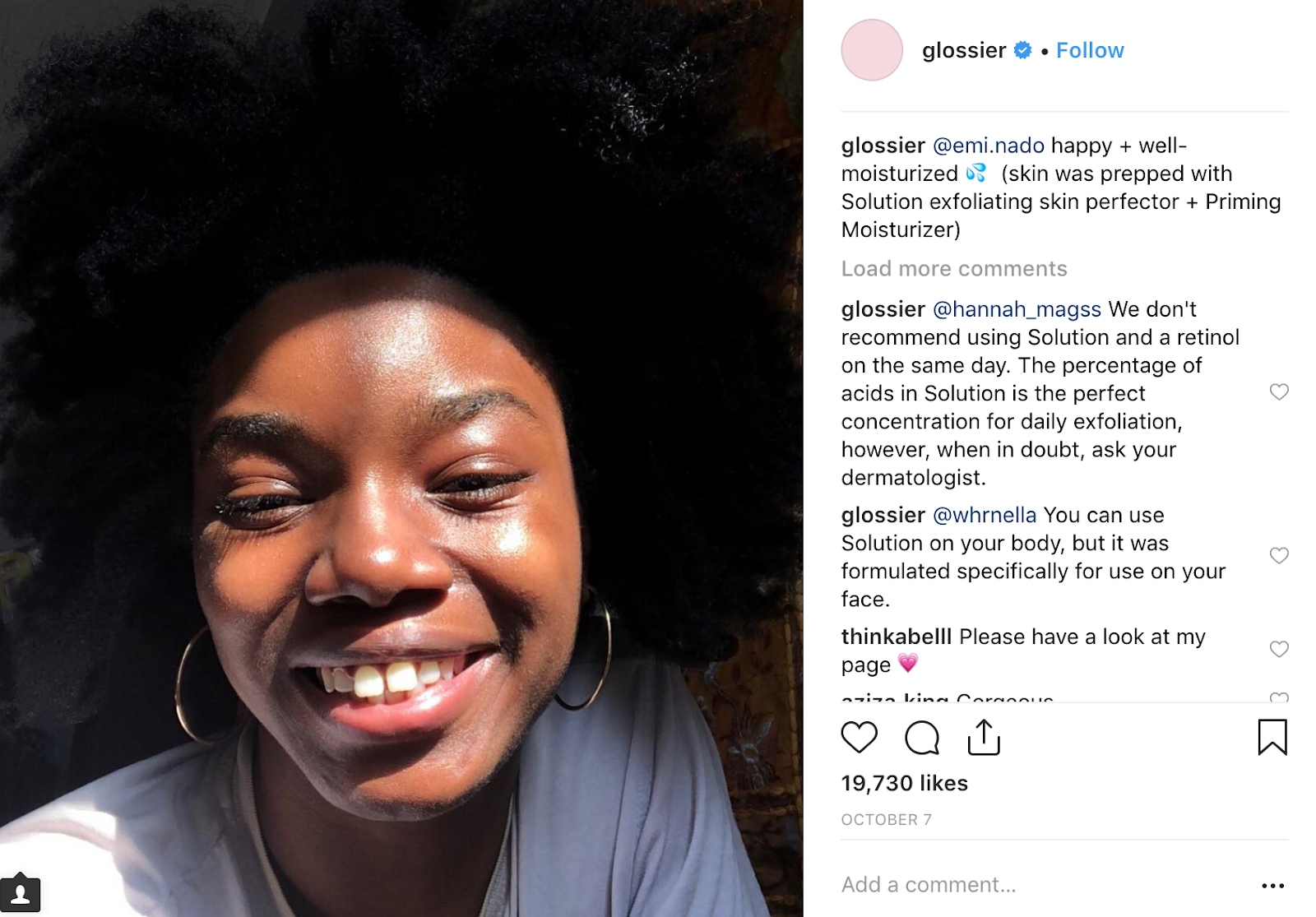 It might seem difficult to navigate the ever-changing world of Instagram (and social media marketing in general), but hopefully these tips provided you with some techniques to refine your strategy.
If you want to improve your Instagram marketing efforts, our team here at Chainlink Relationship Marketing can help. Plus, our proprietary Chainlink Marketing Platform offers solutions that can help your business seamlessly integrate your social platforms and data with your marketing programs and workflows.
Reach out to us below to learn more about our services. Our team would love to chat with you. Also, remember to sign up for our newsletter so you don't miss a beat.
Sign Up for the Chainlink Weekly Newsletter
More Social Media Insights from Chainlink Marketing
Need a hand with your social media marketing strategy?
Chainlink is here to help.