Combining the right organic and paid content promotion tactics can help you increase your returns on content marketing efforts. In this article, we want to explore how you can complement your organic, long-term approach to content promotion with tactics like PPC advertising.
You can allocate some of your budget to boosting your content's visibility initially without relying on expensive advertising in the long run. In fact, combining the two approaches usually maximizes the effectiveness of content marketing campaigns.
1) How to maximize short-term promotion tactics
Paying to increase pageviews on a blog post can have a positive influence on the future of the piece's performance. There's a common misconception that paying to promote your content in the short-term period after publishing means you'll have to continue to pay if you want consistent readers.
Unless you are a well-established brand, the chances are slim that your content will naturally rise above the noise to the top of Google's search results in a reasonable amount of time. Driving exposure to your content at the beginning can give it a push to start the momentum it needs. Whether you choose to promote your content on social media platforms like Facebook or Twitter or through Google Ads, it's possible to do it in an affordable way to maximize your content ROI.

Although Google and Facebook have competing advertising programs, you can still get the best of both worlds. To maximize your promotion in the short period of time immediately after publishing, split your ad budget between Google Ads and Facebook Ads to achieve the best possible visibility for your content.
With Facebook's advertising tools, you can target your ads or promote blog posts based on factors such as demographic, location, language, education level/career position, marital status, interests, and more. Check out our Google Ads search primer for our explanation of how to optimize your ad performance using Google. Also, keep in mind that PPC ads on social media platforms like Facebook are significantly less pricey than a typical Google Ads effort (even on a small scale).
Note that promoting content with paid ads on Twitter, Instagram, and/or LinkedIn might be more fitting for your audience. Don't feel like one social platform is better than another simply because it's the most common: look at the data and then decide. Grow and Convert shares how to use Facebook, Reddit, LinkedIn, Twitter and even Quora for paid promotion in this great blog post about content promotion, which could be super useful if you need help deciding which platform to focus on.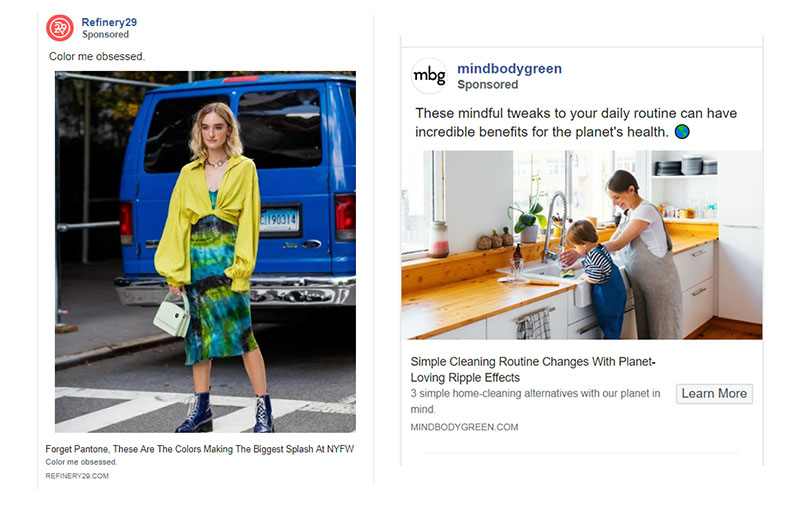 Paying to promote your content doesn't mean it's not good enough in its own right. Even esteemed online publications like Refinery29 and MindBodyGreen pay to promote certain articles on Facebook and Instagram. Whether you're a business blog or an online magazine, it's getting more important it is to add paid promotions to your arsenal of tactics as competition for attention online increases.
It's valid to question running a PPC ad campaign to promote your blog because you think it defeats the purpose of investing time in long-term organic content marketing goals. Isn't the whole point of investing your time to create high quality content that you should earn traffic without having to spend advertising dollars to get people to read it?
2) How paid advertising can improve your content marketing efforts
When we talk about paid promotion of content, particularly on social media platforms, we're talking about integrating it into an approach that includes more sustainable tactics. By "more sustainable", we mean not having to rely on an infinite stream of advertising dollars to keep up traffic to your blog.
One reason why paid ads for blog content are sometimes looked down upon by content marketers is because it's assumed that paid promotion is a crutch for mediocre content. However, publications like Search Engine Journal are helping to debunk this myth. Paid ads help drive clicks to organic listings and can even increase brand affinity when executed strategically.
It's interesting to note that 56% of businesses claim they want to increase their content creation spending, as our fellow content marketers at Siege Media aptly pointed out. In a competitive online world with zero tolerance for subpar content, businesses are prioritizing producing quality work (even at the expense of quantity and publishing frequency).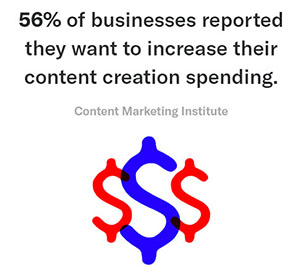 However, even if you invest the time and money into creating great content, it's not going to help you reach your goals if people aren't finding it. As we mentioned earlier, paid social ads are a great way to increase awareness of your content during the early stages of its existence.
Here are two important things to remember before using paid social ads to increase your content reach:
1) Understanding your audience is everything
To optimize your promotion efforts, it's important to promote the right type of content on the right platform at the right time. If you work backwards to figure out what your target audience's content consumption patterns are on social media, you can create better content to fit those requirements.
Be sure that you are selecting the right time of day ads display, optimizing where ads display geographically (and in what language they display) and other factors relevant to your audience.
2) Promote different types of content in different ways
Is your content answering a question, solving a problem, or serving some other valuable purpose? In order to promote content in the most effective way possible, consider how the specific content that you're promoting will help your audience.
For example, you're not going to want to promote every list article, how-to guide, case study and video you've ever created in the same way. Another example might be the unique approach required for promoting seasonal content or time sensitive content with topics linked to trending news.
3) How PPC and content marketing strategies are more similar than you think
Many of the same processes required for successful content marketing campaigns need to be implemented for PPC campaigns to work. Use this fact to your advantage and invest the time into research and best optimization practices that can apply to both.
Keyword Research: Identifying specific long tail keywords and writing content with this in mind is an essential part of a successful content marketer's job. In the same way, highly targeted keyword research that reveals which keywords drive not only the most traffic but also revenue is imperative for a PPC search advertising expert. When content marketers and PPC advertisers are on the same page about what performs well on a company's website or blog, they can make sure the right metrics are being tracked and tested. Need inspiration to jumpstart your keyword brainstorming process? Neil Patel's free tool UberSuggest is a great place to start.

Audience Targeting Research: Researching how to target your audience geographically and demographically is a key part of successful PPC and content marketing strategies.
For example, identify where in your country or region that demand is high for your content and products/services. With content marketing organic outreach, you contact publications, blogs, websites, etc. that serve the geographic regions that are most interested in your business. With PPC campaigns, you're able to target brand building in areas where it will do the most good for your business.
Another thing to keep in mind is that wherever responses to your PPC efforts are low, you can invest more energy into organic content marketing promotion to set yourself for a better response in the future.
Analyzing Results: For both content marketing campaigns and PPC efforts, collecting enough data that is actually usable and helpful takes time. Changing tactics or strategy prematurely is problematic.
As you learn which keywords or audience targeting techniques are producing the best click-through rates (CTRs) and conversion rates, then you can alter your approach accordingly. You can eliminate low-performing keywords to focus on and improve the visibility of high-performing terms.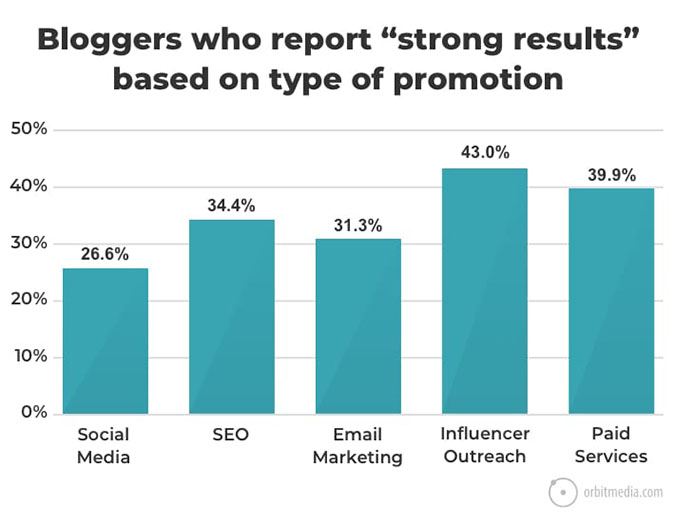 In this chart from Orbit Media (pictured above), around the same percentage of bloggers have found strong results thanks to organic promotion tactics (SEO) as for paid promotion. Using paid and organic strategies in tandem to help your content get in front of the right people is a smart move. 
Wrapping It Up…
Businesses are constantly competing to capture attention and stay relevant through their digital content. You don't want to waste a minute of your team's time or a dollar of your content marketing budget.
Our team of experts at Chainlink can help devise the perfect strategy to effectively combine your paid and organic content promotion efforts to see the biggest return on investment. Our #1 priority is always helping our clients make the most out of their budgets.
If you might be interested in integrating your content marketing with your other digital marketing tactics, reach out to us below for a free consultation. Don't forget to sign up for our free newsletter for more digital marketing tips and insights that you don't want to miss!
Sign Up for the Chainlink Weekly Newsletter
More Content Marketing Insights from Chainlink Marketing
Need a hand with your website's content strategy?
Chainlink is here to help.