There are plenty of digital marketing conferences and events that take place year round. Choosing the right conference to attend based on your goals for attending is half the battle. The next step is to take full advantage of what the conference has to offer by tuning into what makes that conference unique.
We created a table below with 36 of the best upcoming digital marketing conferences in the US and Canada for the rest of 2019, as well as some helpful hints on how to make the most of your next conference.
Upcoming Digital Marketing Conferences in 2019 (US & Canada)
| | | | |
| --- | --- | --- | --- |
| Conference | Date | Location | Key Details |
| IMPACT Live | Aug. 6th-7th 2019 | Hartford, CT | Focus on content marketing, social media, video, and web development. |
| Traction Conference | Aug. 7th-8th 2019 | Vancouver, BC | Focus on actionable tactics to increase revenue through marketing. |
| Affiliate Summit East | Aug. 11th-13th 2019 | New York, NY | Focus on affiliate marketing (about 25% of attendees are affiliates.) |
| Digital Summit Minneapolis | Aug. 14th-15th 2019 | Minneapolis, MN | 50+ in-depth digital marketing sessions, speakers and workshops. |
| CONEX: The Content Experience | Aug. 20th-22nd 2019 | Toronto, ON | Focus areas are content marketing and demand generation. |
| Content Marketing World | Sept. 3rd-6th 2019 | Cleveland, OH | 120+ sessions led by brand marketers about strategy, storytelling, ROI, etc. |
| INBOUND Conference (HubSpot) | Sept. 3rd-6th 2019 | Boston, MA | 250+ speakers and interactive sessions focused on inbound marketing. |
| Digital Summit DC | Sept. 4th-5th 2019 | Washington DC | Focus on content marketing, email marketing, UX, and SEO. |
| Reach (G2) | Sept. 11th 2019 | Chicago, IL | Conference designed specifically for people marketing and selling software. |
| MarTech | Sept. 16th-18th 2019 | Boston, MA | Deep-dive presentations/workshops in agile marketing, privacy, CDPs, etc. |
| Local Univeristy | Sept. 19th 2019 | Denver, CO | Presentations on the latest best practices in local Search Engine Optimization. |
| Advanced Search Summit DC | Sept. 19th-20th 2019 | Washington DC | Veteran SEO thought leaders share their expertise in a collaborative setting. |
| AgencyCon | Sept. 23rd-24th 2019 | Breckenridge, CO | Focus on account-based marketing, agency growth, and operational efficiency. |
| Call to Action Conference | Sept. 25th-26th 2019 | Vancouver, BC | Each session is under a category such as design, analytics, copy, or strategy. |
| Digital Summit Detroit | Sept. 25th-26th 2019 | Detroit, MI | 55+ in-depth and on-trend digital marketing sessions with practical takeaways. |
| Connect to Convert | Sept. 25th-27th 2019 | Boston, MA | Focus on education in the areas of performance marketing and lead generation. |
| Insight Marketing Conference | Sept. 26th 2019 | Lancaster, PA | Focus on how to drive profitability, product strategy, and demand generation. |
| International Search Summit | Sept. 26th 2019 | Boston, MA | Internationally-focused topics and tactics for expanding your SEO/SEM strategy. |
| Digital Summit Charlotte | Oct. 2nd-3rd 2019 | Charlotte, NC | 45+ digital marketing sessions and networking opportunities with experts. |
| NY KnowGo | Oct. 3rd 2019 | New York, NY | Focus on driving ecommerce profitability through digital marketing and ads. |
| Pubcon | Oct. 7th-10th 2019 | Las Vegas, NV | Social media & SEO conference with industry experts as speakers/instructors. |
| Ascent Conference | Oct. 7th-8th 2019 | New York, NY | Focus on bringing together leaders in the tech and marketing communities. |
| Programmatic I/O | Oct. 15th-16th 2019 | New York, NY | World's largest conference focused on programmatic media and marketing. |
| B2B Marketing Forum | Oct. 16th-18th 2019 | Washington DC | Focus on new strategies in B2B marketing and insights from industry leaders. |
| Brand Marketing Summit NYC | Oct. 21st-22nd 2019 | New York, NY | Sessions for digital and performance marketing professionals led by CMOs. |
| Transformation of Search Summit | Oct. 25th 2019 | New York, NY | Focus on offering a strategic deep-dive into the future of search marketing. |
| LavaCon | Oct. 27th-30th 2019 | Portland, OR | Focus on leveraging immersive technologies and creating content experiences. |
| Yext ONWARD 19 | Oct. 29th-30th 2019 | New York, NY | Focus on driving search marketing, digital discovery, engagement, and revenue. |
| DXSummit | Nov. 4th-6th 2019 | Chicago, IL | Connect with 600+ digital CX leaders; choose from 5 different conference tracks. |
| State of Search | Nov. 5th-6th 2019 | Dallas, TX | Focus on new digital marketing tips, like SEO hacks, voice search, chatbots, etc. |
| Open Mobile & Digital Summit | Nov. 7th-8th 2019 | San Francisco, CA | Focus on how digital and mobile marketing is changing customer experience. |
| Internet Summit Raleigh | Nov. 13th-14th 2019 | Raleigh, NC | 90+ trend-forward digital marketing sessions and workshops with experts. |
| SMX East | Nov. 13th-14th 2019 | New York, NY | Sessions/workshops on advanced SEO, Google Ads, attribution, analytics, etc. |
| Digital Summit Dallas | Dec. 3rd-4th 2019 | Dallas, TX | Deep dive sessions covering content marketing and social media engagement. |
| Growth Marketing Conference | Dec. 10th-11th 2019 | San Francisco, CA | Focus on organic and performance marketing, and the future of SEO and PPC. |
| The AI Summit | Dec. 11th-12th 2019 | New York, NY | Focus on the revolution that AI brings to the marketing and business worlds. |
How to Prepare in the Weeks Before the Event
1) Research who will be there (not just the featured presenters).
Make a list of who you want to connect with and why. The list could be anywhere from 15 people to 50 people, depending on your goals. Create custom pitches for the companies/agencies there that you want to partner with the most. Not every interaction needs to be pre-planned and transactional, but thinking ahead will help you sound more polished and make the most of your time.
2) Update your personal and professional social media accounts.
LinkedIn and Twitter are especially popular during conferences. The conference undoubtedly has an accompanying hashtag as well. Following along, contributing, and engaging with attendees on social media throughout the event is key. At the same time, knowing when to be present and put your phone down is equally important.
3) Familiarize yourself with content created by the presenters.
The speakers most likely have a blog or YouTube channel, and being aware of it could provide valuable context for their presentation that might otherwise be overlooked. Consume as much of their content as possible before the conference. Also, check out the notable content produced by fellow attendees that you know will be there. Breaking the ice with another company or agency you want to partner with will be easier if you already know a lot about them.
4)  Review the conference prep kit and what you need to bring.
Conference "prep kits" usually contain helpful tips on how to maximize your experience, and usually include a checklist. In the busy rush before a conference, it's easy to gloss over these materials, but be sure to slow down and read everything thoroughly. Also don't forget personal and company Business cards. Be sure you have your LinkedIn link printed on it, and/or a link to a website/portfolio showcasing your capabilities. Bring fully charged devices and chargers, too.
What to Review the Day Before the Event
1) Event Timing and Format
Figure out the specific order of events and the timing of the presentations and workshops. What is happening each day and how ,amu breaks/unstructured networking opportunities are there? Oftentimes there is a free app to go along with a conference that provides the calendar of events at a glance. Be sure you submitted your RSVP in advance as well.
2) Dress Code, Venue, and Logistics
Don't assume business casual for everything. There might be certain sessions that require more or less formal attire, so be sure to double check the schedule. Make sure you have a form of ID with you for check-in, too.
You can also reduce your stress by figuring out details about directions to the venue and the building's floor plan. There are most likely multiple floors/rooms and speakers/workshops happening simultaneously, so you want to get an idea of the layout in advance. How many attendees will there be in total? If you have a VIP pass, is there a designated VIP section?
Also, try to be one step ahead of getting the WiFi password for the venue, which is an easy to overlook but important detail. For logistics, issues, or other questions, who is your point person? Is there a place where conference organizers or volunteers will be stationed to help out?
3) Social Media Activity
What is the official conference hashtag? Using the conference's signature hashtag will encourage conference organizers to share and re-post your social media activity.
For example, these are common examples of the types of Tweets people publish before a conference:
1) I'll be attending at #MarketingCon on [insert date]! Find me at the [area where you'll be stationed or seated]!
2) So excited to be attending #MarketingCon by @MarketingAssociation! Feel free to reach out before the event to connect!
3) Who else is attending #MarketingCon? Let's connect!

What to Keep in Mind During the Event
1) Spend more time listening than pitching.
You can organically work your pitch into your interactions, but a hard sales technique is not going to work in this environment. Marketing conferences are hardly the setting for walking up to cold leads and giving it your best shot. Read the room and realize that these event organizers pride themselves in creating spaces for genuine relationships to form and knowledge to be exchanged.
2) Determine who you want to speak with in advance.
Since it's impossible to do it all, start each day by making a list of all the speakers and fellow attendees you know of who you would like to connect with. However, don't underestimate the potential of benefitting from unplanned or unexpected conversations.
3) Don't hesitate to ask questions.
Ask questions, as long as they are thoughtful and contribute to the conversation (you don't want to stand out in a negative way by asking something that's easy to Google or that someone would assume you should know).
4) Self-monitor periodically.
It's worth mentioning the importance of making sure you speak clearly, have a solid handshake, wear comfortable shoes, eat properly throughout the day, etc. in order to put your best foot forward during every interaction. It's easy to get swept up into the busy schedule of the conference and not take time to self-reflect.
You don't want to forget the basics of presenting yourself how you would like to be perceived by potential business partners. It may not be a job interview, but you should attempt to be as polished as possible and prevent giving off the wrong impression.
What to Do After the Event
1)  Share your feedback with the organizers of the event.
Try to emphasize the positive and be reasonable with the constructive criticism. Taking the conference organizers' surveys with a thoughtful approach will mean a lot to them and help them improve for the future. You could even offer to be featured on the conference's own social media pages to provide an attendee testimonial, which is a win-win situation. It increases your own visibility and helps out the conference organizers.
2) Connect with everyone you met at the conference on social media.
You never know if even the smallest connection you made could lead to a business partnership or potential client in the future. Also, be sure you connect with the conference organizers' social profiles and sign up to the correct email list(s) to continue to receive their post-event announcements. If you know the speakers' social profiles, it can't hurt to send them a quick note via social media thanking them for their presentation/appreciating their insights, noting a key highlight.
3) Set up a least one in-person meeting with someone from the conference.
Even one low-stakes coffee or lunch meeting could go a long way. Connections made at conferences are too often underrated. If it's not geographically feasible, at least set up a video call. As long as you were authentic in creating the connection, there's always a chance of it turning into a lasting business friendship that could lead to a multi-year partnership.
4) Write a conference recap for your blog and post about it on social media.
Taking thorough notes and then being one of the first ones to recap a presentation by a speaker is a great and interesting way to create interesting content for your own blog. There are thousands of people who probably wish they could attend but can't be there. If you can be one of the most comprehensive resources of information that shares a recap of a talk in the most comprehensive way, you'll attract more eyeballs to your blog.
Although there will already be summary slides released (not to mention plenty of live Tweeting), you can synthesize and present the insights shared in a presentation in a way that will be uniquely helpful for your audience.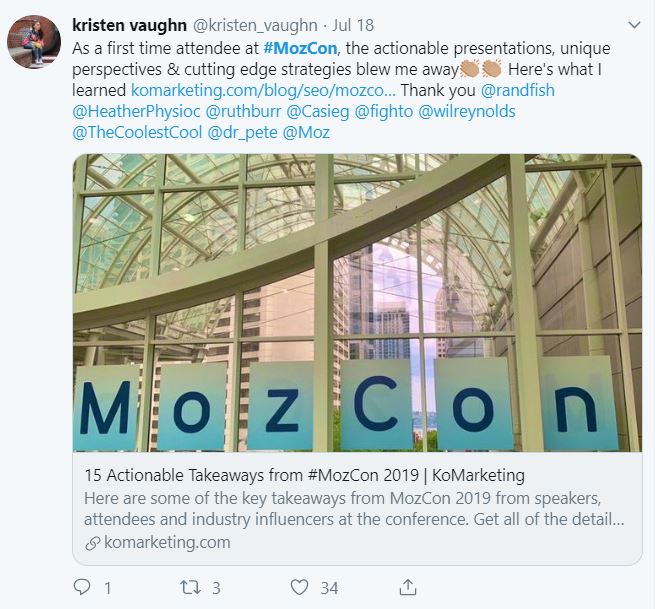 Wrapping it up…
We want your experiences attending marketing conferences this year to be educational, productive, and enjoyable. We wrote this post because we understand how conferences can be overwhelming when you want to accomplish so much within such a short period of time. Hopefully, some of the tips we explained here will make prepping for and debriefing from the conference a no-brainer. If you're currently in the process of planning your own conference, please be sure to check out our Event Marketing guide for plenty of tools & tips.
More SEO Insights from Chainlink Marketing
Want to create an SEO strategy that drives conversions for your company?
Chainlink is here to help.